Although Friday's Employment Situation Report indicated non farm payrolls rose 146,000, not much else was positive about this report.
those not in the labor force rose 542,000
the civilian labor force fell by 350,000
the number of employed declined 122,000
discouraged workers rose 166,000, and
the participation rate fell two tenths of a percent to 63.6%
For those nearing retirement age, it is turning into a not so golden one as more seem to be working longer. Certainly the fact individuals are living longer is contributing to older workers working longer. However, the retirement nest egg for those nearing retirement has been damaged over the last 12-years by the technology bubble, the real estate bubble and the Fed's effort to keep interest rates at record low levels.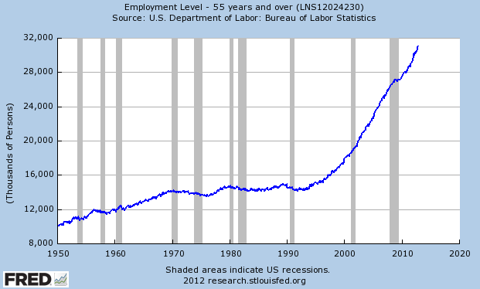 From The Blog of HORAN Capital Advisors
A consequence of older Americans working longer along with an anemic pace of economic growth is the employment level for those under age 55 has declined. As the below charts shows, the number of employed for those age 16 - 19 is at a level last seen in the mid 1960s. Additionally, for those under the age of 55, the employment level is no higher than where it was in 1997.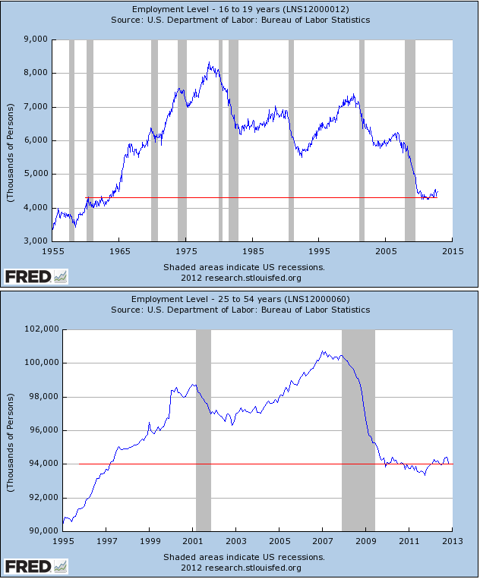 From The Blog of HORAN Capital Advisors

Chart: h/t: ZeroHedge
Additionally, the slow pace of economic growth has resulted in a low (if at all) level of private sector job growth generating less revenue for the government and increasing government payments on food stamps and unemployment claims. The government's new fiscal year began on October 1st and since that time, it is borrowing 46 cents for every dollar spent. This is a path that is not sustainable. The uncertainty or circus taking place in Washington at this point in time is perpetuating an environment that makes it difficult for business to plan. The end result is an economy that is stuck in neutral.