Floyd Wilson, Chairman/CEO, and his management team at Halcón Resources (NYSE:HK) are highly regarded and have many supporters. Much of this is due to his achievements at Petrohawk, an energy explorer grown from a small base and sold to BHP Billiton (NYSE:BBL) in July 2011 for $12.1 billion. The exit price amounted to 6 times annual sales and the transaction made enormous returns for investors.
Since then Wilson and his team have been rebuilding, this time at Halcón. The word halcón is Spanish for falcon. This is not a coincidence - the hawk is hunting again.
Halcón Resources is an oil shale company in the throes of transformation. From producing 4,000 Boed in 2011, Halcón has guided full-year 2013 production of 40,000-45,000 Boed. Most of the increase is the result of sizable deals, the latest of which was consummated on December 6, 2012. Because of the many changes in 2012, and with various financial web sites such as Yahoo Finance not yet showing a full post-acquisition view of the company, there is a lack of understanding of Halcón within the investing community.
This note attempts to show investors the picture that will emerge in 2013 and 2014. That picture is attractive, probably a lot more than the wider investing public anticipates. It is one of a company that is cheaply valued, has a large asset base, comfortable borrowing levels and capable of years of strong growth in production and profits. The icing on the cake is that management comes with excellent pedigree and CEO Wilson has already confirmed he will look to cash-in the Halcón chips at some point in the future, no doubt at an appealing premium.
Scale is critical towards maximizing shareholder value in the oil shale world. Scale drives big efficiency gains, it attracts and grows expertise, it reduces risk and it supports a superior investor audience. For shareholders, the end result is valuation metrics that are significantly better than those of small companies.
Halcón's management clearly understands the importance of scale. The company is working to assemble sizable premier acreage positions in specific liquids-rich plays. The company is targeting a total of about 1.5 million acres of which the top three objectives are ~200k acres in Woodbine/Eagle Ford, ~135k acres in Bakken/Three Forks, and ~200k acres in Utica/Point Pleasant. Secondary targets are 150-200k acres in Tuscaloona Marine Shale, 200-350k acres in an undisclosed play, 25-75k acres in Midway/Navarro, 50-100k acres in Wilcox and 50-100k acres in Mississippi Lime. Of the primary 3 targets, Halcón has completed about 90% and, of the total 1.5 million acres, the company already has 900k.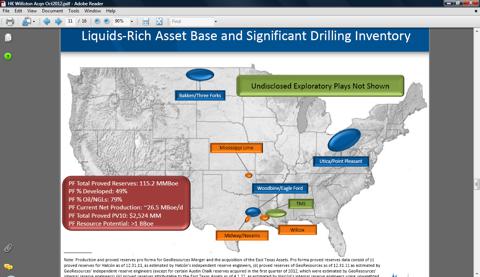 Halcón's main focus now changes from acquiring to drilling. To quote CEO Wilson;
"We have achieved our aim goal of building an oil company with a multi-year drilling inventory in several liquids-rich basins. Now we turn to exploitation. The drill bit is spinning to the right in all three of our core plays, plus a few others. We have the knowledge, people and capital necessary to execute our growth strategy."
Effective 2013, the company is a meaningful operator with management guiding production of between 40,000 and 45,000 Boed. Before examining how this production filters through the P&L, it is important to tidy-up some loose ends.
Halcón's year-end 2012 view
Halcon's latest acquisition, the Bakken/Three Forks deal, is not yet reflected in shareholder and borrowings data on sites such as Yahoo Finance. This $1.55 billion transaction, effective June 1, 2012 which closed on December 6, 2012, represents ~81k net Bakken/Three Forks acres, 42 MMboe of proved reserves and production of ~10,500 Boed. The acquisition was funded by $756 million cash plus $779 million in preferred shares that convert into 108.8 million common shares ($779m/$7.15). In tandem with the acquisition, Halcón raised $300 million cash by issuing 41.9 million common shares ($300m/$7.15) to Canada Pension Plan Investment Board. After the acquisition, Halcón's shareholding equity and debt numbers are revised as follows:
As at September 30, 2012, Halcón had 216 million shares outstanding. Including the Williston acquisition, that figure rises to 367 million. Additionally, Halcón has some convertible debt which together with warrants would convert to ~101 million shares bringing the fully diluted share number to 468 million.
Shareholders' Funds at year-end 2012, incorporating the additional shares as well as earnings of 2 cents for Q4, become ~$2.2 billion.
Borrowings at September 30, 2012 were $1.175 billion. At year-end 2012, this figure rises to ~$1.9 billion, including the Williston acquisition as well as the related share issuance and allowing for a high-side estimate of $200 million for Q4 outgoings inclusive of capex.
At year-end 2012, Halcón's balance sheet will show a Debt/Equity ratio of ~85%.
Using the current share price of $6.60, the company would have a year-end 2012 market cap of $2.4 billion and a total enterprise value ~$4.3 billion. On a fully diluted basis, the market cap rises to $3.1 billion and total enterprise value becomes $5.0 billion.
Financial Model Assumptions
In the following model, the starting point is the mid-point of Halcón's recent guidance for 2013; Production 40k (low-point) to 45k (high-point) Boed, Oil 80%, NGLs 5%, Nat Gas 15%, Lease Operating Costs (LOC) per Boe $6 to $8, Production Taxes per Boe $5 to $6, Cash General & Admin costs per Boe $4 to $6, and 2013 Capex of $1.2 billion. In 2014, production is assumed to rise by 35% with some expense ratios edging slightly lower.
As is normal, Halcón's guidance for 2013 doesn't cover depletion costs. Halcón is already taking steps to become a more efficient operator. As well as using pad drilling, the company is reducing the size of the intermediate hole and introducing additional efficiencies to, for example, optimize frac jobs and elsewhere. The company currently estimates that it achieves, or will achieve, savings of $1 million per well. More benefits are expected to stem from reduced drilling days, lower completion costs from reduced frac fluid volumes, increased recoveries from better completion designs, and various infrastructural improvements.
With small drillers recording total costs of production in the region of 46% to 50% of sales, Halcón may be towards the middle of this scale in 2013, or possibly better, with further reductions coming in 2014. Hence, a total production cost of 48% of sales is assumed for 2013 in the model with 44% in 2014 as additional efficiencies are achieved.
Funding costs are assumed at 9% of net borrowings, equating to about $180 million in 2013 and $200 million in 2014. This 9% figure is a little high and, once Halcón has fully bedded-in the 2012 deals and proved itself operationally in 2013, we should see the borrowing cost % diminish going forward.
An income tax provision of 35% has been assumed for both 2013 and 2014.
Current WTI strip prices for 2013 and 2014 are about $90. Halcón has a policy of hedging 80% of expected production during the next 18 to 24 months. This exercise assumes a WTI price average of $90 for both 2013 and 2014, with NGLs at $35 and Nat Gas at $3.75. Given that Halcón plans to spend 40% of its $1.2 billion 2013 capex budget in the Williston basin and with Bakken differentials about $10, a net differential of $4 is used for Halcón. Net pricing for 2013 and 2014 then becomes; Oil $86, NGLs $35 and Nat Gas $3.70.
On the balance sheet, it is assumed that Halcón will sell the 24k acres in Eagle Ford - which it must do for BHP Billiton for non-competition reasons - for about $250 million cash in 2013.
Capex is assumed at $1.2 billion for 2013 and $1.35 billion for 2014.
Financial Model
| | | | |
| --- | --- | --- | --- |
| Production & Pricing | | 2013 | 2014 |
| Daily Production | Oil | 34,000 | 45,900 |
| | NGLs | 2,125 | 2,869 |
| | Nat Gas | 38,250 | 51,638 |
| | Total Boed | 42,500 | 57,375 |
| | | | |
| Net Pricing | Oil | $86 | $86 |
| | NGLs | $35 | $35 |
| | Nat Gas | $3.70 | $3.70 |
| | | | |
| P&L Summary, millions | | | |
| Sales | Oil | $1,067 | $1,441 |
| | NGLs | $27 | $37 |
| | Nat Gas | $52 | $70 |
| | Total | $1,146 | $1,547 |
| | | | |
| Lease Operating Expenses | | $109 | $136 |
| Taxes | | $85 | $115 |
| Depletion, amortization | | $356 | $430 |
| SGA expenses | | $78 | $95 |
| Funding | | $180 | $200 |
| Pre-tax Income | | $338 | $571 |
| Income Taxes | | $118 | $200 |
| Net Income | | $220 | $371 |
| | | | |
| Shares, millions | | 367 | 367 |
| EPS | | 60c | $1.01 |
| EBITDA | | $875 | $1,201 |
| | | | |
| Cash Flow, millions | | | |
| Net Debt, start of year | | $(1,864) | $(2,119) |
| Cash from Operations | | $695 | $1,001 |
| Asset Sales | | $250 | 0 |
| Capex | | $(1,200) | $(1,350) |
| Net Debt, end of year | | $(2,119) | $(2,468) |
| [Gross Debt, approx] | | $[2,200] | $[2,550] |
| | | | |
| Shareholders' Funds, millions | | | |
| Start of year | | $2,196 | $2,416 |
| Net Income | | $220 | $371 |
| End of year | | $2,416 | $2,787 |
| | | | |
| Debt/Equity | | 88% | 89% |
Consensus analysts' estimates for 2013 sales and EPS are $1.06 billion and $0.55. This sales number is only slightly below the mid-point of guidance used in the above Financial Model. The EPS figures are also similar and the quarterly breakdown of the analysts' $0.55 EPS figure is illuminating. It shows a wedge of increasing profits during 2013, clearly pointing to strong EPS numbers for 2014: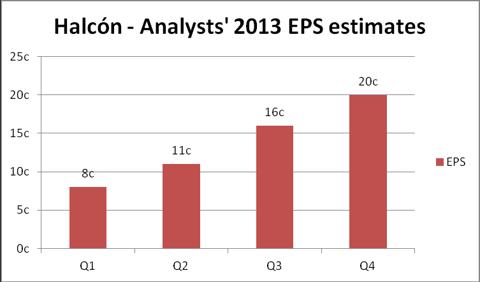 With Halcón set to increase capex in 2014, grow production and achieve cost and efficiency improvements, and bearing in mind the improving EPS trend occurring throughout 2013, it seems reasonable to conclude that full-year 2014 EPS will be ~$1.00 or more.
Valuation Metrics
Enterprise Value / EBITDA: Working off the current share price of $6.60, the Enterprise Value is $4.3 billion. Full year 2013 EBITDA is $875 million and this equates to a forward EV/EBITDA of 4.9. On a fully diluted basis, this becomes 5.7. For a mature company, these ratios would be reasonable but for a fast growing company, they are low.
Enterprise Value / Flowing Production: Using 2013 Boed of 42,500 gives $101,000, again this is inexpensive for a high-growth company.
Proved Reserves: At December 2012, proved reserves, inclusive of the Williston acquisition, amount to 115 million Boe. Of this 79% is oil and 49% is developed. Working off the enterprise value of $4.3 billion, this amounts to $37 per barrel. Such a figure is fairly normal for a mature E&P company but is cheap for a fast growing company. Additionally, this 115 Mmboe figure relates mostly to measurement points earlier in 2012 and investors can expect Halcón to publish significantly higher proved reserves numbers in its next 10K filing. As a reference point, Halcón estimates that the total reserve potential of its total existing acreage, including the Williston acquisition, is over 1 billion Boe. That's just $4.30 per Boe based on $4.3 billion EV and it should enable the proved reserve numbers to expand exponentially over time.
Acreage: It is very difficult to take several swathes of differing land rights and apply valuations thereto that, in aggregate, can be taken to the bank. That reality must be kept in mind when reviewing these approximations.
Williston, 136k acres @ $7.5k = ~$1bn
Woodbine/Eagle Ford, 200k acres @ $7.5k = ~$1.5bn
Utica/Point Pleasant , 130k acres @ $7.5k = ~$1bn
The Williston acreage spans a number of sweet spots including 'the prolific Fort Bertold area'. Additionally, Halcón's Williams County acreage is just north of where Continental (NYSE:CLR) announced Monday, December 3, its game-changing Three Forks 3rd bench well, Charlotte 3-22H, with some likely positive consequences for Halcón. Overall, $7.5k/acre should be low-side for the Williston acreage. As for Woodbine/Eagle Ford, $7.5k/acre is low compared to prices paid in the recent past. In the Utica, the current price for non-core acreage is about $5k/acre and core segments like Point Pleasant can be valued at $15k/acre in line with recent monetization transactions by Chesapeake (NYSE:CHK). Against these parameters, the $7.5k/acre should be conservative for Utica/Point Pleasant.
This still leaves; 70k acres Tuscaloona Marine, 25k acres Midway/Navarro, 95k acres Wilcox, 45k acres Mississippi Lime, 200k acres Austin Chalk and 24k acres Eagle Ford. This large mixed bag of assets would be worth $1.5 billion if valued at an average of just over $3k/acre.
Collectively, these come to a combined total of $5 billion using what I believe to be low-sided valuations. There is a comfort factor here with this conservative number still being higher than Halcón's economic value of $4.3 billion. If up-to-date or fuller valuations are used, it is clear that the combined asset values would be substantially greater than Halcón's current economic value.
Price Earnings Ratio: Analysts' consensus 2013 EPS estimates are $0.55. With the stock trading at $6.60, this is a forward p/e of 12. This is low considering Halcon's large acreage and growth potential. However, investors should keep a watchful eye on 2014 EPS estimates. In early calendar 2013, these 2014 EPS will appear on financial web sites such as Yahoo Finance as the new 'next year' EPS estimates and strong 2014 EPS estimates would normally be supportive for the stock price.
Liquidity and Debt Equity
Neither Liquidity nor the Debt/Equity ratio is an issue.
Halcón has confirmed that pro-forma liquidity, inclusive of the Williston acquisition, is just under $ 1 billion. Going into 2013, the growth in proved reserves, production and operating cash flow will enable the company to further expand its choices of debt. As mentioned above within the Financial Model Assumptions, I would anticipate that new debt will come with a reduced interest cost to the company.
The Debt/Equity ratio for year-end 2013 is forecast to be ~88% and ~89% for year-end 2014. These are within perfectly normal ranges for growing E&P companies and are not high.
As to debt servicing, the forecast Debt/EBITDA ratios for year-end 2013 and 2014 are 2.5 ($2,200/$875) and 2.1 ($2,550/$1,201). These are entirely comfortable debt service ratios.
Recent Share Purchases
Two recent lots of share buying have occurred.
Seven members of the management team bought shares in the open market in November ranging from prices of $5.35 to $5.76. Strong buying across the management group like this is significant. Refer Barrons article; Halcón Resources CEO Leads Buying Spree.
Citadel, a hedge fund run by Ken Griffin, increased its ownership stake by 2 million shares so far in Q4 according to a recent 13G filing.
Based on Halcón's growth and earnings potential over the next few years, the decision by management and Citadel to buy shares in recent weeks is both prescient and insightful.
Acquisition Target
It is acknowledged that Halcón will be sold one day and, no doubt, a great deal of money will again be made for investors. CEO Wilson has already confirmed his intention to repeat the Petrohawk cash-out process with Halcón, but on a bigger scale. A disposal won't likely occur for quite some time and, in my view, investment decisions are best when made on fundamental grounds rather than on the hope of a possible take-out. However, even without any acquisition premium, Halcón shareholders should benefit greatly during the coming years as management focuses on growing production and sales and maximizing earnings as they extract value from what is a very substantial asset base.
For more about Wilson and his goals for Halcón, read the following two press articles from June 2012 - WSJ and OGFJ - and watch this brief interview on CNBC from October 2012.
Technical
Whilst I'm a fundamentalist rather than a chartist, I fully respect that many market players place reliance on charts. On December 6, 2012 Stockpicker.com identified HK as a stock that, in their words, is "trending very close to triggering a break-out." The analysis can be accessed for free here.
A simple scan of the following chart shows how strong support for Wilson and his team led to a huge surge in the stock price in December 2011. That was when Wilson first entered the scene at Halcón, which at that time was called Ram Energy. The stock price has softened during 2012 as the company cut a number of deals that has left some investors unclear as to where the company stands. As Wilson wins back investor support during the coming months when Halcón's bright prospects become better understood, the chart trends should again indicate strength.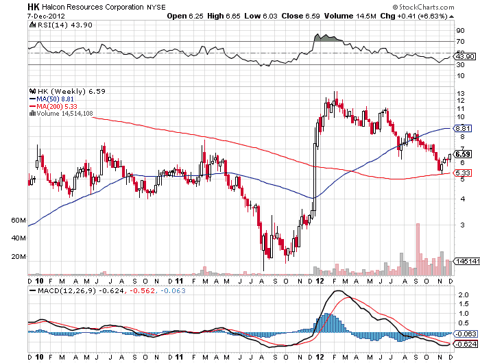 Other reading
Insightful articles have recently been penned by two authors on Seeking Alpha; Michael Fitzsimmons and Steve Zachritz. Both are recommended.
Halcón's home page also contains good information
Summary
With Halcón stock currently trading at $6.60, this would equate to a next-year p/e of 6.6 in early 2013 based on 2014 EPS of $1.00. This is just too cheap. Considering all of Halcón's positives, including comfortably low valuations on several metrics, its large acreage, reasonable debt levels, and not forgetting the pedigree of its management, it's hard to imagine that the stock will continue to trade on such a low forward p/e ratio. Doubtless, the stock will be rerated during the coming weeks.
Disclosure: I am long HK. I wrote this article myself, and it expresses my own opinions. I am not receiving compensation for it (other than from Seeking Alpha). I have no business relationship with any company whose stock is mentioned in this article.