Weekly Outlook: The market got boosted in the past week as fears of a fiscal cliff were not as strong as excitement over better than expected economic data, especially concerning employment. The Unemployment Rate dropped to 7.7% from 8.0% despite a tough month after the Superstorm Sandy. Expectations were for the unemployment rate to be flat at 8.0%. Coming into this week, however, the market is going to be facing the fiscal cliff situation without any resolve.
As we near the December 31st deadline, the market should start to show more "risk-on" trading, and we could see that develop this week. There have been no recent developments on the cliff, and we would expect to see the market grow more fearful of that situation this week. There is some interesting economic data to watch this week as well as a Fed rate decision coming, which could spark some movement in the market as well.
The coming week will bring a fairly large slate of economic data to watch. Reports get started with the Trade Balance on Tuesday, which is expected to drop in the balance to -$43B from -$41.5B. A surprise there would be solid for the market as it would be better for the GDP since the figure is heavily influenced by imports/exports. Data continues on Wednesday with Crude Inventories, Treasury Budget, and the all-important FOMC Rate Decision. Thursday will bring us Jobless Claims, Retails Sales, PPI, and Business Inventories.
We will be watching the Retail Sales mostly as they are important to see how the holiday shopping season is shaping up so far. These Retail Sales will include Black Friday and Cyber Monday. Finally, we finish the week up with CPI and Industrial Production. It's a lighter set of reports than last week, but there are some important reports to watch this week that will set the stage.
Europe should continue to take a backseat to the situation with the fiscal cliff. With Greece's funding going through, the market has much less to worry about with Europe. The markets have actually been quite strong, and we believe that it will be a quiet week for the continent. They should mostly follow our fiscal cliff situation for their direction. The only stories to watch for are the German ZEW Survey on Tuesday, Great Britain's Employment information on Wednesday, and the ECB Monthly Report on Thursday. Despite the importance of those reports, they still will probably have a minimal impact on the market as it fixates on Washington, D.C.
For earnings, we have another fairly light week as earnings start to dry up into the January earnings season. Companies with atypical reporting seasons are also mostly done reporting as well. The reports to watch for this week are Costco (NASDAQ:COST), Adobe (NASDAQ:ADBE), Dollar General (NYSE:DG), and Joy Global (NYSE:JOY). COST is probably the only report that can really move this market, but ADBE will be key to technological companies and the Nasdaq. DG and JOY will only be influential in their own industries. With the fiscal cliff weighing on the market, these earnings will only be important to the companies and some close competitors. They should not have a major influence on the market.
The Federal Reserve will be reporting their monthly rate decision on Wednesday, which is actually one of the major headlines for the week. The Fed is expected to announce that they will extend the size and length of the Operation Twist program when it closes at the end of the year. That program buys Treasury Bonds, which is different than the QE3 program that buys mortgage-backed assets. The extension of Operation Twist means more "free money" for the market, which should boost equities. The question for the market is at what point does another round of easing have a limited effect on the market.
So where are we headed this week?
The Fed decision could give the market some upside juice this week, but it will be overshadowed by a lack of decision on the fiscal cliff. The market is risky this week because it will be mostly impacted by headline developments about the cliff. Positive movement towards resolution will be bullish and basically anything else should weaken equity markets. It's a tough week to call the market, and that is why many seem to be sitting on the sidelines, waiting for the market to make its own way. Some economic data like Retail Sales and the Trade Balance can be impactful as well, but they will be limited by the current market situations. It's a wait and watch type of week.
Stocks To Trade:
The four stocks we are looking at this week are Halliburton (NYSE:HAL) and Visa (NYSE:V) for longs as well as Youku (NYSE:YOKU) and Agilent Technologies (NYSE:A) for shorts.
We are liking the looks of HAL and V for longs right now as both stocks have been very strong as of late and look like they can continue higher. HAL has been rebounding well after a summer of weakness, and the stock looks like it could break out on a bit more upside. Halliburton is down 4% on the year as it's been a weak year for oil-related companies due to weaker global demand, but HAL has a potential catalyst this week that could get it going: The Fed.
If the Fed does decide to extend Operation Twist, it will be a catalyst for oil as the dollar will weaken. The dollar will weaken due to the fact that more "free money" being pushed into the open market dilutes current dollars. Weaker dollars is good for oil prices. Better oil prices are a catalyst for oil services firms like HAL. Further, the stock has a technical setup for a breakout if it can get over the $34 line, which has been previous resistance for the stock as well as where the stock's Bollinger Band resistance is sitting.
Visa is also looking very strong as it has been a good year for credit card companies. V has increased over 45% this year, and the stock is in a great upward channel. With earnings not until January, the company has little to reverse its current trend besides the fiscal cliff. Yet, the company should benefit from retail sales this week as the holiday season is key to credit card companies. The stock has not broken the upward channel it is right now for months, and we like using the strength for an options play with a bull put spread. The stock has good support at $140, which is below the 20-day and 50-day MA and has not been penetrated since September. We can use this level for writing a spread for January for a solid gain.
Trade #1: Long, HAL
Breakout: Break of $34
Trade #2: V, Jan19, 140/135 Bull Put Spread
Max Gain: 13%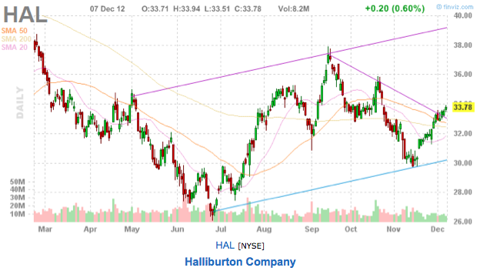 Click to enlarge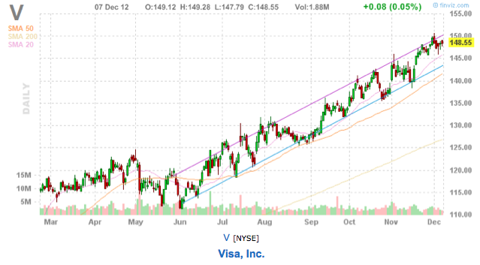 Click to enlarge
For bearish trades, we like the looks of Agilent and Youku. Both stocks are looking weak right now, and we like bearish trades in both. Agilent looks like it could be ready for a breakdown if it sets up correctly. The stock has support below it right now at $37 with the 50-day and 20-day MA sitting at that line. The stock is nearing those lines, and if the stock loses those support levels, it could see a strong breakdown.
The issue for A is that they have lost their upward momentum since earnings on November 19. The company had a good report, beating EPS and revenue estimates, but they have lost their momentum from that report. Further, their coming report does not look as bullish. They are expected to see a drop in EPS from 0.69 to 0.67 as well as 3.5% revenue growth. The lack of consistent growth is keeping A in check with such potential weakness. If the market turns sour this week, watch that $37 line for a potential short.
Chinese companies are all looking very weak right now after a move by the SEC on Chinese auditors has put a lot of the companies on watch. The SEC is investigating auditors for Chinese companies public in the USA, and that move is taking cash flow out of these companies. YOKU has long been a sell of ours as the company has proven nothing, makes no profits, and is seeing rising competition. The company has been in a longterm downtrend, and there is no reason to expect that to change. The company had earnings on November 29 that showed negative EPS of -0.67, and they are expected to double their losses in 2013. With the black eye on Chinese companies and a lack of profits, upside potential for YOKU seems minimal. We like them for a bear call spread at the 17/18 level as that is above where the stock broke down on its last earnings report.
Trade #3: Short, A
Breakout: Failure of 37.00
Trade #4: YOKU, Jan19, 17/18 Bear Call Spread
Max Gain: 14%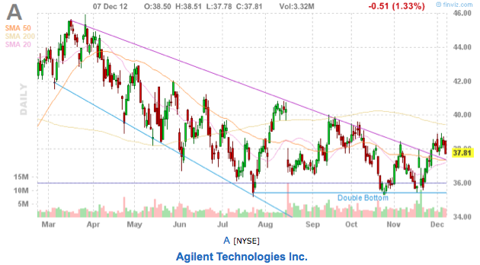 Click to enlarge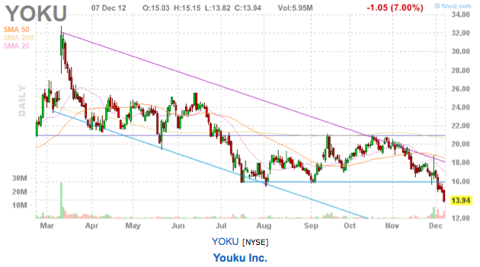 Click to enlarge
Chart courtesy of finviz.com.
Disclosure: I have no positions in any stocks mentioned, and no plans to initiate any positions within the next 72 hours.
Business relationship disclosure: The Oxen Group is a team of analysts. This article was written by David Ristau, one of our writers. We did not receive compensation for this article (other than from Seeking Alpha), and we have no business relationship with any company whose stock is mentioned in this article.