We have published four reports analyzing and evaluating Sprint Nextel (NYSE:S) against T-Mobile USA. Although Sprint has weaker OIBDA margins than T-Mobile USA, it has at least performed better with regards to retaining its customers over the last couple of years due to its improvements in customer service. The key reason why we see that Sprint is putting distance between itself and T-Mobile USA is because Sprint had Apple Inc.'s (NASDAQ:AAPL) iPhone and T-Mobile did not. However, we are aware that no company exists in a static environment on a tranquil island unto itself and attempt to remedy deficiencies between itself and competitors. We could see that T-Mobile USA was regretting its ad campaign mocking the iPhone because T-Mobile ended up having to spend $4B to upgrade its network to accommodate 1.7 million subscribers who brought old unlocked iPhone devices onto T-Mobile's slow 2G GSM network. Although we were surprised that Apple recently agreed to a deal in which T-Mobile would finally join the iPhone club, we don't think for a minute that Sprint is shaking in its boots with regards to T-Mobile USA's deal. We most certainly are not and we can think of many reasons as to why we're sanguine about how T-Mobile USA's deal with impact Sprint.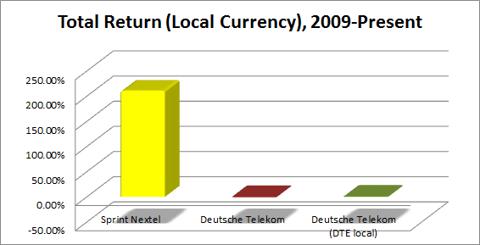 Source: Morningstar Direct
Sprint/Virgin Mobile: Best Value for the Consumer
When evaluating T-Mobile USA's recent iPhone deal with Apple, we can see that T-Mobile USA won't be offering a discount on the device like AT&T (NYSE:T), Verizon (NYSE:VZ) or Sprint. T-Mobile USA's CEO John Legere said at an investor meeting that while the company won't be offering an upfront subsidy like the AT&T/Verizon duopoly or even Sprint, it will offer a $20/month discount on its monthly wireless service cost. The good news for T-Mobile is that the AT&T/Verizon duopoly doesn't offer iPhones to its prepaid subscriber base nor does it offer a $20/month discount for non-contract customers that pay the full price for the iPhone or other smartphones. Another piece of good news is that Sprint doesn't offer the iPhone or other smartphones without a contract however the bad news is that Sprint has two separate prepaid wireless brands (Boost Mobile and Virgin Mobile USA) that allow customers to buy smartphones without a contract and to pay the dirt-cheap prepaid monthly wireless cost of $30-$55 for unlimited talk, text and data. We think Sprint/Virgin Mobile USA's $55/month for unlimited talk, text and data on an iPhone is the best value in mobile telecommunications and a similar plan at T-Mobile USA would cost $70/month even though T-Mobile has only signed a deal to sell Apple's iPhone smartphone device.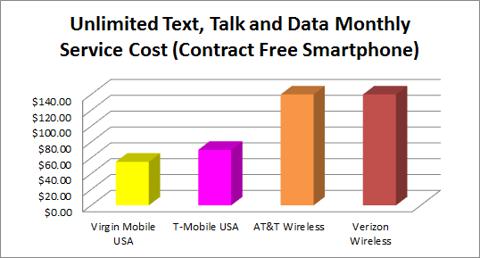 Source: Wireless Company Websites
Sprint: The S Stands for Service
Although T-Mobile USA is joining AT&T, Verizon and Sprint in offering the iPhone, we're not as impressed as when Sprint finally landed the iPhone last year. Not only does Sprint and the AT&T/Verizon duopoly have a significant head-start on T-Mobile USA in terms of selling the iPhone device, but Sprint has drastically improved its customer service experience relative to its peers. While Verizon may still be the number #1 US Carrier according to Consumer Reports, we can see that Sprint's CEO Dan Hesse has installed a culture of customer service that was lacked under its former CEO Gary Forsee. Sprint was #1 among all national carriers in customer satisfaction and most improved, across all 47 industries, over the last four years according to the May 2012 American Customer Satisfaction Index. Sprint has been ranked Highest in Satisfaction with the Purchase Experience among Full-service Wireless Providers from 2010-2012 according to J.D. Power. J.D. Power also ranked Virgin Mobile USA Highest in Satisfaction for Customer Care with Non-Contract Wireless Service. Unfortunately for T-Mobile USA, JD Power ranked it last in terms of Wireless Customer Care Performance amongst the Big Four National Full-Service Carriers.
At Least Sprint Has 4G-LTE, Unlike T-Mobile USA
We're not surprised that Sprint and T-Mobile USA are lagging the AT&T/Verizon duopoly in terms of 4G-LTE locations. We're disappointed that AT&T (102) and Verizon (441) each have more 4G-LTE locations than Sprint and T-Mobile USA combined. However, we are pleased that Sprint at least has gone live with its 4G-LTE network as part of its Network Vision network upgrade project. Sprint's 4G-LTE network went live in five major cities in the middle of July and it is now available in 43 cities nationwide as of November. While this is a far cry from what the AT&T/Verizon duopoly has, Sprint has been steadily adding almost 10 cities and towns each month and four of the first five cities to get Sprint 4G-LTE service included Dallas (AT&T's Corporate Headquarters), Atlanta (AT&T Wireless's HQ), San Antonio (Former Headquarters of AT&T's predecessor SBC) and Houston (3rd Largest city in AT&T's ILEC footprint). Sprint's 4G LTE Network recently went live in the Chicagoland area (Ameritech's former HQ). Now Sprint is looking to bring 4G-LTE to Oakland (PacBell was headquartered one town over in San Francisco), Los Angeles (largest city in AT&T's ILEC footprint) and Indianapolis (Indiana Bell's HQ). T-Mobile USA has 4G-HSPA+ but it won't have 4G-LTE until 2013.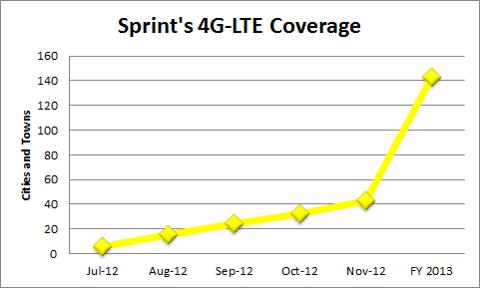 Source: Sprint 4G-LTE Press Releases (July 2012-November 2012) and Our Estimates
Sprint's New Parent Is Stronger than T-Mobile USA's Parent and Merger Partner
T-Mobile USA announced in early October that it was going to merge with MetroPCS (PCS). MetroPCS is a prepaid wireless specialist that targets "lower income, urban customers." MetroPCS was the 5th largest US wireless carrier in terms of subscribers (9M) and the second largest in terms of prepaid customers behind Sprint (15.4M retail prepaid and 8.4M wholesale). Sprint's CEO Dan Hesse had proposed a merger between Sprint and MetroPCS in February but his board rejected the deal. T-Mobile USA's parent Deutsche Telekom (OTCQX:DTEGY) tried to sell T-Mobile USA to AT&T in 2011. We were disappointed that Sprint announced its opposition to the deal because AT&T was willing to spend $39B on a broken-growth company like T-Mobile USA and we felt that the best way to hurt AT&T was to see AT&T consummate the deal with T-Mobile USA. Despite the fact that the merger had bipartisan support from diverse groups across the political spectrum, the Obama Administration's Justice Department led by Eric "My People" Holder opposed the deal and announced it would seek to block it. AT&T ended up withdrawing its proposed deal and paid T-Mobile USA $4B in cash and spectrum.
Sprint's soon-to-be new parent SoftBank (OTCPK:SFTBF) generated $7.7B in pre-tax income in its most recent full fiscal year, which compares to the $3.9B in pre-tax income generated by Deutsche Telekom. Although SoftBank's net income will drop once it acquires Sprint, it will be able to use its operating losses to offset taxable income from its SoftBank operations and we expect that Sprint will be able to tap into SoftBank's stronger financial position in order to accelerate its 4G-LTE build-out. We believe that SoftBank will provide greater long-term support to Sprint versus Deutsche Telekom and T-Mobile USA/MetroPCS. Our thesis for this observation is because of the way the T-Mobile USA/MetroPCS deal was structured. This deal was structured so that MetroPCS would be the technical acquirer of T-Mobile USA and the new combined company would take MetroPCS's stock listing in order to create a liquid way for Deutsche Telekom to salvage a portion of its $50B investment in T-Mobile USA's predecessor VoiceStream and to dispose of its T-Mobile USA stake.
Sprint has the iPad and T-Mobile USA Doesn't
Sprint's connected device customer base of 3.3M as of Q3 2012 is slightly ahead of T-Mobile USA's 2.9M. We were surprised that Apple did not let Sprint sell the 3rd generation iPad in March, but based on Sprint's steady incremental growth in connected device customers during the first 9 months of 2012, we can see why Apple let Sprint join the iPad Party in October when it released the 4th generation iPad and the new iPad Mini. T-Mobile USA's tablet computing device offerings include the T-Mobile SpringBoard, the Samsung Galaxy Tab 10.1 and the Samsung Galaxy Tab 2 10.1. Apple has a slight advantage relative to T-Mobile USA in terms of quantity of tablet computer products offered (4 for Sprint versus 3 for T-Mobile USA) and has a significant edge in terms of quality of tablets offered as Sprint has Apple's iPad and iPad Mini but T-Mobile USA doesn't.
Conclusion:
In conclusion, we believe that Sprint's stakeholders need not fear T-Mobile USA's "big iPhone deal" with Apple. While T-Mobile USA might be getting the iPhone, it won't be offering it at the discounted price for contract holders like Sprint and the AT&T/Verizon duopoly. Considering that Sprint's Virgin Mobile USA subsidiary also offers the iPhone for a reduced monthly service cost without a 2 year contract for those who pay full retail price for the phone, we don't think that T-Mobile USA will have any significant competitive advantage relative to Sprint with regards to its new iPhone offering nor should it expect to attract many customers from the AT&T/Verizon duopoly. Sprint has at least 6 months head start on its 4G-LTE initiative relative to T-Mobile USA and has had better customer service ratings than T-Mobile USA. Sprint only has 9 more months of dealing with Nextel run-off and then it can focus 100% of its attention on expanding its Sprint 3G and 4G customer base. And the last reason why we prefer Sprint over T-Mobile is because Sprint has the iPad and T-Mobile USA doesn't.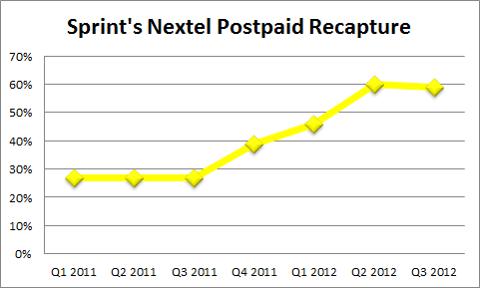 Sources: Sprint's Last Three Earnings Releases
Disclosure: I am long S, AAPL. I wrote this article myself, and it expresses my own opinions. I am not receiving compensation for it (other than from Seeking Alpha). I have no business relationship with any company whose stock is mentioned in this article.
Additional disclosure: This article was written by an analyst at Saibus Research. Saibus Research has not received compensation directly or indirectly for expressing the recommendation in this article. We have no business relationship with any company whose stock is mentioned in this article. Under no circumstances must this report be considered an offer to buy, sell, subscribe for or trade securities or other instruments.