CYS Investments (NYSE:CYS) offers a net 7% return in 3 weeks. This article will focus upon the mechanics behind a 7% investment return within the 3 week time frame. There are 5 catalysts to move the stock higher.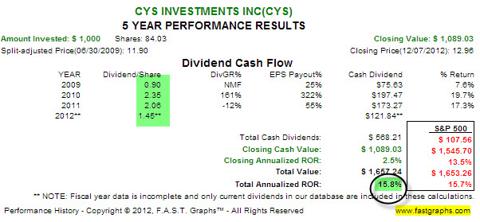 1. CYS Investments Valuation
CYS Investments has a September 30th book value per share of $14.46. The stock, as of September 7th, closed at $12.96. This is an 11.4% discount to book value per share. On a pure valuation metric, the shares appear to be under valued.

2. Company Buyback Authorization
The company did reverse its October 18th conference call strategy to not implement a share buyback plan. Management stated they would not buy back shares on October 18th. On November 15th, the company filed an 8K stating a $250 million share buyback plan was in place.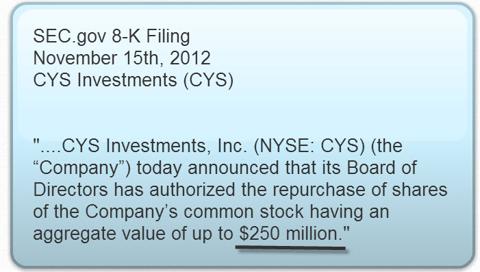 This does not mean the company is required to buy $250 million shares. If insider purchases are an indication, I believe the company's $250 million buyback plan was enacted to a partial extent. This reduces the number of shares outstanding and increases book value per share.
3. Insider Purchases
Insiders have purchased $1.48 million in CYS Investment shares. The purchases were between October 23rd and December 3rd.

Insider purchases are typically a good sign for the stock price.
4. 4th Quarter Dividend
I believe the company will announce a 4th quarter dividend of 45 cents. This will be a continuation of historical payouts. Here are the historical ex-dividend dates and dividends: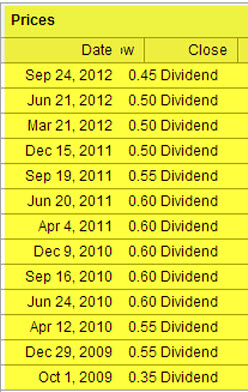 5. Special Dividend
As SeekingAlpha.com reported on their October 18th CYS earnings' transcript, it appears CYS Investments will have a 4th quarter special dividend this month: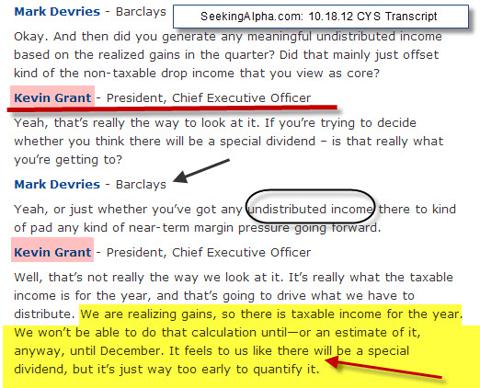 Bernanke's Quantitative Easing program has causes agency mortgage backed securities (MBS) to increase in value. I estimate CYS Investments will announce a 25 cent special dividend in the next 3 weeks. This is based upon agency MBS returns, Treasury yields, and the Federal Reserve agency MBS buyback plan.
This payment will go ex-dividend, along with the regular dividend, prior to December 31st. This will result in CYS Investments announcing a net 70 cent ex-dividend prior to year end. 70 cents results in a 5.4% move from today's $12.96 price.
My 7% 3 Week CYS Investments Trade
I believe one can achieve 7% in 3 weeks by a) owning 1,000 CYS Investments shares at $12.96, b) owning 10 credit put spreads. The news of a $700 (read: $450 regular 4th quarter dividend + $250 special dividend) cent net dividend plus a $260 credit spread income equate to $960.
The $260 credit put spread involves 1) buying 10 CYS December expiration, $12 strike price puts; 2) and shorting 10 CYS December expiration, $13 strike price puts.
If the stock moves to $13 per share, then the credit spread expires for a $260 gain. The investor will gain $700 in dividends. I expect the stock price to move upward as the dividends are announced in the next few days.
The stock will have to move to $13.61 to achieve the 7%. This includes the $260 credit option income, and the assumption the stock will decrease by precisely the amount of the dividend.
Summary
I believe agency MREIT's have a difficult future. If the Quantitative Easing 4 results in the Federal Reserve buying back 90% of agency MBS, then investors should own hybrid mREITs. I believe, however, the CYS Investment shares offer a 7% gain in 3 weeks due to the two dividends plus a credit put spread.
Disclosure: I am long CYS. I wrote this article myself, and it expresses my own opinions. I am not receiving compensation for it (other than from Seeking Alpha). I have no business relationship with any company whose stock is mentioned in this article.
Additional disclosure: I am long CYS credit put spreads.