No company can be a serious player on any front, unless they have an online strategy. If not in whole, at least in part. Be it retail or selling services, the online space is more important than ever and those who ignore this fact pay the price.
Years ago many doubted that people would shopping online. It took Amazon (NASDAQ:AMZN) to prove everybody wrong and it took Barnes and Noble (NYSE:BKS) and its corporate blunders of a decade ago, to prove that online shopping was a serious contender to full retail outlets.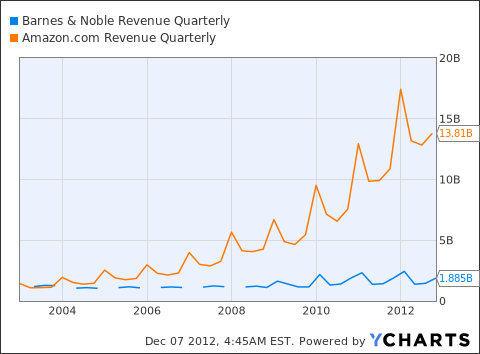 BKS Revenue Quarterly data by YCharts
Gambling is no exception. Just as retail migrated online, so will gambling
Anyone who wants to be a serious player in the gambling space will have to develop an online strategy. Also, those who want to enter the gambling space, are probably better of starting online than actually building a casino.
And companies who are already in the gaming business and want to make the transition to gambling, are probably half way there.
Zynga (NASDAQ:ZNGA) has pioneered the online social gaming space and is ready to enter the online gambling space. The recent deal announced with bwin is probably only the beginning of this transition. For Zynga this move is a natural and an evolutionary step.
According to PWC's 2011 global gaming outlook:
With governments now facing severe fiscal constraints and eager to replenish their coffers, their attention has been caught by the potential of legalized and licensed online gaming services as a valuable source of tax revenues. There is also a strong argument that, since consumers will engage in illegal online gaming anyway, it is better to license and tax it than to allow the revenues to go to unlicensed operators.
In other words, governments around the world will seek to legalize online gambling to tap into revenue that today is not taxed. The easiest way to do this is via online casinos, where there is transparency and governments know exactly what is spent.
According to intelligence firm H2 Gambling Capital, global gambling proceeds (the amount money people gamble and lose) will be about $417 billion this year. The U.S. is the number one gambler globally with about $104 billion in proceeds, but only 3.3% of that comes from online channels, while the world average is about 8%.
This means that if and when online gambling is legalized across the U.S., companies who get a foothold in the online gambling space will probably end up making a lot of money.
Can Zynga execute?
Zynga is perfectly positioned to play a key role in the online gambling space, simply because of the fact that it is an online gaming company by default. So moving to online gambling, from social gaming, is something like second nature to Zynga.
The company should be able to leverage its millions of social gaming players one way or another. But what is even more important is that no one else has such a ready clientele. In other words, they are already better positioned than almost everybody else by default.
If Zynga will be successful or not we do not know. We can only "play" with the possibilities. What I can tell you however is that Zynga has all that is necessary to succeed and, is by far ahead of everyone else in many respects. So if anyone can make it in the space, it will be them. Companies who breath and operate in the online space have better chances to succeed than regular casino operators.
The risk reward possibilities for Zynga's stock, assuming a successful transition to the gambling space, at current valuations, is in investors favor. Not only has the stock corrected and current valuations are more than reasonable, but the company has a very strong balance sheet, to be able to finance such a transition.
Social gaming at the moment is in a downturn. As such, I don't look at Zynga as a social gaming stock, but as a possible future gambling stock, for that's where the big money will be.
So I reiterate my buy recommendation for the stock, based on valuation metrics (please read my previous articles here) and because of the tremendous possibilities for profit in the online gambling space.
Yes there is quite a bit of speculation in my logic, but if things turn out the way I think they will, the potential for profit is substantial. However, as with any stock, one needs to follow developments of what is going on -- in this case that includes the gambling space -- and position himself accordingly as information becomes available.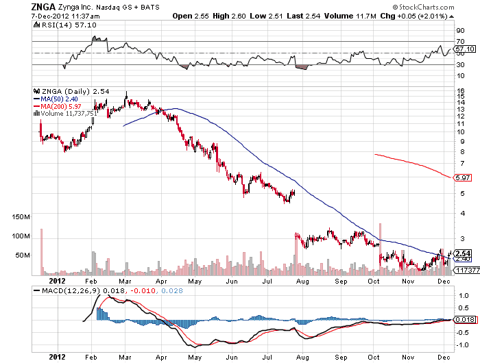 On a technical note, the stock is above the 50 day moving average, which means that short term trend is up. I think the stock will need to break above the $3 range and fill the gap before we see real excitement. I don't have any estimates or targets as of yet, but I will keep you posted as news and earnings come along.
Disclosure: I have no positions in any stocks mentioned, and no plans to initiate any positions within the next 72 hours. I wrote this article myself, and it expresses my own opinions. I am not receiving compensation for it (other than from Seeking Alpha). I have no business relationship with any company whose stock is mentioned in this article.