Shares of Verizon Communications Inc. (NYSE:VZ) have gained approximately 11% since the start of the year, however, they have given back some of the gains since the recently achieved 52-week high of $47 in October. This presents an excellent opportunity to take a long position in the stock as Verizon is an operationally strong company with equally strong fundamentals. Moreover, a dividend yield of 4.6% is particularly attractive in the currently prevailing low yield environment.
Verizon, headquartered in New York, is a leading telecom communication company offering various wireline and wireless services to its customers. As of September 2012, the company had approximately 90 million postpaid subscribers on its network which represents the largest share of the postpaid market in the region. Verizon is a $126 billion enterprise, with its shares trading near $44.40.
Operational Analysis
Verizon is one of the more operationally sound telecom companies. If it is analyzed from an operational perspective, key business metrics like churn, average revenue per subscriber, net subscriber additions have all shown consistent improvement quarter over quarter.
In the third quarter, the company reported a churn of 1.18% for retail customers which is a drop of 8 basis points from the year ago quarter. For postpaid connections, churn dropped to 0.91% in Q3 2012 compared to 0.94% reported in Q3 of 2011. Similar improvement can be seen in its other metric, average revenue per user, which the company has now decided to rename average revenue per account because of its shared data plans. In the third quarter, it reported a 6% growth in the said metric largely due to increased smartphone usage by its subscribers.
Perhaps, the most impressive metric released by the company in its latest earnings announcement was the net subscriber additions. In the third quarter, Verizon added approximately 1.54 million postpaid customers to its expanding subscriber base, which is particularly impressive as it only added a little over half a million customers in the same quarter of the last year. This growth in customer additions indicates that, going forward, Verizon will continue to steal market share from its rival, AT&T (NYSE:T) which reported a drop in postpaid additions for Q3 compared to last year's additions (net postpaid additions: Q3 2012 :150,000, Q3 2011: 319,000).
The charts below illustrate that the company has brought about a consistent improvement in the aforementioned metrics quarter over quarter.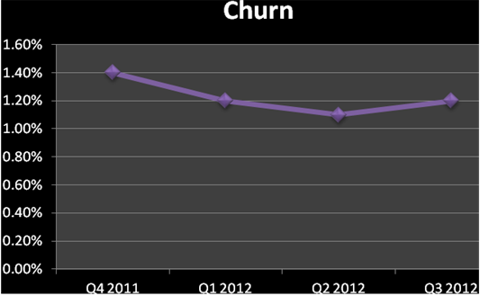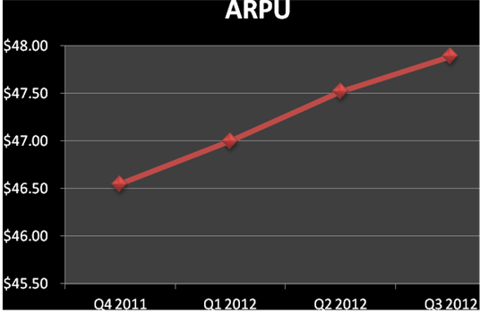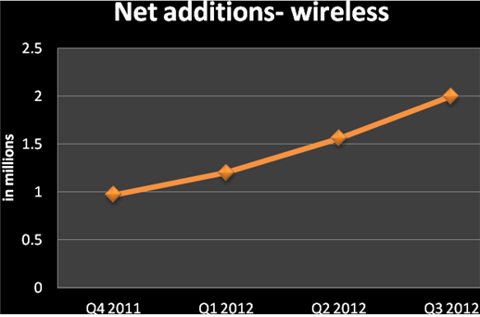 Smartphone penetration to present growth opportunities
Smartphone boom is leading to a very profitable scenario for telecom companies as a rapidly increasing percentage of the population is switching from their basic mobile devices to smartphones. US still has a relatively lower smartphone penetration. According to a ComScore survey, approximately 230 million US residents are using a range of mobile devices, with smartphone penetration reaching 47% by the end of second quarter. Verizon is one of the industry leaders when it comes to selling smartphones. Despite the costs the company has to bear to be able to offer the wireless products to the public at a subsidized rate, smartphones are proving to be the engine of growth for Verizon. This growth is very much visible in its EBITDA service margin. In Q3 2012, the company reported a wireless EBITDA service margin of 50%, up 200 basis points from the same quarter of the previous year. Going forward, full year EBITDA service margin is estimated to expand to almost 48% from 45% in FY2011.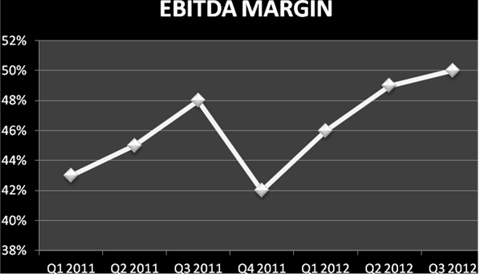 Financial perspective
Verizon has produced a revenue CAGR of 4% since FY2007 which is a very modest growth, considering the staggering growth in its wireless segment. However, when looked at in the context of wireless substitution and the overall shrinking wireline business, four-year CAGR of 4% is reasonable. Despite the capital extensive requirements of the telecom industry, Verizon has maintained stable gross and operating margins. In the financial year ended 2011, the company posted gross and operating margins of 59% and 12% respectively, which compare well to AT&T's gross and operating margins of 45% and 7.3% respectively. Verizon ended the financial year 2011 with $14 billion in cash and $55 billion in total debt. Debt is considerably high with a debt to equity ratio of 140%, however, a healthy interest coverage of 9.5x suggests that the company's operations are sound enough to cover its finance costs.
Dividend analysis
Verizon has recently declared its quarterly dividend of $0.515 per share which represents a growth of 3% over the previous dividend. The dividend is payable on Feb. 1, 2013 to its shareholders on record as at Jan. 10, 2013. This also marks the sixth consecutive year of dividend boost. Over a period of six years, dividends have grown at a compounded rate of over 4%.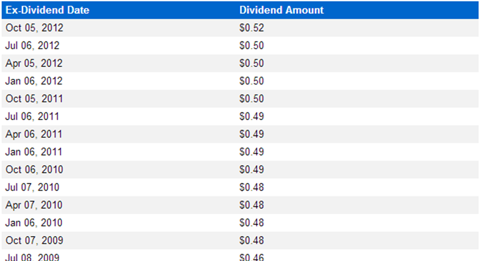 Source: www.dividata.com
The stock currently offers a very lucrative dividend yield of 4.6% which is well supported by its free cash flow yield of 7%. Verizon has historically produced operating cash flows in excess of its dividend payments and capital expenditures. During the first three quarters, Verizon generated operating cash flows of almost $25 billion while incurring $19 billion in capital expenses and dividend payouts which signals the company's ability to sustain its high payout through its operations.
Analyst upgrade
Recent upgrade has come from Nomura Securities, recommending the stock as a 'buy' based on its leadership in the next generation 4G technology and ability to provide higher data speeds. Previously, they had a neutral rating on the stock.
VZ is trading at 15 times its forward earnings, at a slight premium to AT&T's multiple of 13x. Earnings over the next five years are expected to grow by 11% which is well over the growth expectations for its rival AT&T Inc. Moving forward, these high growth expectations will likely push its price up. Based on 2014 EPS estimates of $3.50, I arrive at a target price of $53 which is a capital return of 20% on the current share price of $44.10. After accounting for the dividend yield of 4.6%, total return comes out to be 25%.
Based on Verizon's earnings growth prospects, high dividend yield, and strength in operations, I recommend a long position in VZ.
Disclosure: I have no positions in any stocks mentioned, and no plans to initiate any positions within the next 72 hours. I wrote this article myself, and it expresses my own opinions. I am not receiving compensation for it (other than from Seeking Alpha). I have no business relationship with any company whose stock is mentioned in this article.