Pure play on copper, strong balance sheet, growth story, strong project pipeline, safe dividend and yet a foray into a sector with little if any synergies, why would you do that Freeport? Is the super cycle of metal prices maturing? Has management lost confidence in the copper growth story? Is there more to Indonesian political risk then what the market knows? Or is it a combination of all?
Our initial reaction to the Phoenix-based company's decision to diversify into the energy sector is negative. We see little if any synergies between copper mining and high risk oil & gas drilling business. If diversification is all what investors wanted they could get it at a much cheaper cost than the premium prices paid for the recent acquisitions. Furthermore, the transactions have significantly increased FCX's leverage from almost zero net-debt to $16 billion after the acquisitions.
Freeport-McMoRan Copper & Gold Inc. (NYSE:FCX) rebounded slightly (3%) on Friday after investors took a huge chunk out of its share price on Wednesday and Thursday, reacting negatively to the company's decision to diversify into the energy sector. On 5th November FCX announced its plans to re-enter the oil and gas business in a big way with the purchase of Plains Exploration & Production Company (NYSE:PXP), a shale and gulf oil player, for $6.9 billion in stock and cash deal and McMoRan Exploration Co (NYSE:MMR), a deep sea drilling company, which FCX spun off 18 years ago for $3.4 billion in cash.
Investors' and Analysts' Reaction
Both investors' and analysts' initial reactions to the announcement were negative. Freeport's investors were not only blindsided by the company's decision to diversify in the oil and gas sector, but are also not allowed to vote on the deal, meaning the only way they can show their displeasure is to dump the stock, which they did in a big way after the company made the news public.
"They've never really indicated that they had an interest in diversifying into other metals, much less into oil and gas," said Rick de los Reyes, portfolio manager at the T. Rowe Price Global Metals and Mining Fund, which owns Freeport shares.
Evy Hambro, a managing director at BlackRock, one of Freeport's top-five shareholders, condemned the deal on Wednesday, saying there was no reason why the three companies should be put together.
Standard & Poor's cut its rating outlook on FCX to negative from stable, whereas, Citigroup, Goldman Sachs, Deutsche Bank, Macquarie Bank Ltd, RBC Capital Markets, and BMO Capital Markets all cut their ratings on FCX shares after the deals. Furthermore, Nomura and UBS have cut their price target on FCX, Nomura from $40 to $36 and UBS from $47 to $40.
"We believe that Freeport stock will remain in the penalty box for the foreseeable future and multiples will remain depressed on the back of these acquisition announcements, given investor uncertainty on the strategic merit," analysts at Goldman Sachs wrote in a research note.
Management's Rationale
Management defended the move as an opportunity to leverage the company's access to low cost, long-term financing to invest in attractive long-term, low cost assets. Management further cited Phelps Dodge (PD) as an example where investors ultimately benefited even with little synergies. What management failed to mention is that other than the obvious oil vs. copper business differences PD was acquired at discounted multiple to FCX and PD immediately generated free cash flow, which allowed FCX to deleverage. While the PD deal was accretive the MMR-PXP deals appears dilutive.
Despite of all the negative sentiments, there are some positives as well. The deal does provide diversification with one-fourth of the pro-forma profits coming from the new energy business and three-fourths still coming from high-quality and long-life copper and gold assets. These acquisitions also improve the geographic and political risk of the company:
Source: Company Documents
Source: Company Documents
Dissecting the transactions
Plains Exploration & Production Company
Under the terms of the deal Freeport agreed to acquire PXP in a mixed cash and stock deal, paying $25 in cash for every PXP share and consideration of 0.6531 shares of FCX common stock. Based on the pre-announcement closing price (38.28/share) of FCX on December 4th, this represents a total consideration of $50 per PXP share, a premium of ~39% to PXP's pre-announcement closing price of $36.07, and 42% to its one-month average price. PXP shareholders may elect to receive cash or stock. Aggregate consideration to the PXP shareholders is expected to consist of approximately $3.4 billion in cash and approximately 91 million shares (~9.6% dilution to outstanding shares) of FCX common stock.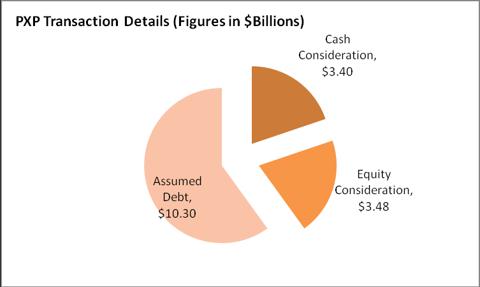 McMoRan Exploration Co.
FCX acquired MMR for per-share consideration of $14.75 in cash plus 1.15 units of a royalty trust that will hold a 5% overriding royalty interest in future production from MMR's existing ultra-deep exploration properties. These royalty trusts will be listed, have a term of 20-years and will be callable by FCX after the first 5-years for $10 a unit. The cash consideration represents a 74% premium to MMR's pre-announcement closing price and a 31% premium to its one-month average price. Total cash consideration is estimated to be $3.4 billion. The pre-existing intercompany relationships between both PXP and MMR and FCX and MMR are complicating the MMR transaction. The companies involved have management overlaps and interlocking directorships. PXP already holds 51 million shares of MMR or 31.5% of outstanding shares. Moreover, FCX through a position in 5.75% Convertible Perpetual Preferred Stock has a $453 million investment in MMR. Excluding the interests held by FCX and PXP in MMR, total cash consideration is expected to equal $2.1 billion, with a company estimated cash premium of ~$900 million.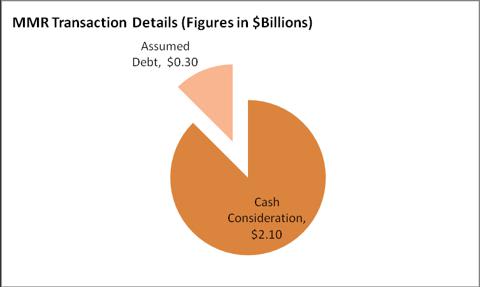 The total value of the two transactions including debt is estimated at $19.6 billion. Both transactions are subject to approval by target shareholders and customary conditions but no FCX shareholder approval is required. FCX expects to close the deals in second quarter of 2013.
Management stands to benefit big time
James Flores, CEO of PXP, in his new role as head of the oil and gas business at FCX could make as much money as his new bosses at FCX. According to a filing with the Securities and Exchange Commission (SEC), Flores' base salary would be no less than $2.5 million. Both Chairman Jim Bob Moffett and Chief Executive Richard Adkerson receive a base salary of $2.5 million each.
Moreover, in line with Moffett and Adkerson, Flores will also be eligible for bonuses and incentive awards. If that is not enough, Flores would also get a payout of PXP's restricted stock units worth more than $130 million in the form of stock and the PXP chief executive is also in line to make more than $60 million from PXP shares he already holds.
According to Bloomberg, Moffett's stock and options worth about $44 million on Nov, 4 are now worth about $89 million and Adkerson's McMoRan holdings value jump to $14 million from $4.6 million.
The company further disclosed the details of the termination fees if any of the two companies walk away from the deals. PXP could owe a breakup fee of $207 million or up to $69 million to reimburse of deal costs to FCX. In the case of MMR the breakup fee could be $98 million or up to $19.5 million to reimburse deal costs to FCX.
| | | |
| --- | --- | --- |
| Termination Fees | PXP | MMR |
| Breakup fee | $207M | $98M |
| Deal Costs | $69M | $19.5M |
Conclusion
As we said in the introduction our initial reaction to FCX's foray into the energy sector is negative. FCX was our favorite copper stock, but its diversification into the oil and gas sector, which will provide ~25% of 2013 EBITDA, reduces its attractiveness as a pure copper play. This could result in investor exiting FCX for stocks with more leverage to copper than FCX. Investors interested in diversifying their mining stocks could do it at much cheaper cost and invest in stocks with less geographic and sovereign risks. There are many options available to investors in the oil and gas sector, whereas, in the case of copper FCX was one of the very few large liquid copper plays. The market was already aware of FCX's sovereign risk and single commodity exposure and these factors were already priced in, which makes the rationale of investing in assets with no apparent synergies less attractive. The company had a strong balance sheet before the acquisitions but now it has not only increased its leverage significantly but also has been put on a negative outlook by a leading credit rating agency. Moreover, considering cross ownership and management positions the company also needs to address investors' concerns about the premiums paid for the acquisitions.
Grasberg, the world's largest copper and gold mine in Indonesia, since the 1970s has been a cash cow for the company providing a bulk of company's profits. For a long time Indonesia has been eyeing a bigger stake in the mine, while in the poor West Papua province of the country FCX has been experiencing labor issues and clashes with a separatist movement. The proposed acquisitions may signal a change in the status of the Indonesian mine could be looming, forcing FCX to quickly diversify out of copper.
We have a neutral rating on the stock; however if the deal is put into jeopardy by a shareholder vote or any doubt about the success of the deal will result in a sharp increase in share price.
Have a good day!
Disclosure: I have no positions in any stocks mentioned, and no plans to initiate any positions within the next 72 hours. I wrote this article myself, and it expresses my own opinions. I am not receiving compensation for it (other than from Seeking Alpha). I have no business relationship with any company whose stock is mentioned in this article.