Waste Management, Inc. (NYSE:WM) is the largest owner and operator of waste landfills in the United States. Collecting and disposing is WM's main business and accounts for 80% of its total revenue. Furthermore, its 120 recycling facilities and its 22 waste-to-energy plants contribute another 10% and 6% respectively.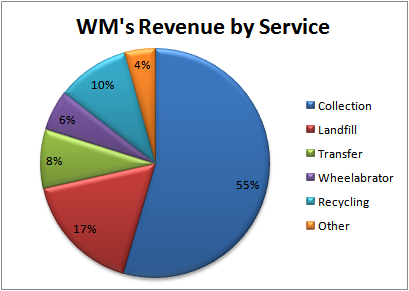 (Data from WM's 10-K SEC filling for 2011)
WM's business is highly capital intensive so high capital expenditures are to be expected. However, during the last 2 years capital expenditures have risen a lot and operating cash flow didn't follow on the same direction due to downward pressure on recycling commodity prices.
As a consequence of this, the available free cash flow has diminished and 2012 might be the first year in the company's history in which new debt will be raised to cover for dividend payments.
Fortunately for WM's shareholders the vast majority of WM's term debt is maturing on 2029 or afterwards and the 800 million of current long-term debt won't be difficult for WM to refinance.
However, WM'S EBIT is less than 4 times its interest expenses and if it continues to add debt while its FCF is shrinking, then a dividend cut would become a certainty.
(click to enlarge)

(Source: Waste Management's 10-Q SEC filling for Q3, 2012)
But wait, there is some hope that this ugly situation could reverse. If the housing market continues to recover, Waste Management will sooner or later see its top line grow due to waste created from increased construction activity. However, for its dividend to remain intact, we must definitely see some improvement in the next two quarters. If not, this stock will cease to be a stable source of income and will become a pure speculative play instead.
Disclosure: I have no positions in any stocks mentioned, and no plans to initiate any positions within the next 72 hours. I wrote this article myself, and it expresses my own opinions. I am not receiving compensation for it (other than from Seeking Alpha). I have no business relationship with any company whose stock is mentioned in this article.