There appears to be divergence across world indices and within U.S. markets. The Nasdaq finished down for the week while the Dow Jones made gains. Apple (NASDAQ:AAPL) was the notable underperformer, down 9%. Due to its weighting in the Nasdaq, this can not be overlooked. Globally, there were signs of strength however as the Nikkei and European stocks made gains.
Price action has been sideways in the Russell 2000 (NYSEARCA:IWM) and the S&P 500 (NYSEARCA:SPY), and it would appear that a major move may be in the near future. Congestion periods typically precede strong directional breakouts, and divergence amongst various markets can magnify this.
As technology has underperformed recently, and typically leads broader equity markets, focus should be on the Nasdaq, and notably Apple, due to its heavy weighting.
Below is a ratio chart showing the weakness in Technology (NASDAQ:QQQ) compared to the S&P 500. Such weakness is typically indicative of a market top. Further weakness, and a break in the three year trend in relative strength for the technology sector has bearish implications.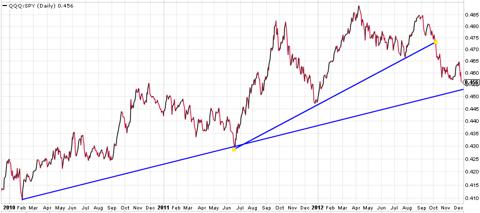 Click to enlarge
(Click to enlarge)
The weakness is evident by comparing the daily charts of the Nasdaq to the Dow. Note the weak close on Friday, and failure to move above key resistance.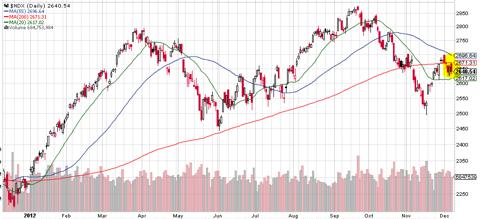 Click to enlarge
(Click to enlarge)
Also notice that while the Nasdaq finished down on Friday as well as the week, the Dow actually made gains, and broke above the key 13,000 level.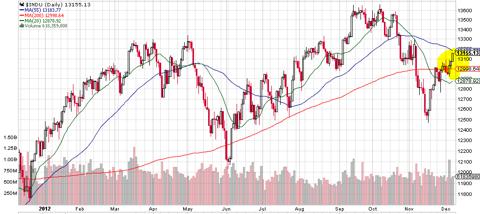 Click to enlarge
(Click to enlarge)
It seems that the technology sector seems to be holding the rest of the U.S. markets back; strength has been seen in both European and Asian markets. The Nikkei made new highs last week and has exhibited significant strength.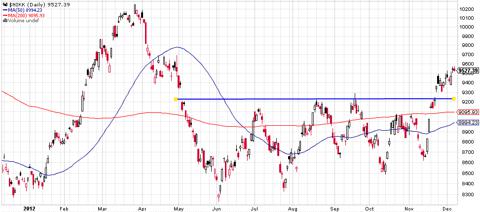 Click to enlarge
(Click to enlarge)
The European Top 100 Index also made a very strong move last week breaking above a significant level and now looking extremely bullish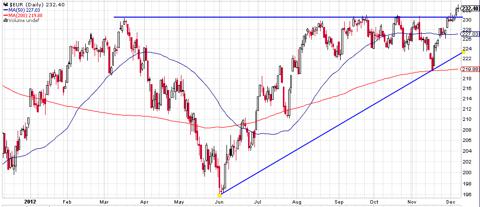 Click to enlarge
(Click to enlarge)
A final chart that deserves attention is the ratio chart of the industrial sector (NYSEARCA:XLI) to the S&P. Over the last month industrials have been exceptionally strong. This is often indicative of an upcoming rising in equities.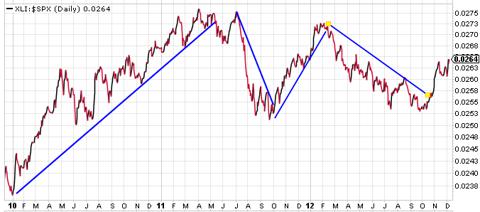 Click to enlarge
(Click to enlarge)
What does this all mean?
The underperformer is undoubtedly the technology sector, and Apple is responsible for a large share of this underperformance. The technology sector typically leads major markets, so attention must be given here. However, the Dow Jones and international markets were relatively strong last week and have broken out of noted congestion areas and resistance levels. Industrials have also been strong, and this typically bodes well for equities. If Apple and the Nasdaq can reverse and find near term strength, one could expect a nice run up in equities. However if Apple and the Nasdaq continue to be weak, the mentioned breakouts could reverse, creating "false breakout", which typically have extreme bearish connotations.
Disclosure: I have no positions in any stocks mentioned, but may initiate a long position in AAPL over the next 72 hours. I wrote this article myself, and it expresses my own opinions. I am not receiving compensation for it (other than from Seeking Alpha). I have no business relationship with any company whose stock is mentioned in this article.