Last week, Canadian athletic apparel retailer lululemon (NASDAQ:LULU) reported its fiscal third quarter earnings. The company blew away estimates again, reporting another solid quarter. The company's balance sheet continues to get even stronger. Guidance appeared to be light, but the company always gives conservative guidance, setting up large beats. While the company trades at a premium in this space, lululemon proved last week that this stock is worth what you are paying for it.
Third Quarter Results:
Lululemon reported third quarter revenues of $316.5 million, which handily beat analyst estimates for $305 million. This number was also well above the company's forecasted range of $300 million to $305 million. The third quarter revenue number represented 37.5% growth over last year's Q3 revenues of $230.2 million.
The following table shows LULU's Q3 margins over the last four years, which I can use to further analyze the quarterly report.

*Profit margins based on net income before subtracting net income from non-controlling interests.
Gross margins declined by 44 basis points over the prior year period. Management addressed the reasons why on the conference call:
"The factors which contributed to this 40 basis points decline in gross margin were product margin decline of 30 basis points; investment in innovation and function in our product mix, coupled with slightly higher markdowns due to a more normalized inventory position impacted product margin versus last year, but was offset with lower airfreight usage and rates in 2012; 60 basis points of deleverage in product and supply chain team costs due to investments in product development, operations and supply chain, which is partly offset by a net 50 basis points of leverage on occupancy and depreciation."
The 30 basis point decline in product margins has been explained in the past. The company has been testing new materials for its products, and when it tests more fabrics and such, margins are slightly lower. I'm not worried about gross margins because they are still at a decent level, 30 basis points higher than two years ago.
Operating margins saw roughly the same decline. Operating expenses as a percentage of revenues were basically the same as the previous year period. However, once you got past operating income, the results improved greatly. The company reported other income of more than $1.4 million, compared to just over $0.6 million last year. As the company described in their 10-Q filing, interest income was higher. That has to do with the larger cash position, which I'll get to later. The company also had an effective tax rate of 30.05% in the quarter, down from 35.46% in last year's Q3, and 38.93% in the 2010 Q3 period. As per the 10-Q, the company states, "The lower effective rate reflects the ongoing impact of revised intercompany pricing agreements". The company's tax rate could continue to decline further if the company generates a higher percentage of profits outside in lower-tax rate countries going forward.
Lululemon's net income, before subtracting out non-controlling interests, rose by 47.35% in the period. Earnings per share came in at $0.39, beating analyst expectations by two cents. It was also a bigger beat over the company's guidance for earnings per share of $0.34 to $0.36, and was up from $0.27 in the prior year's period.
Net profit margins have risen from 12.46% in Q3 of 2009 to 18.13% in this reported quarter. That is very strong growth for this company. Additionally, net margins have risen 337 basis points in two years, despite gross margins only rising by 30 basis points. This company continues to deliver on the bottom line, and if they could grow gross margins even slightly going forward, you are talking about a retailer that could produce 20 to 25 cents of profit for every dollar of sales. That would truly be spectacular.
Growing store count:
The company continues to increase its store count, and this is why there is still a ton of growth potential for this name. The following table shows the number of stores open at the end of each year's respective Q3. The totals for 2009 to 2011 do not include any franchised stores, so the totals are for corporate owned stores.

During the third quarter, lululemon opened 8 corporate owned stores in the United States, 3 in Australia and 1 ivivva branded store in Canada. The company had seven ivivva branded stores open at the end of Q3, which specialize in dance-inspired apparel for female youth.
The company expects to open 8 US stores in the fourth quarter, which ends at the end of January, as well as 1 in Canada and 1 in Australia. The company is also looking at further international expansion. They expect to begin pre-seeding into up to 15 new countries over the next 2 years. Even if they only enter a few countries, the potential for international growth is tremendous. This company's true growth hasn't even started yet. Also, consider the following. The only retailer with higher sales per square foot than LULU is Apple (NASDAQ:AAPL). Apple is considered one of the, if not the, top retailers out there. To mention lululemon in the same sentence as Apple is quite impressive.
The amazing balance sheet:
The company continues to see an improvement in the year over year changes in its balance sheet. The following table shows some key balance sheet metrics at the end of Q3 over the past few years. I've also included this year's Q2 to show how things have changed over the past three months, as well as bring up an important point. Dollar values are in thousands.

Over the past year, the company's cash balance has increased by more than $162 million, and working capital has soared by more than $204 million. The current ratio has greatly improved, and the debt (liabilities to assets) ratio has continued its downward trend.
Now, you might notice that the numbers appear down a little over Q2. Don't worry about it. Because this company is a retailer, this is a seasonal business. LULU's inventory balance increased $40 million from Q2 to Q3. Some of that inventory came from cash, and it appears that some also came from $12 million in increased accrued liabilities. The increase in accrued liabilities pushed up the current and total liability numbers, explaining the decrease in the last two ratios in my table. I used Q2 to Q3 to show how that with retailers, you usually need to look at the year to year numbers, not the quarter to quarter. Looking at the year to year numbers, the trend is very positive.
Now there has been some discussion about that increasing cash balance. What will LULU do with it? Well, there are three options. First would be a dividend. This seems only slightly possible, as this is a company more concerned with providing growth rather than income to shareholders. If a dividend were to be paid, I wouldn't expect more than a 0.5% annual yield, at most. Any possible dividend would be very small. The second possibility would be a stock buyback. This is more possible than a dividend, but I don't see it as very possible. The company has about $440 million in cash, so even if they declared a buyback of say half of that, $220 million, it's not that much. Remember, the market cap of this company is currently $10.45 billion. Now, if the company believes that its financial condition is likely to improve, a higher buyback could be declared. But I don't see them declaring one right now unless it would be at least 5% of the market cap, which currently is about $520 million.
So the likely opinion in my view would be for an acquisition. There is a lot they could do with this size cash position, and they don't have any debt, so they could also borrow at low rates if they wanted to. A good comparison to look at was Deckers Outdoor (NASDAQ:DECK). Deckers bought the Sanuk brand, paying about $127 million in cash upfront for most of Sanuk's assets. In the first 18 months of Sanuk control by DECK, the Sanuk brand is expected to generate about $120 million in revenues.
Now back to LULU. Let's say the company could make an acquisition for about $200 million today, which in the first year generates about $100 million in revenues. Given that the current analyst forecast for the next fiscal year (ending January 2014) is for $1.69 billion in revenues, an extra $100 million in revenues is a decent amount, and adds a lot to the growth numbers. Even if an acquisition wasn't completed until the 2nd half of 2013, and it only generated $50 million in revenues during the fiscal year, it still would provide a nice boost.
Guidance - stop thinking about it!
It seems like each quarter, the stock initially tanks when it reports because the company's guidance is below what analysts seem to expect for the quarter. Earlier last week on CNBC, Jim Cramer stated that he was waiting to see the stock drop on soft guidance because the drop wouldn't last for very long. Well, if you bought low on Thursday morning, you could have made a very nice profit that day.
The pattern continued because lululemon is notorious for giving conservative guidance, the same way Apple does. I've used a table in the past to show how this company does it, and I updated the table to show what happened with Q3 in terms of guidance and actual results. The company gives light guidance and then beats it handily, quarter after quarter.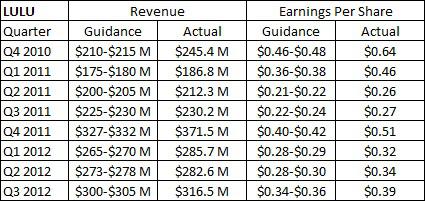 So when looking forward to Q4, the company guided to revenues of $475 million to $480 million. This was seen as bad because analysts were expecting about $491 million. Now, you may ask about Superstorm Sandy. The company said that it did not face any material impact from Sandy. They had a few stores closed for a few days, but their "rough" estimate for a $1 million impact was not much. However, the company stated that the first few weeks of the quarter were a little soft, which is why guidance was about $5 million lower than it might have normally been, based on their normal projections.
I personally think that the storm had a little more impact on them, and that they just don't want to use the storm as an excuse, which I totally understand. They do have a fair amount of stores in the affected region, with 3 in Connecticut, 2 in the District of Columbia, 3 in Maryland, 6 in New Jersey, 9 in New York, and 5 in Pennsylvania. Even if only a few stores were closed, I still think there was a slightly larger impact than they realized, as you are talking about 28 stores there. However, I think any soft sales could easily be picked up throughout the quarter. Remember, this storm basically hit right at the beginning of their quarter, which lasts until the end of January. I'm not surprised that the beginning of the quarter was soft, given the storm's potential. Plus, since they usually provide conservative guidance, I expect that they'll end up close to that $490 million or so number, if not more. Knowing their past guidance, I wouldn't even put it past them to do $500 million in the quarter.
As for earnings per share, the story was the same. Guidance was for $0.71 to $0.73, with analysts expecting $0.75, but don't forget that just 90 days ago, analysts were only expecting $0.67. Expectations have come up quite a bit, and I would think $0.75 is definitely doable this quarter. If they hit that $500 million revenue mark, I might think that $0.80 or so isn't out of the question.
On the strength of the company's Q3 results, they raised their full year forecast. The previous forecast called for revenues of $1.345 to $1.36 billion and earnings per share of $1.76 to $1.81. Even with the "soft" Q4 guidance that the company gave, they are currently expecting their fiscal year revenues to now be $1.36 billion to $1.365 billion, and earnings per share of $1.81 to $1.83.
Don't forget, this company has already raised its full year forecast a couple of times. When they first issued guidance back in March, they saw revenues of $1.3 billion to $1.325 billion and earnings per share of $1.50 to $1.57. Now, they did have a tax adjustment that boosted earnings by 5 cents in Q2, but even forgetting that benefit, their guidance has gone up quite a bit.
Given the potential impact from the storm, and the company's usually conservative guidance, I would think that the company will end up reporting Q4 revenues between $485 million and $500 million, and earnings per share of $0.74 to $0.80. If you use the midpoints of my forecast, they are basically at to above analyst expectations.
Valuation:
Those that are bearish on the name bring up the multiple that lululemon trades at. Yes, it is high. Currently, shares trade for about 40 times this fiscal year's expected earnings. Some may call that expensive, but when you look at the competition, it may in fact be a bargain. There aren't a ton of high growth athletic apparel makers out there. The best comparison to lululemon is Under Armour (NYSE:UA). I've put together a comparison table showing expected fiscal year revenue and earnings growth for each. I've also included a price to earnings multiple based on that fiscal year's expected earnings. These are the current analyst projections for each name in their respective fiscal years. Under Armour uses a calendar fiscal year, with lululemon's year ending at the end of January.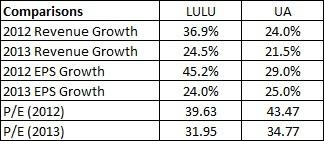 When looking at the numbers, lululemon is expected to show a lot more growth in 2012 than Under Armour, as well as higher revenue growth in 2013. The only number where Under Armour leads is the 2013 earnings forecast, which is really close. Don't forget, lululemon just reported a few days ago. Most analysts haven't fully reworked their forecast, so the LULU numbers could come up quite a bit in the next few weeks.
When it comes to valuation, LULU trades at a discount to UA, despite the higher growth. In my opinion, that's a mistake, and that means LULU is a bit undervalued. The company has traded in these 40-50 P/E ranges for a number of years now, and I think that could continue going forward.
Based on these numbers, I believe a fair valuation for LULU, when compared to UA, would be 36 to 40 times forward (2013) earnings. Based on the current analyst expectations for 2013, which stand at $2.27 currently, that gives a fair value range of about $81.72 to $90.80, with a midpoint of $86.26. That implies about 19% upside from Friday's close. For the most part, analysts seem to agree with that range. The mean price target on the name is $82.40 currently and the median price target is $85.00. Again, we'll see how those price targets change as analysts continue to break down the latest quarterly report.
There is plenty of upside in this stock, and remember, I'm only using a valuation based on current prices and expectations. What if LULU's earnings in fiscal 2013 come out to be $2.30, $2.40, or even more? The valuation would become even more reasonable.
Some may think that paying 32 times forward earnings is expensive, but consider the following. Athletic giant Nike (NYSE:NKE) is trading for about 17 times expected earnings over the same time period. Over that time period, Nike's revenue growth is expected to be in the mid single digits, with earnings growth in the low to mid teens. Lululemon may be trading at almost twice an earnings multiple, but you are getting about four times the revenue growth rate and double the earnings growth rate. Sometimes, you have to pay for extra growth, and in this scenario, it appears to make pretty good sense.
Conclusion - lululemon is a great buy:
Stop me if you've heard this before. Lululemon reported a great quarter, and the stock did nothing. Well, it certainly happened again. The company crushed estimates during Q3. The retailer had an amazing quarter and the balance sheet got even stronger. While the company's guidance may have seemed a little light, this is a company that always gives low guidance and then delivers exceptional results. The company appears to be set up for a great fiscal fourth quarter.
There are many reasons to own this stock. First, the company's revenues per square foot are second in this space, only to Apple. They must be doing something right to achieve that. Second, the company has barely even scratched the surface in terms of international growth. Over the next two years, the company will look to enter several new markets, which will give a significant boost to revenues. Third, the balance sheet is in pristine condition, which will allow the company to either buy back shares or use its large cash position to fuel its growth, perhaps through an acquisition. Plus, this company trades at a discount to its closest comparison, Under Armour.
This name may in fact be the best buy in retail currently, and it is certainly a name investors might look to be in for the long term. Now, I've included a 6-month chart below to show that even after good results, the stock has had a tendency to pull back. If you think this stock is going to $85 or $100, you could certainly buy here. However, given the stock's history, plus the lingering US fiscal cliff issues which could bring down the whole market, you might want to set your sights on a lower entry point. Below $70 usually seems to be a good start, with my personal opinion that $65 to $67 should be a good range to accumulate this name. If you can get it cheaper than $65, good for you, but I'm not sure we'll see it that low anytime soon. Lululemon is a great company to own, and remains one of my top picks overall, not just in the retail space.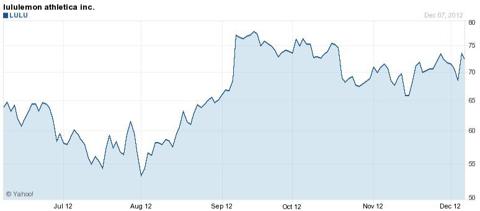 (Source: Yahoo! Finance)
Disclosure: I have no positions in any stocks mentioned, but may initiate a long position in LULU, AAPL over the next 72 hours. I wrote this article myself, and it expresses my own opinions. I am not receiving compensation for it (other than from Seeking Alpha). I have no business relationship with any company whose stock is mentioned in this article.
Additional disclosure: Investors are always reminded that before making any investment, you should do your own proper due diligence on any name directly or indirectly mentioned in this article. Investors should also consider seeking advice from a broker or financial adviser before making any investment decisions. Any material in this article should be considered general information, and not relied on as a formal investment recommendation.