In a research note issued last week, Cowen and Company analysts maintained coverage with an "Outperform" rating on Hyperion Therapeutics (NASDAQ:HPTX), and highlighted the important issues from their meetings with Hyperion's management team.
Hyperion Therapeutics is a development stage biopharmaceutical company, focuses on the development and commercialization of novel therapeutics to treat disorders in the areas of orphan diseases and hepatology. Hyperion's lead program includes a suite of products to treat urea cycle disorders (UCDs).
UCDs are a constellation of diseases in which the body lacks the ability to clear ammonia, a byproduct of protein digestion. Approximately 2,000 people in the United States have a UCD, and just over 500 are receiving pharmacotherapy. Left untreated, UCDs can cause learning disabilities, mental retardation, and death.
Hyperion owns an option to purchase the only FDA-approved oral medication for the chronic adjunctive management of UCDs, Buphenyl. While Buphenyl can rescue patients from death, it has an excessive pill burden, a foul taste, and causes GI side effects in most patients.
Hyperion acquired worldwide rights to the investigational drug Ravicti from Ucyclyd Pharma, and developed Ravicti to replace Buphenyl. According to the company, Ravicti has succeeded in four Phase II and III trials. In a pooled analysis of all four studies, Ravicti has been shown to have significantly better ammonia control compared to Buphenyl. More important, Ravicti has far superior palatability in a dramatically reduced drug volume (1 tablespoon or less) with few GI side effects, making it much more tolerable for patients.
Ravicti is currently under FDA review and after 3 months extension, the company anticipates an approval decision on January 23, 2013. If approved, the therapy could be a game changer for 2,000 patients with UCDs in the US.
Highlights from the meetings:
Ravicti's regulatory review for UCD continues at pace, and management appears confident in its approval around its January 23 PDUFA. Management indicates it is not in label negotiations yet, but would expect those to take place only during the last month or so of the review. Hyperion expects to launch Ravicti with 7 sales representatives in the field, and 3 professionals facilitating reimbursement.
The management indicated that the End of Phase II meeting for Ravicti in Hepatic Encephalopathy (HE) occurred earlier in the week. While management released no details from the meeting, it did suggest that the meeting contained no major surprises. Hyperion expects to conduct a Phase III of Ravicti as an add-on to standard of care in HE, a design similar to that of the completed Phase II trial reported at the recent AASLD meeting.
According to its revised Medicis (MRX) agreement, Hyperion has secured the right to purchase Buphenyl and Ammunol at the earlier of the approval of Ravicti, or June 30, 2013. Management said it is very likely the option will be triggered, and that as H1:13 approaches, it is becoming harder and harder to imagine a situation in which the option is not exercised. An increase in the price of Buphenyl in order to narrow the difference between its price and that of Ravicti remains an element of Hyperion's commercial strategy.
Cowen analysts point out that Ravicti has been shown to be at least as potent as the current standard of care, but with much better tolerability and dosing convenience, in the treatment of UCD. The firm consultants expect Ravicti to be approved based on its current filing, and for it to quickly capture the majority share of the UCD market.
The firm suggests that Hyperion will successfully transfer the vast majority of treated UCD patients from Buphenyl to Ravicti over the next few years and it projects it will achieve $100MM+ in sales by 2016. Outside of UCD, Ravicti has shown intriguing Phase II data in Hepatic Encephalopathy, a potential $1B market. Hyperion expects to meet with FDA by year end to define Ravicti's future HE trials.
Based on Ravicti's potential in UCD alone, with no contribution from HE, the firm thinks that Hyperion is significantly undervalued, and remains at Outperform.
My opinion on HPTX:
I found two reasons why HPTX might be worth watching from the sidelines.
The Analysts project peak sales potential of $100M for Ravicti

in the UCD

market. However, the current sales of Medicis's Buphenyl (the current standard of care), were less than $15 million in Q3:12. In fact, all revenues from the non-dermatological products franchise at Medicis, which include Ammonul, Buphenyl, Maxair, Autohaler and contract revenue, all together were $14.3 million. Is this the reason why Medicis and its subsidiary Ucyclyd Pharma are trying to sell Buphenyl and Ammonul, and sold Ravicti rights to Hyperion? Ucyclyd even offered Hyperion a loan to fund an upfront payment of $22 million to purchase its worldwide rights in Buphenyl and Ammonul. It's also important to mention that Ucyclyd has a long history with Buphenyl. With that being said, if Ravicti will capture all Buphenyl's patients (in best case), the revenues could be less than third of what is estimated by the analysts.
In June 2011, Hyperion completed a 24-month carcinogenicity study of Ravicti in rats. The data from this study showed an increased rate of seven different tumor types in rats. While the company doesn't have evidence that individuals who have taken the active ingredient in Ravicti have an increased rate of cancer, the FDA may view these data as posing concerns with respect to the long term safety of Ravicti. The FDA may request that the company will conduct additional nonclinical studies. According to the company, if it will be unable to explain these data to the satisfaction of the FDA, the approval of Ravicti may be delayed or denied.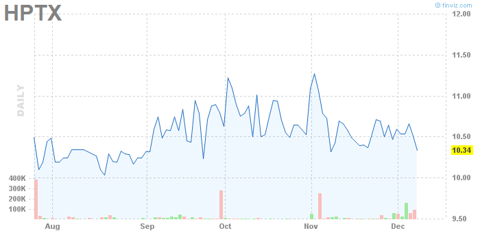 Disclosure: I have no positions in any stocks mentioned, and no plans to initiate any positions within the next 72 hours. I wrote this article myself, and it expresses my own opinions. I am not receiving compensation for it (other than from Seeking Alpha). I have no business relationship with any company whose stock is mentioned in this article.