Martin Marietta Materials Corp. (NYSE:MLM) was trying to buy out Vulcan Materials Company (NYSE:VMC). In late 2011 it made a hostile takeover bid of $4.8B for VMC ($36.69 per share). This was rejected by VMC. MLM followed this up with a $5.5B offer for VMC in the spring of 2012 (about $42 per share). This also was an unsolicited offer. VMC got an injunction against MLM doing a hostile takeover for four months (expired in September 2012). Now anonymous sources are saying that MLM will soon pursue a friendly takeover. Many are betting this will mean a higher takeover price.
As of the close Friday December 7, 2012, the stock price was $52.00. This is too far above the previous offering prices. If a company has made offers of approximately $37 and $42, it might raise its offer to $45. Perhaps it might offer $48, but that's a stretch. Two members of the family that founded VMC sued the company in May 2012 for rejecting MLM's $5.5B offer for VMC; and that was when the offer was approximately $42 per share. That hostile takeover was blocked by a Delaware judge for at least four months on May 4, 2012. Now some large shareholders are hoping MLM will resume its takeover course.
To put things in perspective, the actual MLM offer was for 0.5 shares of MLM for 1.0 shares of VMC. MLM is at approximately $90 per share as of this writing. That would translate into an offer of about $45 per share by the previous criteria. Since this is already a raise in the price, it might be seen as more acceptable in December 2012. If it is sweetened a little, it might be much more acceptable. Still, VMC lost -$96.49 million in Net Income in FY2010 and -$70.78 million in FY2011. It lost money in the first two quarters of 2012, although it made +$14.26 million in Q3 2012. MLM by contrast has been profitable in each of the years from 2009-2011 and in 2012. MLM's average net income per year for FY2009-FY2011 was +$88.28 million.
This deal makes a lot of sense if you believe the housing market will improve soon. Once companies start building more aggressively, building materials companies will be able to raise their prices. Their margins will increase. However, if the US goes over the fiscal cliff, the US economy is assured of going into recession in 2013 (CBO projection). This will put a big dent in any residential building or commercial building rebound. Geithner recently said the administration is prepared to go aver the fiscal cliff if tax rates don't rise. Given that the GOP has made virtually all of the concessions so far, this is a strong sign that the Democrats will insist on capitulation. That won't happen. The Democrats' attitude makes it ever more likely that the US will go over the fiscal cliff. That means a US recession according to the CBO.
A recession means new construction will be limited in 2013. It means that VMC will likely start losing money again in 2013. MLM may find itself pressured. It may decide that it does not want to have to foot the bill for all of VMC's likely losses in 2013. It could put off its offer, or it could reduce its offer.
With the above in mind, you then have to determine what a reasonable price for VMC without an offer from MLM is. The low in May of 2012 was about $33 per share. This was after a $36.69 offer from MLM. As a ballpark figure, about one half of the rise in the stock price since then is due to an overall construction materials sector rise. This means $42.50 ($33 plus about $9.50) is likely a reasonable price without a buyout offer. With a recession coming this number would go down. In fact the ECRI is already saying that the US has been in a recession since July 2012. By March 2013, $37 may be a more realistic price for the stock.
In a recessionary environment all of the building materials stocks are likely to go down, especially after their big run up this fall. VMC trades at an FPE of 325. VMC should follow the other building materials stocks down, presuming the buyout does not go through. MLM may be thinking along these same lines. It may wait to renew its buyout attempt in order to try to get a better price. It may also think twice about buying another company with a recession coming. Keep in mind that the EU is technically already in a recession.
The EU economy contracted -0.2% in Q2 2012 and -0.1% in Q3 2012. This won't help the US economy. ECB President Draghi said recently that he expects an EU recovery in late 2013, but we haven't seen Spain or Italy blow up yet. We haven't seen Greece finally default. There is a good chance that both the EU and the US economies will worsen considerably from here. The Chinese economy and many other emerging market economies will follow if that happens.
Let's look quickly at VMC's financials. Average analysts' forecasts for both FY 2012 and FY2013 have been adjusted downward in the last month. VMC is now forecast to lose -$0.45 per share for the year in adjusted earnings. In a recession it may lose a lot more. It has 5.40% short interest as a percentage of the float. This says that many people believe it is overpriced. It has a Total Debt / Total Capital ratio of 42.75%, which is above the industry average of 35.08%. Its quick ratio (mrq) is 1.13x; and its Interest coverage (mrq) is only 1.05x. It has $2.81B in debt, which is not negligible in a recession.
Given the quick ratio and interest coverage are likely to decrease in a recession, one can expect that VMC will have trouble paying its bills relatively quickly. This indicates it might be inclined to accept a low offer. A person shorting would benefit from this. VMC's Return on Equity (TTM) is -2.21%. Ugh. EPS Growth and Revenue Growth were both negative in the most recent quarter. The Net Profit Margin is -3.28%. This is terrible with a likely contracting US economy. The only good point is that the price/book ratio is a reasonable 1.79x. However, even this may deteriorate in a recession. The dividend is a negligible $0.04, so that is not a big impediment to shorting. If you use put options, it is not an impediment at all.
The five year chart of VMC provides some technical direction for this trade.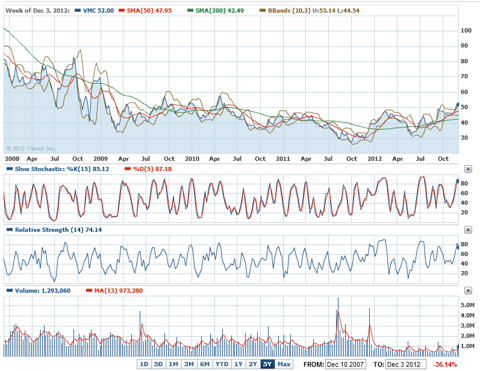 Both the slow stochastic and the relative strength sub charts indicate that VMC is overbought. The volume sub chart indicates that there has been very little substance to the recent up movement (people don't believe in it). Institutions and insiders have been selling. On the main chart the price line is approximately at the top Bollinger band. All these things indicate that VMC is overbought; and it is likely to fall from its current value.
You can probably short VMC at its current price with relative safety. It seems unlikely that MLM will offer more than $52 per share for it at any time in the near future. Alternatively, you might consider buying put options on VMC. Ordinary put options are quite expensive due to the current "highly uncertain" situation. Therefore, it seems most appropriate to buy a put spread for either January 2012 or later. This will decrease the amount of premium you have to pay for the options, although it will limit your profits.
There are May 2012 put options. These may be the safest bet. The US will likely be more firmly in a recession at that time. If another buyout attempt is made, the market could start worrying about regulatory approval by then too. The combination of the two companies could be disallowed due to monopoly considerations. Both of these factors should force the stock price downward. Keep in mind that this is an all stock buyout. If the MLM stock price goes downward, the price of the offer will fall with it. If the MLM buyout occurs quickly, it may have sufficient time to fall due to the recession by May 2013. This would cause a lowering of VMC's stock price. A put spread of $50 to $47 or $45 might be appropriate.
Note: Much of the fundamental fiscal data above is from Yahoo Finance and TD Ameritrade.
Good Luck Trading.
Disclosure: I have no positions in any stocks mentioned, but may initiate a short position in VMC over the next 72 hours. I wrote this article myself, and it expresses my own opinions. I am not receiving compensation for it (other than from Seeking Alpha). I have no business relationship with any company whose stock is mentioned in this article.