Investors are desperate to get more income out of their fixed-income portfolios. So desperate, they may be taking on more investment risk than they realize either in extending out maturity on the yield curve or going down the credit quality ladder.
Of course, the desperation is easy to understand as yields on bonds, particularly for short term government and highly rated corporate debt, are at their lowest levels ever.
So, is there a way to get the best of both worlds: higher income and lower risk? Welcome to the world of Real Estate Investment Trusts (REITs).
REITs Offer a Uniquely Advantageous Value Proposition
Unique to REITs is their tax status. Congress facilitated the creation of REITs when it passed the Real Estate Investment Trust Act of 1960; this legislation exempts companies that qualify as REITs from paying corporate income tax on qualifying income to the extent that they distribute their taxable income as dividends. (for more information on REITs, click the NAREIT website here).
To qualify as a REIT in the eyes of the IRS, a company must meet specific criteria. The most widely known provision is that a REIT must pay shareholders a common dividend equal to at least 90% of its otherwise taxable income. The dividend that REIT investors receive out of earnings, therefore, has not been reduced by taxes at the corporate level, making REITs tax-efficient conduits for real estate income.
REITs Should Work Better Since They Will Soon Be on a Level Playing Field
Perhaps the most widely known features of REITs is that they have relatively high dividend payout ratios due to the combined effects of tax efficiency and the 90% of taxable income payout requirement to retain that favorable tax status. As noted above, REITs that payout 90% of taxable income (and satisfy other REIT requirements) can avoid paying 90% of corporate income taxes. The REIT shareholder just pays his or her appropriate taxes on the dividend income. However REIT dividends have been at a tax disadvantage compared to what are called "qualifying dividends" paid by many other domestic corporations.
The Jobs and Growth Tax Relief Reconciliation Act of 2003 (also known as the "Bush Tax Cuts") created a preferential tax rate for qualifying dividends tying that rate to the long term capital gains rate. Under this expiring tax law, individual tax rates on qualifying dividends are currently taxed at no more than 15%.
The pending expiration of the Bush Tax Cuts at the end of this calendar year will bring REIT investor income and other taxable dividends into tax parity (assuming congress makes no further changes to these rules) and both revert to being taxed at ordinary income rates in 2013. If demand for tax preferred qualifying dividends were to shift partly over to REITs as this tax advantage is removed, that increased demand should be a tail wind for REIT share values.
Said more simply, when the Bush Tax Cuts expire, REITs will not be affected and that will make the well-positioned asset sector even more attractive, compared to the C-Corporations.
Forced Dividends are the Best Dividends
Another attraction to the safe havens of REIT dividends is the fact that there are no options for these companies to pay or not to pay a dividend. By law, they are forced to do so to retain their REIT status.
Alternatively, non-REITs have a choice in how much to pay out in dividends. With the threat of the Fiscal Cliff and other uncertainties ahead, the non-REIT payers may likely choose to conserve cash and very possibly cut dividends in 2013 or at least not increase them.
Certainly REIT income could be impacted as many of their tenants conserve capital in an effort to weather the post Fiscal Cliff cycle; however, REITs have become much stronger after the Great Recession with many reducing leverage in an effort to build defensive income and sound coverage ratios.
Jeffrey Olson, an Atlanta-based CPA and a partner with Babush, Neiman, Korman & Johnson, LLP, perhaps summed up the case for REITs as an income and investment play best (source: email from Olson):
Real estate held through a REIT offers tax efficiency and it is an investment in an income producing, hard asset. By comparison, most investors in paper based, fixed income instruments like bonds fear inflation and rising interest rates. But, for REIT investors, those factors often are not sources of fear but rather can bring rewards. Real estate actually tends to be a good inflation hedge via rising rents and asset values.
REITs Should Be Core to Your Portfolio
Historically and for most investors, relying on steady dividends to provide a level and large-enough income has been challenging at best. For those investors seeking yield, the difficulty is in predicting the exact dividend policies companies will adopt in the coming years. And as more investors enter retirement and need to replace substantial proportions of their working-years income by using their investment portfolios, a reliable dividend-yield strategy is a must.
Because REITs distribute (by law) at least 90% of their taxable income to shareholders annually in the form of dividends, investors are becoming increasingly attracted to the notion of balancing a portfolio with steady and reliable dividend income.
Accordingly, REITs provide investors with a powerfully unique income strategy in which the differentiated dividend alternative is also the essence of the repeatable value proposition. Unlike most other non-REIT fixed-income alternatives, REITs perform a valuable task by turning the sources of rental income into powerfully consistent and reliable dividends.
This attraction to repeatability is one of the strongest sources of differentiation and also the reason that many REITs have been able to sustain their competitive advantages over time (and through constant change). Some of the most successful REITs have built their remarkable record of dividend performance on consistency, not just high returns.
Later this week I plan to write a Seeking Alpha article describing (and suggesting) how investors should overweight REIT shares in 2013. My primary argument is centered around the concept that real estate is a core asset class and that based on returns everything else is "alternative" - REITs have generated the highest returns over the last 40 years. I am not sure why REITs have been labeled "alternative" but presumably, that classification is rooted in the notion that U.S. large cap equities are the bedrock asset class. Maybe I can prove them wrong.
REITs have been around long enough (since President Dwight D. Eisenhower signed legislation in 1960) and generated solid enough returns that I don't view REITs as an "alternative" class. I view them as a core asset class.
Here's a Valuable Tip: Buy a Blue Chip
There is no such thing as zero risk and there's just no way to avoid it completely. Even simple preservation of capital carries its own risk - inflation can impact the real value of even seemingly low-risk investments such as investment grade bonds.
REIT investors haven't suffered as much with portfolio risks due to the stability and predictability of REITs' rental revenues, occupancy rates, and real estate operating costs. Long-term leases enjoyed by most commercial real estate owners provide earnings stability and make the asset class more "bond-like."
These reduced risks are especially true when investing in the higher-quality "blue-chip" REITs, the long-term risk is far lower than that of most other common stocks. Most conservative investors will favor blue-chip REITs that have demonstrated solid property performance, good capital allocation discipline, and excellent balance sheets over many years (and preferably over entire real estate cycles) - all elements for the margin-of-safety concept.
Some favored blue-chip REIT selections include Kimco Realty (NYSE:KIM), Realty Income (NYSE:O), National Retail Properties (NYSE:NNN), Public Storage (NYSE:PSA), Tanger Factory Outlets (NYSE:SKT), Simon Property Group (NYSE:SPG), Taubman Centers (NYSE:TCO), Federal Realty (NYSE:FRT), Prologis Inc. (NYSE:PLD) and Ventas Inc. (NYSE:VTR).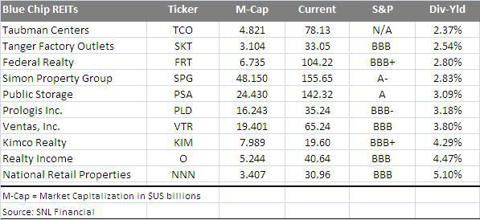 Blue-chip REITs will not always provide the highest dividend yields or even, in many years, the best total returns, nor can you buy them at bargain prices - but they should provide years of double-digit returns with a high degree of safety. These are the REITs least likely to shock investors with major earnings disappointments, and will provide very satisfying returns.
The essence of dividend investing is repeatability and blue chip REITs provide that, not just in collecting rent checks, but by managing the income and expenses that determines the overall stability of the sustainable income model. By building a well-balanced portfolio of blue-chip REITs, an intelligent REIT investor is able to maintain and diversify a dividend anchored strategy aimed to outperform the total returns of many leading non-REIT blue chip stocks.
Beginning in 2013, I plan to publish a monthly newsletter with Forbes and my personal mantra for the Grahamian-focused publication will be centered around Intelligent REIT Investing and specifically the two most rules to follow, and also used vigorously by the famed Ben Graham student and another fellow mentor of mine, Warren Buffett:
Rule number one: Preserve the principal.

Rule number two: When in doubt see Rule one.
Source: SNL Financial

Disclosure: I have no positions in any stocks mentioned, and no plans to initiate any positions within the next 72 hours. I wrote this article myself, and it expresses my own opinions. I am not receiving compensation for it (other than from Seeking Alpha). I have no business relationship with any company whose stock is mentioned in this article.