We have published 16 reports on Apple Inc. (NASDAQ:AAPL) since April and we are pleased that the reports have been well received by the investment community. Most of our analysis and research has been focused on Apple's cutting-edge iOS mobile computing devices such as its iPhone smartphone product line and its iPad tablet computing product suite. In this report, we are going to devote our attention on Apple's Macintosh desktop computers and MacBook notebook computer products. Apple's Macintosh was the first commercially successful desktop computer to feature a mouse and a graphical user interface instead of command-line interface. Although it wasn't Apple's first product, we think of it as Apple's "legacy heritage product line" due to its widely recognized brand name and because of its staying power. While Apple's iOS devices generate the lion's share of revenue and profits for Apple, investors would be remiss in overlooking Apple's results from its Mac-related product lines. Although the Mac desktop and notebook revenues only accounted for 15% of Apple's FY 2012 revenue, Apple still generated $23.22B in revenues from Mac desktops and notebook computers. Although the Apple Mac products will never achieve the growth and performance of the iPhone and iPad, we can see that at least the Apple Mac has had solid revenue and unit growth, unlike Hewlett-Packard (NYSE:HPQ) and Dell Inc. (NASDAQ:DELL).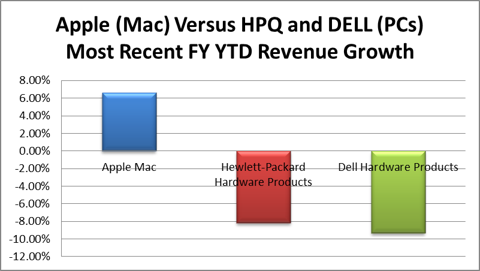 MRQ Reports for Apple, Hewlett-Packard and Dell
As recently as 2009, Apple's Mac products generated more revenue for Apple versus any of its other brands. Only in 2010 did the iPhone generate more revenue ($25B) than the Macs ($17.5B). Apple's Mac still generated nearly $1.5B more revenue in 2011 than its fast-growing, wildly popular, cutting-edge iPad tablet computing devices. While Apple's Mac desktop volumes were flat in 2012 relative to last year's levels, at least it was better than the 8% contraction in the PC market according to IDC as mentioned by Apple's management in its Q4 2012 conference call. Apple's MacBook portable notebook computers generated a solid 12% increase in its 2012 revenue ($17.2B) versus 2011 levels ($15.3B) on the strength of a 12% increase in its unit volume sales. Apple's Mac Desktop FY 2012 revenues declined by 6% ($399M) and it was entirely due to a reduction in its average sales price per unit. Apple's MacBook portable notebook computer products accounted for 74% of Apple's FY 2012 revenue and 80% of its Q4 2012 revenue and this is helping to offset the impact of soft revenue and unit sales volume performance of Apple's Mac desktop products. Apple also announced that it will be investing $100M to build its iMac computers in the US instead of China.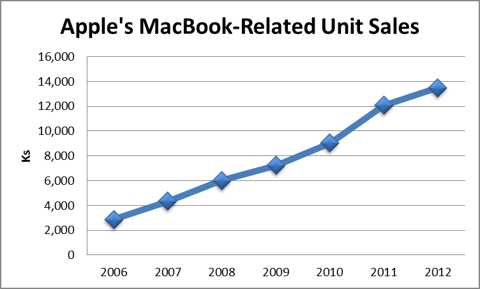 Source: Apple's 2006-2012 Annual Reports
Apple's MacBook products had a 27% market share of the personal computing market as of CQ2 2012. According to a DigiTimes report, Apple's MacBook Air is set to take 39% of the slim notebook market in 2012, but will slip to 28% in 2013 as Windows-Powered Ultrabook sales rise. While IHS sees shipments of 44M Ultrabooks in 2013, this is still down from its initial prediction of 61M. Apple even introduced a thinner and lighter version of its 13 inch MacBook Pro. The MacBook Pro is Apple's most popular Mac product and it will include a retina display with over 4 million pixels in all flash storage. Apple began and ended its Q4 2012 fiscal period with between three and four weeks of Mac channel inventory which is below its target range of four to five weeks. Apple's Retail Stores also set a quarterly record for Mac sales with over 1.1M Macs sold in Q4 2012. Every new Mac also has iCloud built into it. iCloud allows customers access to their music, photos, calendars, contacts, documents and more from whatever device they are using.
Apple has no reason to worry about the iPad or iPhone cannibalizing its Mac sales because there are over 300M PCs being sold each year and Apple has the Mac desktop, MacBook notebook, and iPad tablet computing products that can meet that customer demand. Despite the fact that everyone's attention is on the iOS products (iPhone and iPad), Apple's MacBook products have generated solid results in 2012. Although its growth rate slipped to 12% in FY 2012, we can bet our last bottom dollar that the stakeholders Dell and H-P would give their right arms to achieve growth rates that are half of what Apple achieved in its MacBook notebook computing products. The MacBook Notebook was introduced in 2006 as the successor to Apple's PowerBook and iBook product lines during Apple's transition to Intel processors. Apple's Portable Mac products generated $4B worth of revenue in FY 2006 and this has grown to $17.2B in FY 2012.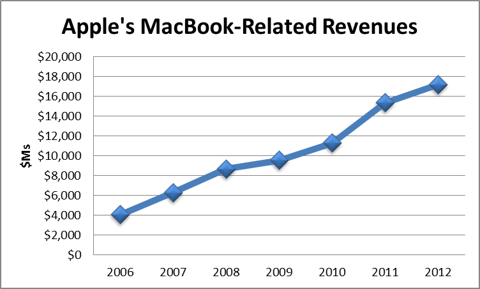 Source: Apple's 2006-2012 Annual Reports
In conclusion, we have to tip our hat to Apple's Mac products. Although the Mac's importance to Apple will not be anything like that of the iPhone and the iPad, it is still Apple's third largest source of revenue. Apple generated $23B in revenue from its Mac desktops and notebook computers in FY 2012. Apple's Mac revenues are dwarfed by HPQ's $35.65B in Personal Systems revenues and $24.5B in Printers revenue as well as Dell's estimated product related revenues of $44B for its FY 2013 fiscal period. However, we think Apple's Mac-related revenues performance is more impressive than HPQ's or DELL's considering that Apple reinvented the computer in 2010 with its iPad tablet computing devices. Also, we are impressed with the Mac's revenue performance versus HPQ's and DELL's PC and hardware related revenues since the Mac's unit sales are stable and the MacBook notebooks have enjoyed double-digit revenue and unit volume growth even though these products compete against Apple's iPad computing devices.
Source: Apple's 2012 10-K
Disclosure: I am long AAPL. I wrote this article myself, and it expresses my own opinions. I am not receiving compensation for it (other than from Seeking Alpha). I have no business relationship with any company whose stock is mentioned in this article.
Additional disclosure: This article was written by an analyst at Saibus Research. Saibus Research has not received compensation directly or indirectly for expressing the recommendation in this article. We have no business relationship with any company whose stock is mentioned in this article. Under no circumstances must this report be considered an offer to buy, sell, subscribe for or trade securities or other instruments.