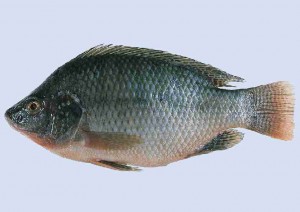 Chinese tilapia producer HQ Sustainable Maritime (Amex:HQS) is swimming against the tide.  While most microcaps are in the red today, HQS is up almost 40% on blowout earnings.
Sales were up 42% year-over-year, and up 55% sequentially.  Net income grew 62% year-over-year to $5.6 million, or $0.43 per diluted share.  That's up from $0.38 per diluted share last year.
The balance sheet looks good too.  Cash increased to $50 million, with long-term debt of less than $5 million.  Shareholders' equity is up 18% year-to-date at $81.2 million.
"I am very pleased with our performance during the third quarter, which represents the best third quarter in the Company's history. Our success is a direct result of the expanded capacity of our aquaculture plant, which has increased from 20,000 metric tons live weight flow through to 30,000 metric tons, and the significant progress we have made in establishing solid relationships in the fast food industry during the quarter. We intend to double our current production capacity by the end of the next calendar year, and are confident that doing so will help us to take advantage of what we see as a strong growth opportunity for the production of ready-to-eat meal products with tilapia as the main protein component," said Norbert Sporns, CEO of HQ Sustainable Maritime Industries, Inc.
"The current turbulence in the global financial markets, while not necessarily good for consumer based companies, provides us with an opportunity to separate ourselves from our competitors. Unlike many companies that are currently reducing their marketing budget, we are expanding our branding efforts and pushing into new regions. In essence, the Company is poised to benefit from the current recessionary conditions. Our Tilapia products offer consumers an affordable, high-quality alternative to low-quality, fast food, and more expensive and less convenient family style restaurants. HQ Sustainable offers an appealing middle ground during the current downturn," continued Mr. Sporns.
China concerns: Although this quarter was very solid, I decided to exit all China stocks today for reasons explained here.  HQS will remain on my watchlist.  As I return to China stocks, this will probably be one of my first purchases.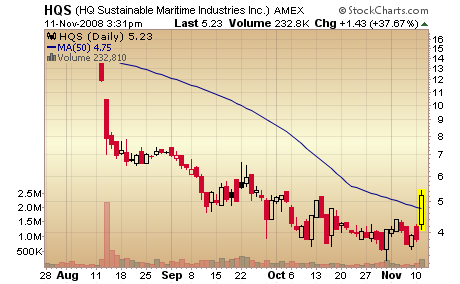 Disclosure: No position.