There's no doubt that the Fiscal Cliff has been weighing on equities ever since the Presidential Election. The S&P 500 (NYSEARCA:SPY) had lost nearly 8%, from peak-to-trough. That's really not that much, but after a late-summer melt-up with little volatility, equity markets made new highs for the year and the selling appeared violent at times. Since the post-election sell-off, markets have been able to bounce back a bit, but have hung on every word from politicians, looking for Fiscal Cliff resolution.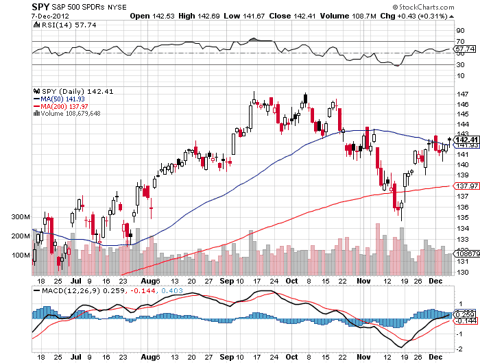 Source: Stockcharts.com
In my opinion, until the uncertainty is removed from the Fiscal Cliff, we won't be able to substantially rally, even though you can feel that the market wants to rally. Hope can only fuel the fire to the market rally for so long, until investors and traders want a substantial decision -- whatever that may be. I have a strategy that involves using weekly options for the Powershares QQQ Trust (NASDAQ:QQQ) to try and capture a market move, no matter what direction.
Below is a chart displaying the average weekly move in the QQQ over the month of November and first week of December:
| | | |
| --- | --- | --- |
| Date | Friday Closing Price | % Change From Previous Week |
| 11/9/2012 | $63.43 | -2.6% |
| 11/16/2012 | $62.30 | -1.8% |
| 11/23/2102 | $64.90 | +4.1% |
| 1129/2012 | $65.80 | +1.4% |
| 12/7/2012 | $64.93 | -1.3% |
| Average Weekly Change | | +/-2.24% |
With the average weekly move of about 2.25%, this allows plenty of room to find some profit. The strategy we're looking to deploy is called a strangle, where we will look to purchase a slightly out-of-the-money call and a slightly out-of-the-money put. The goal is for the underlying security, in this case QQQ, to move in-the-money far enough to cover the net debit of the trade. Below is a look at the trade I'm looking to make:
The Trade
Buy 1 QQQ December 14th weekly 65.50 Call @ .30
Buy 1 QQQ December 14th weekly 64.50 Put @ .33
Net Debit (Max Loss): .63 ($63)
Break-even Price: $66.13 or $63.87
The move, in either direction, represents 1.73% which is well within the 5-week average of 2.25%. It's also important to remember that Friday's closing prices are used for the options pricing seen above. Since we are using weekly options with such a small time before expiration, the cost of the options should drop on Monday, assuming QQQ opens close to Friday's closing price. The most beneficial time to put the strangle on will be if QQQ trades at $65, so the selected strikes are equal distances apart.
Fundamentally, the market has been slightly volatile as of late, especially the QQQ fund. A good explanation for this is Apple (NASDAQ:AAPL), which has been highly volatile this past month. Apple accounts for roughly 20% of the QQQ fund, which can explain some the fund's volatility lately.
All of this along with politicians from D.C. hinting at Fiscal Cliff resolutions -- or lack of --will act as catalysts for equities, in either direction. Though both sides appear to want a solution, it's the only real thing weighing on equities going into these last few weeks of 2012. The President and Congress will be what the market reacts to, so keeping a close and cautious eye on them is advised. This trade is meant to capture some of the wild price swings presented in QQQ from Apple's volatility and the Fiscal Cliff uncertainty.
Disclosure: I have no positions in any stocks mentioned, and no plans to initiate any positions within the next 72 hours. I wrote this article myself, and it expresses my own opinions. I am not receiving compensation for it (other than from Seeking Alpha). I have no business relationship with any company whose stock is mentioned in this article.
Additional disclosure: I have positions in any stocks mentioned, but may initiate a long/short strangle position in QQQ over the next 72 hours.