Anyone who is long or short Apple (NASDAQ:AAPL) saw substantial gains or losses during a roller coaster of a trading week. First, to start the week AAPL saw a gap up on Monday, moving up almost 2% from the Nov. 30 close. For those who read my daily options and volatility sonar articles, they know I went short AAPL, buying the weekly 585 puts for a trade. Monday made me very skittish holding my AAPL short, coming within .20 of being stopped out after the gap higher. I was then asked: Why did I pick Friday as the day to go short? This article is dedicated to explaining my trading thesis, why I believe the uncertainty in Washington could continue to put downward pressure on the stock, and how to profit from such a move.
So any investor who actively follows the market knows we are just a few short weeks from the Fiscal Cliff. The truth is while Washington continues to play politics, blaming each other for every problem the economy is facing. In the meantime, your investments are whipsawed back and forth due to headline or rumor, which is released for that trading day. In the case of AAPL, investors saw nine days of gains wiped out in three short trading days. This raises the question: Why does AAPL as well as other solid stocks continue to have such heavy selling pressure in what historically is a good time to own the stock?
Selling at 540 is the same as selling at 595 after Jan. 1:
For example, look at the following scenario. Let's assume an investor has a $10 million position in AAPL. It doesn't matter if this is held by a hedge fund, individual investor, or institution. The truth is it actually behooves the investor to shoot first and ask questions later. This is simply due to the math of in terms of long-term capital gains tax. Currently, the LTCG tax rate sits at a low 15%.
Now, with our $10 million position let's assume we have a cost basis of $4 million and an unrealized gain of $6 million profit. If I had this position and were to close it today, I would pay 15%, or $900,000, in capital gain tax. The plans being offered by the Democrats would take the tax to 20% and there is high probability this will happen. Some on CNBC and Bloomberg actually talk about taxes going much higher, but this is not for me to debate. So, back to our example, if we sold the same position booking the gains 2013 would cost me an extra $300,000 in just the tax hike from 15% to 20%.
Doing the math on this, a $300,000 reduction in lost after-tax income is between $50 and $60 per share in Apple stock equivalent. Thus, if I sold the position today at $540, it would be in theory the same as selling AAPL on Jan. 1 for $590-$600. So then the question becomes d o you believe you can buy the position back under $590-$600 on Jan. 1. If an investors theory believes the answer is yes, then selling AAPL stock here at $540 makes a ton of sense. Now multiply this by the hundreds of thousands of AAPL positions and you can easily see why the uncertainty could be putting pressure on the stock.
Technical signals continue to tell the "Skynet" computers to sell:
Any reader of my daily recap articles knows I am dedicated to option and volatility analysis. Currently, the market is not pricing in a "meltdown" in the upcoming weeks as shown in low VIX futures pricing. It is important to note this sentiment is appearing to slowly change as buyers of February VIX futures have been stepping up. A large number of AAPL puts were bought and at the same time calls were overall sold on Nov. 29 and 30. This was more than likely playing for an upcoming AAPL "Death Cross." For those who do not know, a Death Cross is when the falling 50-day moving average crosses below a rising 200-day moving average.
Click to enlarge images.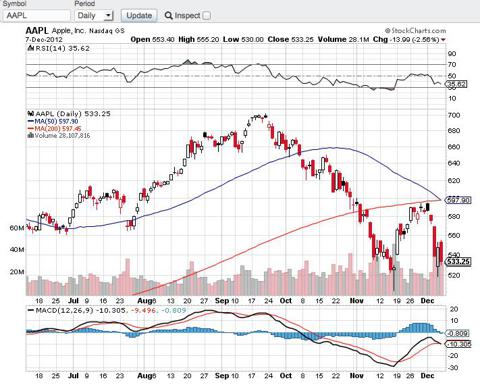 Computers, risk modeling tools, and automated trading systems anticipate this event and take high probability trades to profit from this event. In this case the 580, 570, and even the 560 weekly puts were bought in full force. This action on Dec. 3 followed the Nov. 29 and 30 options activity, with calls being sold and puts bought as shown in the options block activity trading log below.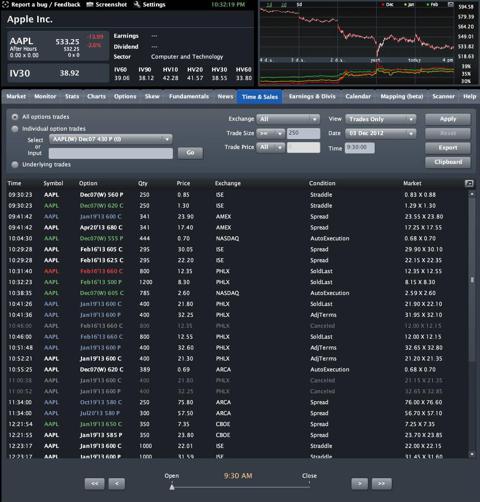 Source: Statistics and screenshot from LiveVol.
This was the beginning of what turned out to be a very poor trading week for AAPL bulls as computers and selling algorithms continued to relentlessly sell AAPL. Although I did go long AAPL at the end of Wednesday and sold quickly on the bounce on Thursday, the change in sentiment in options turned negative yet again. I currently have no position in AAPL, but am looking at buying a February call butterfly in the coming weeks.
The Trade:
Let me start out by saying this trade is for the two- to three-month AAPL bulls who want to capitalize off of the recent AAPL weakness. The object is simple: I'm looking to buy the February 600-650-700 call butterfly for free. This trade would profit greatly for anyone who would be bullish AAPL in the coming months after we have resolution or at least kick the can down the road in Washington. To do this, I'm going to take advantage of further AAPL weakness by first buying the February 600 strike calls anywhere below 12.00 and at the same time buy the February 700 calls for less than 2.50. This initially will cost me $1,450.00 for one AAPL 600-700 "Call Stupid" and will require AAPL to trade back down into the $520s to potentially get a fill. As a reminder, this could have been done on Thursday morning for less than 13.25, so this is very possible.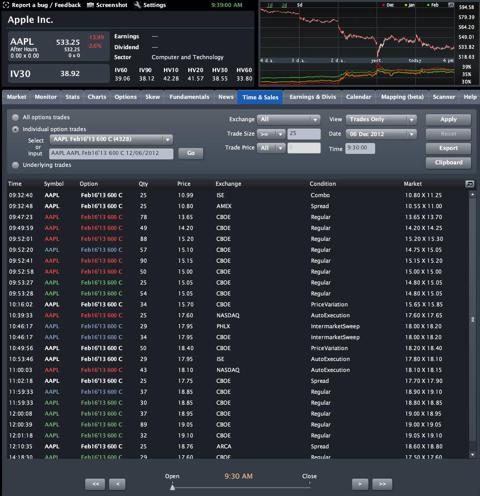 Source: Statistics and screenshot from LiveVol.
So now we have started our butterfly and own the wings; now we must wait for AAPL to rebound to sell our short 2x 650 calls. On Monday when AAPL was trading north of $590, these calls were sold this week for an amazing 14.00 each. In this case for us to get into this trade for "free" we would need to see the 650 calls get back to just 7.25. For these calls to reach this level AAPL would need to rebound back to the $550-$560 level in the next couple weeks or volatility to increase. It is important to note AAPL volatility has already moved back near the highs of the year. A butterfly does benefit from lower volatility.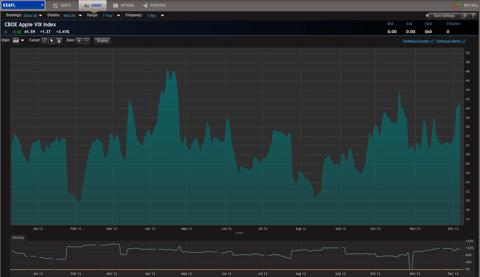 Source: Screenshot and chart from Trademonster.
If executed properly, the AAPL February 600-650-700 call butterfly would be put on like this:
Long 1x February 600 strike calls at 12.00 (Trade 1)
Short 2x February 650 strike calls at 7.25 (Trade 2 on a rebound)
Long 1x February 700 strike calls at 2.50 (Trade 1)
Obviously this trade must be timed, and if done correctly actually could be done for no cost or even a credit. Of course for those not willing to try to time the trade but who still believe AAPL could finish near $650 after earnings in February, they could put on the trade now for 4.50-4.80. This would risk just 475.00 in an attempt to make 4525.00 if AAPL were to pin to $650 at February expiration.
It is important to note while this trade does provide a 9:1 payout in terms of risk/reward, the probability for a loss is high if AAPL does not recover. This risk is somewhat mitigated if you are able to put on the trade as outlined above in two separate trades. In this case, then you risk the initial 600-700 Call Stupid until you are able to sell the 2x 650 calls to reduce your cost. Your risk/reward profile would look like this if the trade was bought outright. It is important to note the "Probability for Maximum Loss" is nothing more than the computers way of calculating deltas in terms of risk. This does not mean you will lose money 81.64% of the time. This assumes you hold the position to full term, which many option traders do not. You can always sell this trade at a later time for a gain or loss as it will track not only AAPL in terms of price, but volatility as well.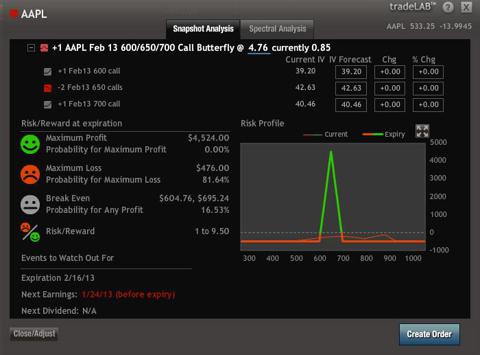 Source: Statistics and chart from Trademonster.
Summary:
In volatile times the markets continue to be taken higher and lower on every Fiscal Cliff headline or computer-generated buying or selling algorithm. This is why I believe investors should be nimble, and options are a great way to make money in any market. Sell volatility in times of fear and buy volatility when the markets are ripping higher.
Earlier this week, I mentioned on Twitter to buy blood and fear and sell greed and euphoria. If you do this successfully it doesn't matter if the markets go up, down, or sideways -- you can make money. Of course, actually executing these trades during these times can be one of the most difficult things for an investor to accomplish. Long or short, it doesn't matter -- pick a thesis and control your own destiny.
Disclosure: I have no positions in any stocks mentioned, and no plans to initiate any positions within the next 72 hours. I wrote this article myself, and it expresses my own opinions. I am not receiving compensation for it (other than from Seeking Alpha). I have no business relationship with any company whose stock is mentioned in this article.
Disclaimer: The opinions in this document are for informational and educational purposes only and should not be construed as a recommendation to buy or sell the stocks mentioned or to solicit transactions or clients. Past performance of the companies discussed may not continue and the companies may not achieve the earnings growth as predicted. The information in this document is believed to be accurate, but under no circumstances should a person act upon the information contained within. I do not recommend that anyone act upon any investment information without first consulting an investment professional as to the suitability of such investments for his or her specific situation.