If you are looking for that perfect sweet spot between value, growth, technicals and a unique business model within the precious metals sector, there is one company that should immediately catch your eye.
This small junior explorer has a one-of-a-kind business model that provides excellent value for shareholders when compared with almost any other exploration company out there. It is self-financing. It has a strong foothold in the ore processing industry in Peru, where tens of thousands of artisan miners sell their ore on small scale. This unique gold junior is Dynacor Gold Mines - DNG.TO on the Toronto Stock Exchange, and OTC:DNGDF on the OTC.
Dynacor's pricing model for ore refining is linked to ore grades and metals prices; essentially, it is insured against even up to a 50% drop in the price of gold (see the latest updated Fact Sheet for margin information), while increasing margin as gold prices increase. Furthermore, as a refiner dealing with many different small miners, it is able to pick and choose which ore it wants to process, meaning it can select the highest grades with the highest yields at its own discretion. It also has an excellent relationship with the Peruvian government and local communities, with a facility in Peru for the last 15 years. A further boon to the ore processing model is the recent crackdown on gray-market mining and processing facilities by the Peruvian government, facilities that use older, harsher and environmentally damaging methods of processing ore. This has left the door open for Dynacor to process even more ore. As a result, it has been processing ore at maximum capacity over the past several months, continuously breaking previously-set records for monthly gold production.
As an ore processor alone, Dynacor is a great value play. It is currently trading at less than 0.5x sales, with a ROE of 36.01%, a current P/E of 6.67, and trade roughly at the net market value right now. This translates into a very efficient use of current assets that generate a return far superior to many other avenues in which a retail investor can invest. It's also a growth story - Dynacor has increased its daily ore processing capabilities to 220t of ore per day, and is self-financing the expansion of another processing facility. That translates into at least 50,000 ounces of gold processed for 2012 (revised up to 58,000 this month), with the new facility increasing expected production up to 100,000 ounces of gold for 2014. Its latest month saw over 6,000 ounces of gold and 14,000 ounces of silver processed, for sales of over $10 million. If monthly production is maintained or increased, Dynacor is trading at a mere 0.3x sales and an annual net profit closer to $0.28/share with four quarters at current operations, leaving Dynacor trading at a forward P/E of roughly 4.3. In other words, dirt cheap.
Dynacor's recent ore processing and sales history, from Dynacor's website: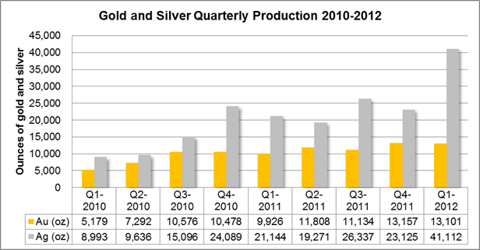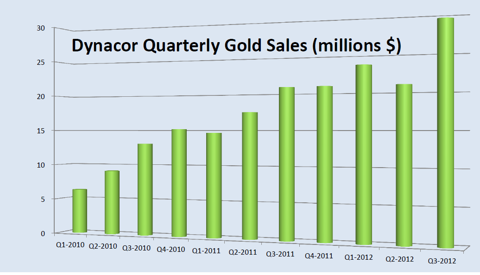 There is even more to the story of Dynacor than this incredible growth. Dynacor is also an exploration company, and this is where it sets itself apart from your run-of-the-mill junior. Because of its profitable (and growing) ore processing operations, it is able to run with virtually no debt, and completely self-finance exploration operations. As of its most recent reporting quarter (September 30, 2012), Dynacor has just under $19 million in current assets against $7 million in total liabilities. What this boils down to as a shareholder is that Dynacor does not have to take on significant debts (and therefore future cash-flow-eating debt service), or issue new shares and dilute existing holders in order to explore its properties.
Furthermore, Dynacor has landed itself a real gem in its Tumipampa project in Peru. Peru is one of the major precious metals producers (6th in gold, 2nd in silver) on the globe. Tumipampa is smack in the middle of some of the richest gold and copper skarn deposits on earth, property that currently has a high level of exploration and development under way. Dynacor is a tiny player in the middle of some very big names in the mining industry - Southern Copper (NYSE:SCCO), Xtrata, Hudbay Minerals (NYSE:HBM), and two large Chinese gold miners, which are collectively investing over $6 Billion in infrastructure (see Dynacor's latest Corporate Presentation). This will offer Dynacor the opportunity to piggyback its Tumipampa project onto the existing infrastructure with a far lower capex. In my opinion, Dynacor will likely seek to partner with a large producer to fund development, and may even end up selling off the actual mining rights for a large cash payment + royalties and processing rights. If Dynacor's project turns up being sizable enough, it also makes it a prime buyout target at its current size. Even if Dynacor only partners for funding and decides to handle the development side, it will still be able to process much of its own ore internally using its higher capacity processing expansions (430tpd total production, from 220tpd, coming on-line 2013 - See Corporate Presentation), leading to even higher net margins and therefore more cash flow for shareholders.
I encourage every interested investor to take a look at its frequently-updated Corporate Presentation, the NI 43-101 report, and review the ore-processing operations for yourself, on its website. This is a great value story with the upside of impressive growth over the next few years, and an exploration project that could move Dynacor from junior to small-cap without compromising shareholder value at all.
On a technical basis, Dynacor looks to be lining up to make another move to the upside. It is just about finished a contracting triangle, taking it over to the right side of the channel formed off the July 2012 lows. This consolidation has provided ample opportunities for an internal technical "reset" on its overbought condition.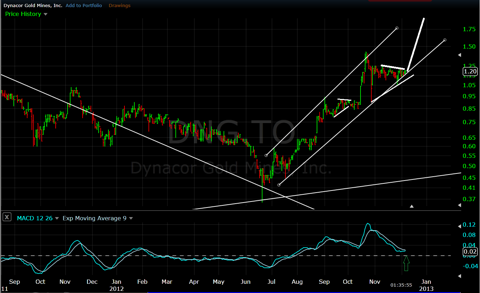 Dynacor is one of those pristine gold plays tucked off into a corner, with little coverage or mention. It's not a "big story" stock, because the CEO of the company, Jean Martineau, has built it slowly and organically since taking over operations in 2006. Dynacor has chosen an executive team with a proven record within the industry, who have a history of continually adding Dynacor stock to their personal holdings, and make decisions that offer long-term value to shareholders.
Regardless of the near-term gyrations in the precious metals and miners markets, Dynacor is a deep value play (professional advisors have valued it at $2.50/share [p.8], a premium of over 100% from current levels) that I highly recommend any precious metals investor add to their portfolio. It should generate superior returns and strong growth for years to come.
Disclosure: I am long OTC:DNGDF. I am long DNG.TO, listed on the Toronto Stock Exchange. I wrote this article myself, and it expresses my own opinions. I am not receiving compensation for it (other than from Seeking Alpha). I have no business relationship with any company whose stock is mentioned in this article.