Well, well, it seems like the market is really starting to become invulnerable to bad news. Merry Christmas, everybody! The Dow Jones (NYSEARCA:DIA) is now up in 6 of the last 7 trading days. Since hitting 12,820 in mid-day trading on Nov. 28th, we have rallied over 330 points to 13,155. I am a big fan of Christmas and its relaxing effect on people, but the reality is that the economic news has not been good lately. Let's recap some major economic releases since November 28th:
December 7
Consumer Sentiment - Dec - 74.5 (Contraction)
Non-farm Payrolls - Nov - 146K (Faster Expansion)
Private Payrolls - Nov - 147K (Expansion)
Monster Employment - Nov - 158 (Faster Expansion)
December 6
Challenger Job Cuts - Nov - 57.1K (Faster Contraction)
December 5
Factory Orders - Oct - 0.8% (Expansion)
ADP Employment - Oct - 118K (Expansion)
PMI Non-Manufacturing - Nov - 54.7 (Faster Expansion)
December 3
Construction Spending - Oct - 1.4% (Faster Expansion)
PMI Manufacturing - Nov - 49.5 (Contraction)
Another way to look at this data is in a heatmap format like this:

On the surface, it seems that I am contradicting myself. Most of the employment and consumer economic indicators are in green territory (expansion) and even deeper shades of green (faster expansion) which suggests that things are getting better in consecutive months. And if the consumer is doing well (70% of the US economy) and is employed, then all should be well. What is the problem then?
You have to look beyond the heatmap into the charts of the individual economic indicators and see the trend in the charts to see my concerns.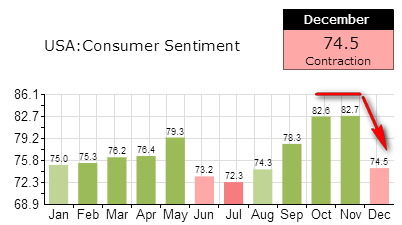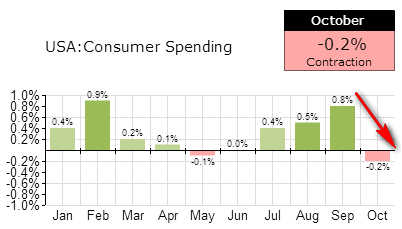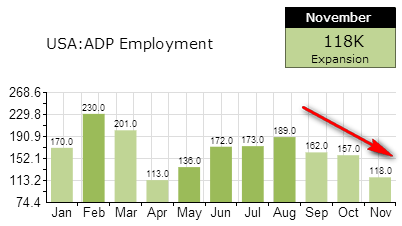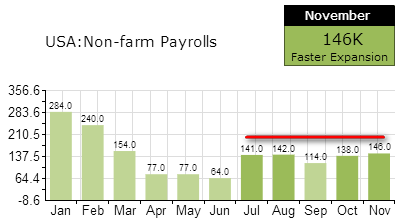 The problem is that the expansion in the employment and consumer numbers has really flat lined in October and November. Some of the numbers are in positive territory, but they are not growing as fast they should during the busiest economic activity season of the year. This is confirmed with some pretty negative readings in manufacturing activity and job cuts in November: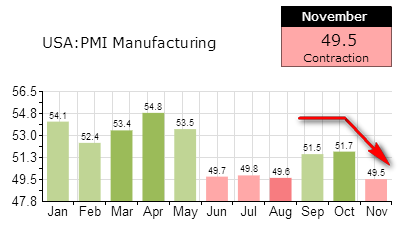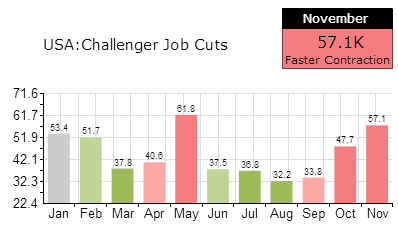 The December numbers are not in yet, but there is no reason to believe they will pop out of the page and reverse the October-November trend. The only December number in so far is the University of Michigan Consumer Sentiment reading and at 74.5, it turned out to be quite a stinker.
So where does that leave us with the market - the Dow Jones and the S&P 500 (NYSEARCA:SPY)? Why is the market going up right now? I think the market is front-running the Fiscal Cliff deal. Everybody is expecting a deal to happen, however, when it does happen, it is going to be much closer to what Obama wants than what the Republicans want. That means higher tax rates and we're about to re-learn the old economics lesson again - that higher taxes lead to decreased economic activity. Or the Fiscal Cliff deal does not happen and we get the higher Clinton rates and the sequestration. Either way, the start of 2013 does not look very promising and the economic numbers confirm it. The job creation and consumer confidence numbers are not nearly as strong as they were last year at this time and the manufacturing numbers show outright contraction. My advice is - use the remaining days of the Christmas Rally and the Fiscal deal front-run to sell and move to cash.
Disclosure: I have no positions in any stocks mentioned, and no plans to initiate any positions within the next 72 hours. I wrote this article myself, and it expresses my own opinions. I am not receiving compensation for it (other than from Seeking Alpha). I have no business relationship with any company whose stock is mentioned in this article.