As a follow up to the research by the DB analyst regarding Lumia sales being smoke and mirrors, and our previous article, there is now solid evidence supply is intentionally limited until after Christmas in the UK. Just a few weeks ago, Nokia (NYSE:NOK) was putting a brave face and did not mention exclusivity deals. According to the New York Times,
Doug Dawson, a Nokia spokesman, declined to comment on whether the difficulty of buying the phone was related to unusually low supply. He said Nokia didn't have numbers to share about early sales. "You can be very sure that we are working hard to meet the demand," Mr. Dawson said.
Here in the UK I was having difficulty sourcing a Nokia Lumia 920 from a non 4G supplier, even from Orange-TMobile which is supposed to carry them. Finally, after chasing Nokia UK, we got confirmation that the exclusivity deal with EE brand of Orange-TMobile UK, will last until January 2013. Thus the "limited" supply is intentional. You can pre-order a Nokia Lumia 920 Red, like we did, but you will not get any before January. The retailers themselves were reluctant to verify this. They kept blanking us out on availability; we were told they cannot guarantee supply by any particular date.
We note that the EE exclusive White Nokia Lumia 920 has not sold out. Every shop we checked has a 4G exclusive Lumia in stock. Our checks were verified by Expert Reviews:
Nokia's UK arm has officially confirmed that the device will be available from 'other retailers' starting in January 2013 - too late, sadly, for anyone to pick it up as a Christmas present. Expert Reviews.
Lumia 920- The Most Popular Windows Phone 8
All is not lost, we are just emphasizing to investors don't increase your expectations beyond reason. Current Lumia 920 sales are only about 3% of total windows phone market. That is according to mobile ad firm adduplex.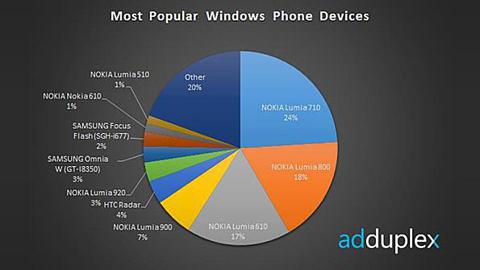 We expect an active installed base of 20 million Windows Phones. Based on this educated estimate, assuming the data above is also accurate, we predict Q4 2012 Lumia 920 sales between 1-2 million, representing at least 5% of the total Windows Phone market. That is hardly record breaking, though it is not bad.
Investors Should Be Realistic
The sudden increase in supply from January 2013 may be related to Qualcomm (NASDAQ:QCOM) finally getting higher yields in Q4 as predicted by TMSC (NYSE:TSM). Unfortunately, it seems our fears regarding limited supply not overwhelming demand, is bearing out. This does not foretell a surprising and top of the line Q4 results. However, the new Lumias are definitely desirable. It is also the first high end, Windows Phone Nokia is marketing worldwide. The simultaneous worldwide rollout probably put pressure on Nokia's manufacturing ability and thus the exclusive deals were put in place to cover issues until the new year. Unfortunately, in the UK the exclusive deals are for the most expensive network. Meaning, there is no lack of supply but a lack of demand for 4G LTE locked phones. Investor caution is warranted.
Disclosure: I am long NOK. I wrote this article myself, and it expresses my own opinions. I am not receiving compensation for it (other than from Seeking Alpha). I have no business relationship with any company whose stock is mentioned in this article.