Every so often, we as investors need to rebalance our portfolios. To achieve our investment goals we need to make certain that we maintain not only diversity among industries, but also a good mix of both value and growth stocks.
Over the past few weeks, several stocks have caught my attention and appear to have significant growth potential. These stocks are Facebook (NASDAQ:FB), Zynga (NASDAQ:ZNGA), Sirius XM Radio (NASDAQ:SIRI) and Clearwire (CLWR). Before taking or increasing a position in one or more of these stocks, I will need to analyze how well one of my major holdings, Apple (NASDAQ:AAPL), is performing.
In a previous article I explained how recent external factors had driven the price of AAPL to new lows. Using a four-tiered approach, I will compare the core fundamentals of the Apple stock during 2012, to the core fundamentals of the Apple stock during 2011.
Tier 1: Revenue and Gross Profit
For the Fiscal Year 2012, we see that total revenue of the Apple stock has grown 44.6% from $108.2B of $156.5B. The cost to achieve this revenue has grown 36.3% from $64.4B to $87.8B. With a higher percentage growth in revenue than in cost, we see this as a positive indicator showing that cost savings were achieved from what is likely a result of the economies of scale. This led Apple's profit in 2012 to increase by 56.7% from $43.8B to $68.7B.
| | | |
| --- | --- | --- |
| Period Ending | Sep 28, 2012 | Sep 23, 2011 |
| Total Revenue | 156,508,000 | 108,249,000 |
| Cost of Revenue | 87,846,000 | 64,431,000 |
| Gross Profit | 68,662,000 | 43,818,000 |
(All numbers in this chart are in thousands)
Tier 2: 200-Day Moving Average
As investors we use the 200-Day Moving Average to determine a downturn in a stock. It is a critical indicator that many investors use as a signal to either enter or exit a stock. The graph below shows that recently Apple has dipped below this moving average, on two occasions. This appears to be a cause for concern especially since this is the first time period in the past 2 years when the stock has gone below this average. At this point, as I stated in a previous article, I feel that external market factors, that are independent of the underlying fundamentals of Apple, have caused this stock to move below the 200-Day Moving Average.
Tier 3: Analyst Opinions
It is important to analyze the opinions of leading research firm analysts. Many private and institutional investors, open or close positions based off of the recommendations from these leading analysts.
We see that five research firms initiated positive coverage on Apple in 2012. This number is up from 2011 where only three firms initiated positive coverage. In both years we see that one firm downgraded its ratings.
Upgrades & Downgrades History
| Date | Research Firm | Action | From | To |
| --- | --- | --- | --- | --- |
| Aug 9, 2012 | Stifel Nicolaus | Initiated | | Buy |
| Jul 11, 2012 | UBS | Initiated | | Buy |
| Apr 9, 2012 | BTIG Research | Downgrade | Buy | Neutral |
| Apr 3, 2012 | Auriga | Initiated | | Buy |
| Feb 9, 2012 | Mizuho | Initiated | | Buy |
| Jan 20, 2012 | FBR Capital | Initiated | | Outperform |
| Oct 14, 2011 | ISI Group | Initiated | | Buy |
| Aug 15, 2011 | Hilliard Lyons | Initiated | | Buy |
| Mar 16, 2011 | JMP Securities | Downgrade | Mkt Outperform | Mkt Perform |
| Jan 5, 2011 | Wedbush | Initiated | | Outperform |
Tier 4: Apple vs. NASDAQ
The graph below shows the downtrend of both Apple and the NASDAQ for the past five days. It is important to note here that the market opened weak on December 3, as the Fiscal Cliff talks continued with little progress. Even though the failed Fiscal Cliff talks caused a significant amount of market weakness this past week, it is actually Apple that pulled the NASDAQ down for several of the past few days. This is evident in that the two graphs appear to mimic each other at the peaks and the drops. Vlastelica writes that, "In a strange occurrence, Apple accounted for the entirety of the Nasdaq 100's fall of 1.1%." It appears that this steep drop in Apple's share price came from a major clearing house changing the margin requirements for investors. David says, "In early trading, COR Clearing sent Apple's shares swooning when it announced that it was changing its margin requirements on Apple to 60 percent from 30 percent. The move effectively raises the amount of capital that investors are required to have when they take positions in the stock." Ultimately this move by COR Clearing led many investors to sell their leveraged positions in Apple, which led to a dramatic decrease in the price of the Apple stock.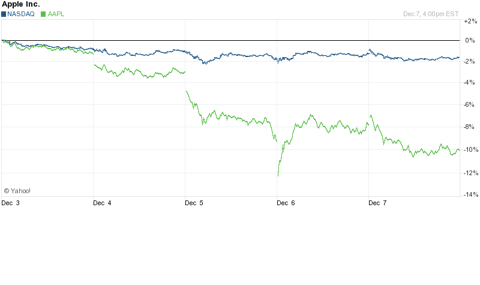 Conclusion
Overall, based on the facts presented in the four tiers above, it appears that Apple is a stronger, healthier company in 2012 than it was in 2011. Some investors may feel that since Apple peaked at $700/share in September and that since Apple has made two drops below the 200-day moving average within the past 30 days that the growth of Apple is a thing of the past. I would encourage these investors to pay particular attention to key indicators that Apple is achieving economies of scale with its products. In seeing that Apple's revenue is growing at a higher rate than the cost, we can be confident that these economies of scale will continue to assist in increasing profit margins. While Apple has fallen for the past few days, I would encourage investors to think about the effects that the Fiscal Cliff and the changing of the Clearinghouse margin requirements have had on the Apple stock this week. In closing I feel that Apple is still as good of a buy in 2012 as it was in 2011. Based off of the trends presented in Tier 1-4 above, I believe that Apple will continue its success in the year to come.
Disclosure: I am long AAPL, FB. I wrote this article myself, and it expresses my own opinions. I am not receiving compensation for it (other than from Seeking Alpha). I have no business relationship with any company whose stock is mentioned in this article.