Overview
I recently wrote an article about Cisco's (NASDAQ:CSCO) acquisition strategies and implications for the valuation of the stock in light of my concerns. I will not rehash the valuation discussion here but my basic point was that Cisco is probably fairly valued at current levels given their growth prospects and a 10% discount rate. I posited that Cisco's growth by acquisition strategy is incredibly expensive and could signal some desperation by the board. I realize growth by acquisition is not new for Cisco, but it still doesn't mean it's necessarily a good use of shareholder capital. While I don't think Cisco is a screaming buy, I don't think it is a sell here either. In fact, an investor that is at least moderately bullish can take advantage of a sideways to higher move in CSCO shares into early 2013 using options.
Cisco is the dominant player in their industry and remains incredibly profitable. They've got some growth issues that I believe will keep the stock capped but it could move higher from here. In addition, Cisco pays a robust $0.56 annual dividend and there is plenty of room in free cash flow to raise the dividend or the buyback program in the future. For greater detail on these arguments, please refer to my valuation article.
This article will be focused on some options trades that someone who is moderately bullish to very bullish on Cisco shares can put in place for July 2013 expiration with varying degrees of margin requirements, risk and reward. I chose July because it encompasses the next two earnings reports and gives us some time to recover from the Fiscal Cliff disaster. The daily chart is below for reference.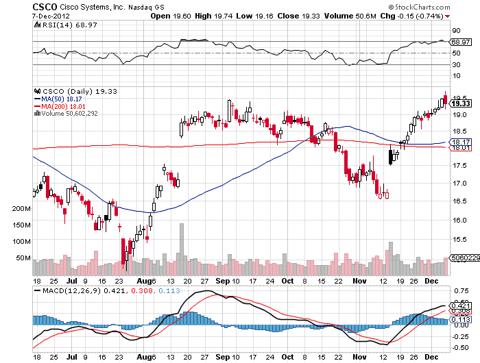 Click to enlarge
All option prices quoted were the midpoints between the Bid/Ask prices at the time of writing. As always, you should perform your own due diligence before acting upon any trades presented. Also, my Profit/Loss graphs and calculations only consider the range of prices of $9 - $28 at July expiration. I am fully aware that some of these trades have technically infinite risk but this is the range of options that are currently available for CSCO for July 2013 expiration. Please understand I know the risk of prices outside that range exists but it is so small that I don't feel like it was worth noting. If CSCO hits $9 or $28 by July, it means some enormously positive or negative black swan has taken place that is impossible to foresee. In addition, these exclude commissions for simplicity's sake. Having said that, let's move on to the trade ideas.
July 2013 23 Covered Call
This is the simplest of the trades and it involves buying 100 shares of stock at $19.34 and selling one July 23 Call against it. This trade is almost the same as just being long stock but lowers your breakeven point by the credit amount of the short call. It also provides you with some income even if CSCO doesn't break out to the upside by July in addition to the quarterly dividend. In exchange for this income, your long stock gains are capped at $23. Here's the structure:
| | |
| --- | --- |
| Long Stock | 19.34 |
| 23 Call Price | 0.32 |
| Max gain | 3.98 @ 23.00 |
| Max loss | 10.02 |
| Breakeven | 19.02 |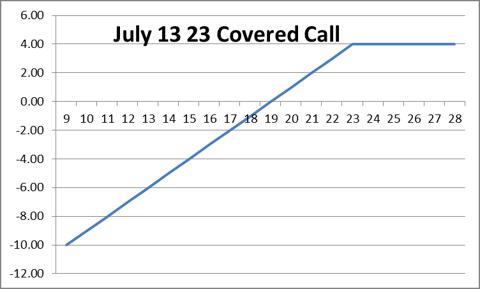 Click to enlarge
July 2013 Covered 23 Call and Long 18 Put
This is the same trade as above but with the added protection of being long one 18 Put. This offers you protection below $18 on July expiration in exchange for relinquishing some upside. It also is important to note that buying the put, raising the breakeven point rather substantially. The main point is that this structure allows you to participate on the upside but without the unlimited risk of just owning stock on the downside. This is for a moderately bullish investor and here's how the structure looks:
| | |
| --- | --- |
| Long Stock | 19.34 |
| 23 Call Price | 0.32 |
| 18 Put Price | 1.09 |
| Max gain | 2.89 @ 23.00 |
| Max loss | 2.11 @ 18.00 |
| Breakeven | 20.11 |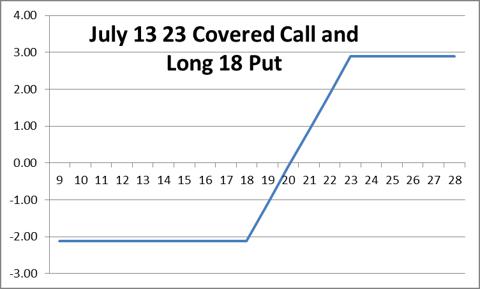 Click to enlarge
July 2013 19/21 Bull Call Spread
This trade is a simple bull call spread where you purchase one 19 Call and sell one 21 Call against it. This has very limited risk and limited reward but it is a cost effective way to get long CSCO without having to use a lot of capital. In addition, it makes its maximum profit at only $21. Here's the structure:
| | |
| --- | --- |
| 19 Call Price | 1.61 |
| 21 Call Price | 0.77 |
| Max gain | 1.17 @ 21.00 |
| Max loss | 0.84 @ 19.00 |
| Breakeven | 19.84 |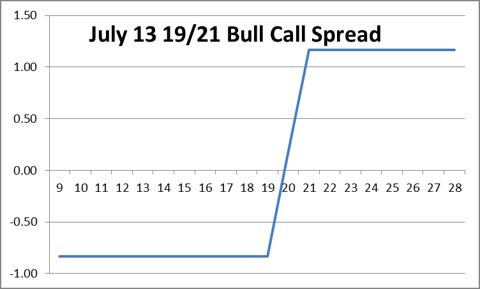 Click to enlarge
July 2013 Short 19 Straddle and Long 21 Call
This trade involves buying one 21 Call, selling one 19 Put and selling one 19 Call. This sells more options than you are long so it will require some margin and has some increased risk if we get a big move either direction. This one is for traders who are moderately bullish and want a large margin of safety around current prices. The ultimate payoff of this trade isn't huge but the efficacy of this trade is the range of prices over which it is profitable. Here's how it works:
| | |
| --- | --- |
| 19 Put Price | 1.52 |
| 19 Call Price | 1.61 |
| 21 Call Price | 0.77 |
| Max gain | 2.36 @ 19.00 |
| Max loss | 7.65 |
| Breakeven | 16.65 |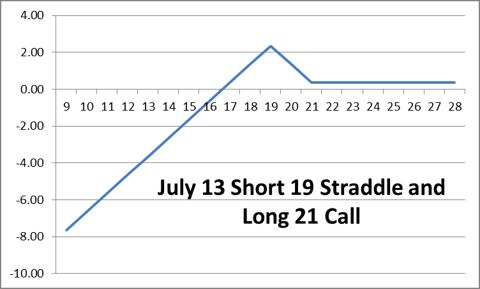 Click to enlarge
July 2013 Long 15/21 Strangle and Short 19 Straddle
This trade is the same as the one above but adds the downside protection of a long 15 Put. Adding this put decreases the amount of upside but also drastically limits the amount of money you can lose if CSCO trades substantially lower before next July. Here's how it works:
| | |
| --- | --- |
| 19 Put Price | 1.52 |
| 19 Call Price | 1.61 |
| 21 Call Price | 0.77 |
| 15 Put Price | 0.35 |
| Max gain | 2.01 @ 19.00 |
| Max loss | 1.99 |
| Breakeven | 16.99 |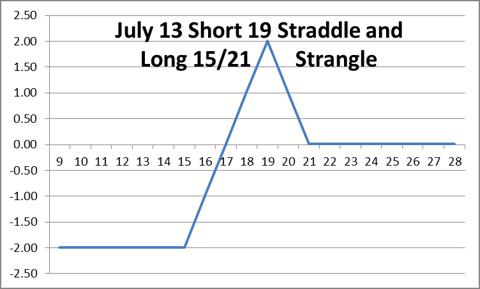 Click to enlarge
July 2013 Short 19/22 Strangle
This trade is for the trader who believes Cisco will be range bound between now and July expiration. This trades involves selling one 19 Put and selling one 22 Call. Since you are short two options, this one requires some margin but the Theta on the trade will work well in your favor. This trade also maximizes profit anywhere between $19 and $22 on expiration. Here's the structure:
| | |
| --- | --- |
| 19 Put Price | 1.52 |
| 22 Call Price | 0.50 |
| Max gain | 2.02 between 19.00 and 22.00 |
| Max loss | 7.98 |
| Breakeven | Above 16.98 and Below 24.02 |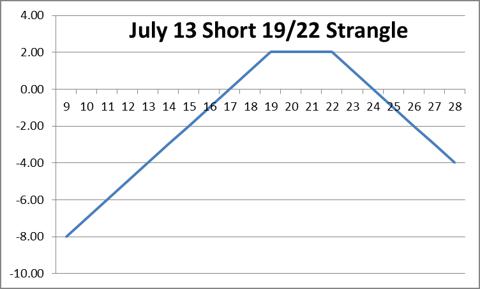 Click to enlarge
July 2013 Short 17/21 Strangle
This is a variation on the trade above that moves the strike prices down and further apart in order to have a larger margin of safety and breakeven range. This trade involves selling one 17 Put and selling one 21 Call. Again, this will require some margin but the payoff is maximized between $17 and $21 on July expiration. Here's the trade:
| | |
| --- | --- |
| 17 Put Price | 0.76 |
| 21 Call Price | 0.77 |
| Max gain | 1.53 between 17.00 and 21.00 |
| Max loss | 6.47 |
| Breakeven | Above 15.47 and Below 22.53 |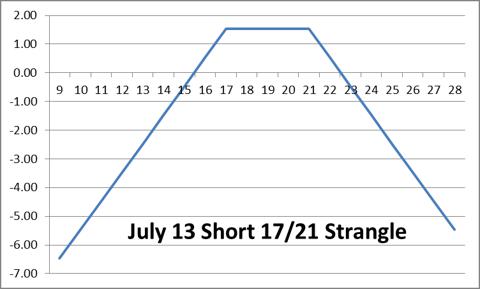 Click to enlarge
Conclusion
We have seen several trades that range from neutral to very bullish on Cisco shares and trades for differing risk profiles. Cisco has some growth issues, in my opinion, but there is no denying it is a cheap stock. If you think it will trade higher in the next 8 months, these structures could be for you. In addition, a trader who is short the common stock could use some of these structures to hedge against a move to the upside. Once again, if you missed my valuation discussion and you'd like to take a look, the link is in the first paragraph.
In addition, if you disagree with the strike prices, you could switch them around to better suit your view on the shares.
If you have any thoughts, I'd be happy to discuss in the comment section.
Disclosure: I have no positions in any stocks mentioned, and no plans to initiate any positions within the next 72 hours. I wrote this article myself, and it expresses my own opinions. I am not receiving compensation for it (other than from Seeking Alpha). I have no business relationship with any company whose stock is mentioned in this article.