Monster Beverage Corp. (NASDAQ:MNST), the maker of the ubiquitous Monster energy drink, has recently become the target of criticism following a report of a handful of deaths linked to Monster beverages. The report cratered already-depressed shares, which had declined from all-time highs due to concerns regarding continued sales growth and share valuation.
Three-Month Chart Highlighting Decline Due to Reports of Death
Source: Stockcharts.com.
Two-Year Chart Showing Appreciation, Peaking, and Recent Decline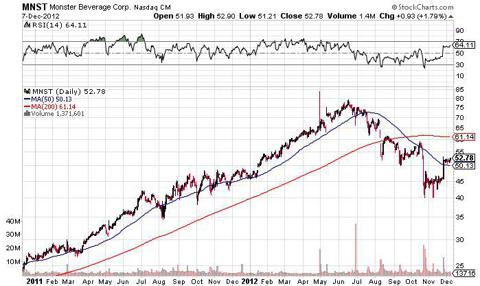 Source: Stockcharts.com.
Shares have recently recovered close to pre-death reports levels, so it seems like an appropriate time for an interested investor to re-evaluate the Monster investment thesis in light of the recent safety concerns. I believe that there are valid reasons to be concerned about Monster's future business success.
The biggest potential threat to emerge from the review of Monster's beverages (and the entire energy drink category) is that products may become more heavily regulated. It is not unfathomable to me that energy beverage purchases could become age-restricted. Such action would have significant negative consequences on Monster's business. A thorough report identifies that the target energy beverage customers are "adolescents and young adults," including customers under the age of 18 and 16, which could potentially be cutoff ages for any future purchase restrictions. Eliminating (or significantly decreasing) sales to this demographic would have huge short- and long-term impacts on Monster's business; not only would a large portion of potential customers be unable to buy the product, but they would also become less likely to become future regular purchasers (i.e., as high school students learn to cram for exams using coffee instead of energy drinks). In the short term, shares would crater; in the long term, shares would suffer.
Shares currently trade at a PEG ratio of approximately 1.5 based on expected five-year growth of about 15% per year. Such a growth rate would not be achievable if a large portion of Monster's current customers became suddenly unable to buy its products; even maintaining the current level of sales may be difficult with the loss of a major group of customers overnight. Wall Street would immediately re-evaluate Monster and it would likely lose its growth-stock premium; it's current forward P/E of 23 would probably converge with the forward P/E of Pepsi (NYSE:PEP) of 16 and forward P/E of Coke (NYSE:KO) of 17 over the long term (with the potential for overreaction in the short term), indicating a decline of 20% or more.
But such regulation, while not impossible, is unlikely to occur on any large scale in the immediate term. Some aggressive states (New York state officials have been among the most critical of energy products) may make moves to discourage or limit sales, but a nationwide ban seems less likely. Manufacturers may end up compromising with the government by taking some actions (such as increased clarity in labeling, or reformulation to limit the amounts of caffeine, or removing potentially agitating ingredients) to keep products on shelves, and such a move would be unlikely to significantly affect sales or profits.
However, that doesn't mean shares are attractive at today's prices. The recent share price movement indicates that the initial reaction to the FDA's report was too strong, but the 25% recovery back to the pre-news price has eliminated any discount. Monster's forward P/E of 23 is not cheap, especially in light of the ever-increasing threats to future growth. Not only are regulations a concern, but the continued emergence of new alternatives, the strength of the energy shot market, and even the resilience of plain-old caffeine pills will be a drag on Monster's growth.
As someone who occasionally consumes an energy drink (and purchased his first one way before the age of 18), I do believe that the energy beverage category will continue to grow and that Monster is in a good competitive position. But like a Red Bull in a bodega's refrigerator, Monster shares are simply not a good deal at the moment.
Disclosure: I have no positions in any stocks mentioned, and no plans to initiate any positions within the next 72 hours. I wrote this article myself, and it expresses my own opinions. I am not receiving compensation for it (other than from Seeking Alpha). I have no business relationship with any company whose stock is mentioned in this article.