Commodity Chart Of The Day
Daily S&P
(click image to enlarge)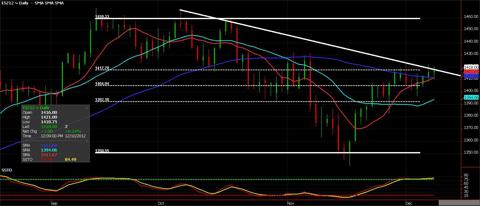 In just over three weeks, the S&P has managed to pick up better than 5%, completing a 61.8% Fibonacci retracement. As one can see from the chart above, it appears prices have stalled just under the down sloping trend line that they have been below since the beginning of October.
Some of my clients are lightly positioned in bearish trade and currently under water. How we have chosen to attack this market is short March futures (ESH13) while selling out of the money puts 1:1. My stance is that investors big and small will be liquidating in the very near future to book profits and lighten up, considering the tax ramifications could be much worse next year. If a resolution on the fiscal cliff is reached in the coming weeks, we could see prices trade north back to levels seen in the latest months, but I do not see that as a likely scenario.
Another consideration is the FOMC meeting this week, and what Uncle Ben and his cronies will do. At this juncture, I do not think it will be much. On talk alone, hopefully traders will not buy into jargon and force real action or even better, allow the market to trade on its own merit. I anticipate the Fed to disappoint. As for my target between now and the end of the year, I am expecting a depreciation of 3-4%.
Risk Disclaimer: The opinions contained herein are for general information only and not tailored to any specific investor's needs or investment goals. Any opinions expressed in this article are as of the date indicated. Trading futures, options, and Forex involves substantial risk of loss and is not suitable for all investors. Past performance is not necessarily indicative of future results.
Disclosure: I have no positions in any stocks mentioned, and no plans to initiate any positions within the next 72 hours. I wrote this article myself, and it expresses my own opinions. I am not receiving compensation for it. I have no business relationship with any company whose stock is mentioned in this article.