Shares of Altria Group (NYSE:MO) have returned 22.6% over the past 12 months. At $33.47, the stock is trading fairly close to its 52-week high at $36.29 achieved in July. Does the current stock valuation continue to warrant a buy? In this article, I will elaborate on my value analysis that may help you in formulating the investment decisions.
Relative Valuation
Altria appears to be trading at reasonable valuations based on the company's solid financial performance relative to it peers' (see comparable analysis chart below). Sell-side analysts on average predict the firm's revenue, EBITDA and EPS to grow at two-year CAGRs of 2.9%, 6.7% and 20.0%, respectively, over the current and next fiscal years. The consensus growth estimates are generally superior to the averages of 3.3%, 4.9% and 9.%, respectively, for a peer group consisting of Altria's primary industry competitors. Similarly, Altria's EBITDA margin is forecast to expand by 3.1% over the same period, compared with the peer average of only 1.4%. On the profit side, although most of Altria's margin and capital return measures are below the peer averages, the differences are mostly marginal. The company's leverage is fairly in line with the group as reflected by its lower debt-to-capitalization ratio, but higher debt-to-EBITDA rate. In terms of liquidity, Altria has the highest trailing free cash flow margin in the group. Both the firm's current and quick ratios are above the par, reflecting a healthy corporate balance sheet.

Click to enlarge
To summarize the financial comparisons, Altria's slightly lower margins should be the primary drag on the stock's valuation. However, given the company's better growth prospects and liquidity position, I expect the stock should at least trade on par with the peer-average level. The current stock valuations at 10.13x forward EV/EBITDA, 14.4x trailing EV/FCF, and 14.3x forward P/E represent an average valuation premium of only 4.9% over the peer-average trading multiples (see comparable analysis chart above), suggesting that the stock is currently priced within the fair value range.
Moreover, Altria's forward P/E multiple is now trading at 6.3% premium over the same valuation multiple of the S&P 500 Index (see chart below). I believe the current P/E multiple premium is fair provided that 1) Altria's long-term estimated earnings growth rate of 8.0% is almost consistent with the average estimate of 7.9% for the S&P 500 companies; 2) The stock's 5.4% dividend yield is considerably higher than the average dividend yield of only 2.2% for the S&P 500 stocks; and 3) The company's free cash flow and profitability margins are markedly above the market averages.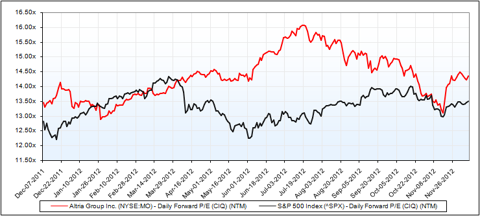 Click to enlarge
As such, based on the stock's current forward P/E at 14.3x and assuming that the analysts' estimated fiscal 2014 EPS of $2.53 can be sustained, the assumptions would yield a one-year target stock value of $36.18, representing an 8.1% upside even without the consideration of the 5.3% dividend yield. It should be noted that the estimated one-year stock return is fairly consistent with my cost of equity estimate at 8.3% as discussed in the DCF section.
DCF Valuation
Given Altria's robust free cash flow, I believe a DCF method would be a valid valuation approach (see DCF chart below). My model incorporates the market's consensus revenue and EBITDA estimates from fiscal 2012 to fiscal 2014, and the rest of the cash-flow-related assumptions (i.e. depreciation and amortization, tax expense, capital expenditures, and working capital investments etc.) are conservatively estimated based on the historical averages. It is noted that my model yields a terminal value at about 9.7x the terminal year EBITDA, which is slightly below the stock's current forward EV/EBITDA multiple at 10.3x.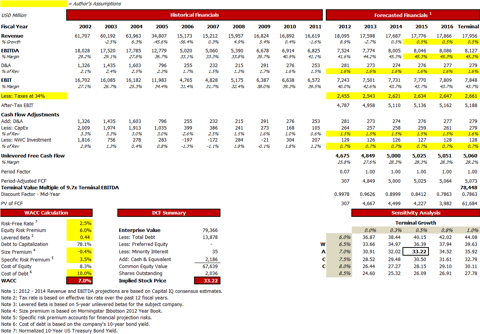 Click to enlarge
To account for the financial projection risk, a 3.5% company specific risk premium is used in the cost of equity calculation. To be reasonable, a normalized 10-year risk-free rate of 2.5% is applied. The model's cost of debt assumption at 10.0% is higher than Altria's existing debt yield with maturities of approximately 10 years. As a result, the conservative and reasonable DCF model yields a fair value of $33.22, indicating that the shares are fairly priced now.
Dividend Valuation
Under the current low-interest market environment, I believe the stock's high dividend yield currently at 5.3% would provide a solid downside protection to the stock price. According to a dividend yield chart shown below, the three-year correlation between Altria's yield and the 10-year U.S. Treasury Bond yield is at 0.77, suggesting that their movements are significantly correlated. Given that there is no indication that the Fed will scale back the monetary easing soon, I believe the upside for Altria's yield would be very limited.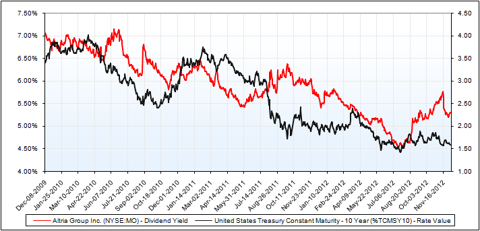 Click to enlarge
Since 2010, Altria raised the dividend per share three times by 8.6%, 7.9% and 7.3%, respectively. Given Altria's robust free cash flow margin at above 20.0%, I believe the company would be able to sustain the current pace of the dividend growth. Therefore, assuming a target dividend yield range between 5.0% and 6.0%, and supposing that the annualized dividend per share would be raised by 7.0% from the current $1.76 level to $1.88 in the September 2013 payment period, this scenario would suggest a stock value range between $31.39 and $37.66, representing a tempting one-year price return from -6.2% to 12.5%, regardless of the current 5.3% dividend yield.
Wells Fargo's senior analyst, Bonnie Herzog, elaborated on her bullish near-term view for the tobacco industry in the recent research note (according to Thomson One, Equity Research):
We have heard from several of our tobacco wholesaler contacts that cigarette inventory is running very high this month. It appears wholesalers continue to build inventory positions in anticipation of a cigarette list price increase, which we believe will occur during the week of December 10. We believe this bodes well for industry volume trends in Q4. Therefore, we have further conviction industry top line will improve during Q4 driven by stronger volume trends, higher list prices, and easing promotional spending.
Bottom line, given the stock's tempting dividend yield and the fact that it has been trading within a tight range between $28.00 and $36.29 over the past 12 months, I recommend buying the shares now due to the limited downside risk.
The comparable analysis and DCF charts are created by the author, all other charts are sourced from Capital IQ, and all financial data in the article and in the charts are sourced from Capital IQ, unless noted otherwise.
Disclosure: I am long MO, PM. I wrote this article myself, and it expresses my own opinions. I am not receiving compensation for it (other than from Seeking Alpha). I have no business relationship with any company whose stock is mentioned in this article.