One of my core, long-term positions is Eaton Corporation (NYSE:ETN). Earlier this month, Eaton completed its merger with Ireland-based Cooper Industries. The new company, Eaton Corporation PLC, began trading on the NYSE with a modest bounce, up to $52.47 as of Friday's close.
Eaton Corporation -- One-year Price and Volume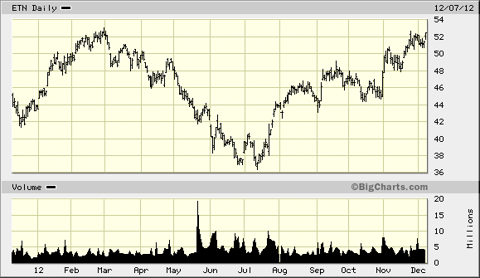 courtesy of bigcharts.com
The "old" Eaton was a power management company while Cooper Industries specialized in electrical equipment. The "new" Eaton Corporation PLC leverages both companies to expand its reach in the global power market, both technically and geographically.
The total equity value of the transaction was fixed at $11.8 billion. The acquisition was financed through a combination of debt, equity and cash.
Let's begin with an investment thesis for owning the stock. Then we will review selected metrics, examine some investment risks, and walk through a valuation exercise.
Investment Thesis
Eaton Corporation is a well-managed organization. CEO Sandy Cutler heads an experienced management team that has historically meet or beat Wall Street earnings expectations. In addition, senior leadership has demonstrated previously their ability to complete mergers successfully. The recently-completed Cooper Industries assets dovetail well with the legacy Eaton Corporation assets.
Eaton has shown a propensity for shareholder-friendly actions. Its earnings reports and conference calls are notably transparent. Corporate leadership offers and communicates clear strategies, forward guidance and target benchmark metrics. Dividends have been paid since 1923.
The two pre-merger companies had sound balance sheets, strong margins, and demonstrated cash generation capabilities. Post-merger, there are significant operating synergies; thereby creating additional shareholder value. The merger platform represents a strong go-forward investment catalyst.
Selected Financial Metrics
Since the Eaton/Cooper merger has just been finalized, interpreting past financial information is somewhat tricky. I've picked off several meaningful metrics.
I like to begin reviewing corporate financials by checking the balance sheet. Both Eaton and Cooper compiled generally good books.
In their last filings prior to the merger, the debt-to-equity ratios were 50 and 72 percent, respectively. These numbers compared well with industry peers. Ample liquidity was demonstrated as Eaton possessed a pre-merger current ratio of 1.7 as compared to that of Cooper at 1.8. The new Eaton Corporation PLC credit facilities are adequate.
Margin analysis is favorable.
Year-to-date through September 30, 2012 (pre-merger) both Eaton and Cooper had excellent margins. Gross margins were 30.6% and 34.7%, respectively. Net margins were 8.7 and 12.3 percent, respectively. These figures compare favorably with peers. The old Eaton Corp used Operating Margin as a primary business metric; targeting 15 percent as the stretch goal. Indeed, the company had improved operating margin from 10.4% in 2011 to north of 14 percent through the first three quarters of 2012.
Both the legacy corporations generated strong operating cash flows, and there is little reason to doubt the new Eaton Corporation PLC cannot do the same.
Free Cash Flow, or operating cash less capital expenditures, was $620 million at the old Eaton and $432 million at Cooper YTD through September 2012. This works out to $1.83 and $1.96 per share, respectively. Eaton covered their dividend easily; last annualized at $1.52. The yield is 2.9% currently.
Dividend growth has been outstanding. Over the past five years, Eaton increased the cash dividend by over 13 percent per annum.
Investment Risks
All security investments contain risk. I identified several risks to the investment thesis for Eaton Corporation PLC. These are outlined below, in no particular order.
Negative Credit Rating Outlook for Eaton Corporation PLC: Fitch re-affirmed Eaton's solid BBB+ rating, but placed a Negative Outlook upon the company. Here is an excerpt from Fitch:
Fitch's BBB+ ratings for Eaton incorporate the increase in debt and leverage associated with the Cooper acquisition. The acquisition price was approximately $11.8 billion, not including approximately $1.1 billion of debt at Cooper as of the acquisition closing date. Eaton funded the transaction with equity, available cash, and $4.9 billion of senior unsecured notes issued in November 2012. Fitch estimates pro forma debt/EBITDA at approximately 3.3x compared to Eaton Corporation's standalone leverage of 1.84x at September 30, 2012.

The Negative Outlook reflects the potential for sustained high leverage if Eaton is unable to realize expected synergies following the acquisition of Cooper, or if financial results are pressured by a slowdown in Eaton's electrical and other industrial end markets. Some of Eaton's key end markets are experiencing weaker demand including heavy duty trucks, construction equipment, certain international electrical markets, the aerospace aftermarket and the automotive market in Europe. Eaton has taken steps to reduce its cost structure in the truck and international electrical businesses which should mitigate the negative impact of volume pressure on margins. Other rating concerns include normal integration risks, the negative impact on leverage if Eaton makes additional debt-funded acquisitions in the near term, which Fitch believes is unlikely, and the company's sizable underfunded pension obligation.
While I don't see this development as a big red flag, I do treat Fitch's commentary with respect. Eaton management plans to reduce debt / EBITDA to less than 2.0x by 2015. This would provide a ratio similar to the old Eaton Corp. I will monitor this as the merger progresses.
Goodwill: Excessive Goodwill and Intangible Assets can be a red flag. In the case of the legacy companies, both organizations listed such soft assets as 43 percent of total assets. This figure is high, though in the case of Eaton it came from the firm's propensity to buy smaller companies. Since most of these acquisitions were made above net book, the Goodwill accumulated on the books. Nonetheless, it is a balance sheet item watch carefully.
Pension Underfunding: Eaton's U.S. pension under funding was reported to be $1.24 billion as of the third quarter 2012. An additional $500 million under funding was listed for non-U.S. pensions. These figures should be monitored, as additional required pension payments affect future cash flows. The ability of the company to generate a return on their pension investments should also be watched. On the positive side, the pension shortfall represents under 10% of ETN total market capitalization. I consider a percentage above 20% to be a red flag.
Macro Risks: There is always the potential for macro economic issues to trump other positives. Of late, Eaton Corp has made an effort to smooth their exposure to the business cycle. The Cooper acquisition reinforces this strategic direction. Nonetheless, the company remains subject to the global economy, and there's plenty of worries to go around. As a counter, CEO Sandy Cutler offered the following slide from the 3Q earnings report.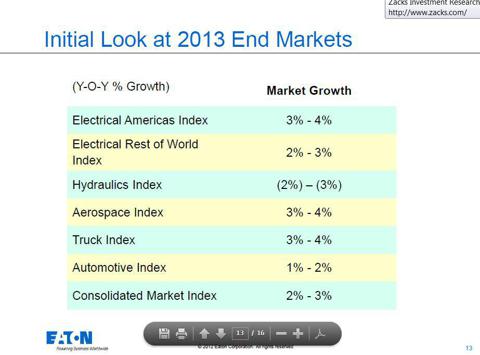 source: Eaton 3Q 2012 earnings release slidepack
Indeed, the bottom line is that Eaton management currently forecasts their end markets to improve by two to three percent in 2013. The Street appeared to accept this claim.
Merger integration risk: The execution of a successful merger entails combining both the assets and cultures of two organizations. Eaton leadership has proven capable of managing this in the past. Notably, the Cooper deal is a bit larger than previous M&A activity. I plan to monitor ongoing integration risk closely.
Eaton expects this transaction to create cost synergy of $535 million by 2016. Additionally, this acquisition is expected to be accretive to the company's earnings and lead to operating earnings of 35 cents in 2014 and by 45 cents in 2015. Excluding non-cash expense related to amortization of intangible assets due to purchase accounting, this acquisition is expected to result in operating earnings per share of 65 cents and 75 cents in 2014 and 2015, respectively. The following slide captures this information: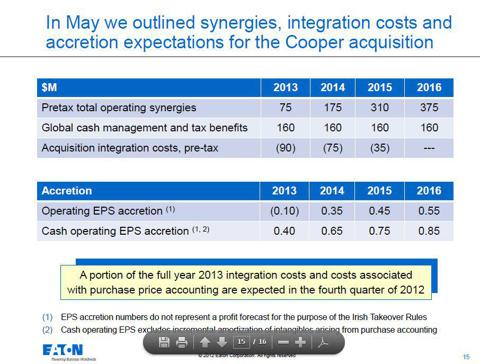 source: Eaton 3Q 2012 earnings release slidepack
One of the things I like about Eaton's management is their willingness to provide investors with strategies and related mileposts for success. As the new company commences operation, the foregoing slide and its updates will be worthwhile benchmarks for gauging operating synergy realization.
Valuation
Is ETN a Buy, Hold, or Sell?
Well, that's largely a matter of valuation. Let's review some numbers.
Eaton Corp currently trades at a trailing ttm P / E of 12.7x. This multiple is somewhat below the 15-year historic norm of 14.9x. The 2012 projected EPS is about $4.14. Consensus operating estimates for 2013 and 2014 range around $4.40 and $4.88, respectively. I remain encouraged by the fact that Eaton management has not missed a quarterly Street estimate in over four years.
The current earnings estimates suggest a two-year forward EPS growth rate of approximately 8.5 percent. This is roughly in-line with lookback 15-year EPS growth of 8.1 percent.
Using F.A.S.T. Graphs (courtesy of Chuck Carnevale), one can pictorially view this data.
Here is the 15-year chart: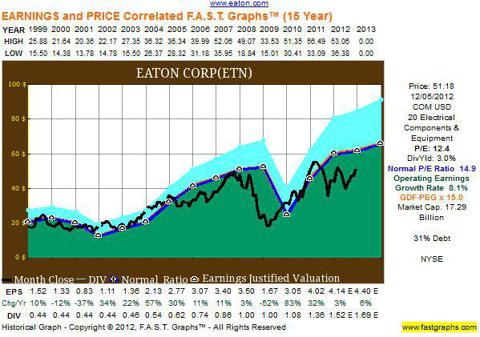 courtesy of fastgraphs.com
As evidenced by comparing the black line (share price) with the blue and orange lines (historic and expected P/E multiples) an investor can see that the shares appear undervalued.
However, I have noted that Eaton has experienced multiple compression over the past several years, so I ran another 5-year F.A.S.T. Graph for comparative purposes.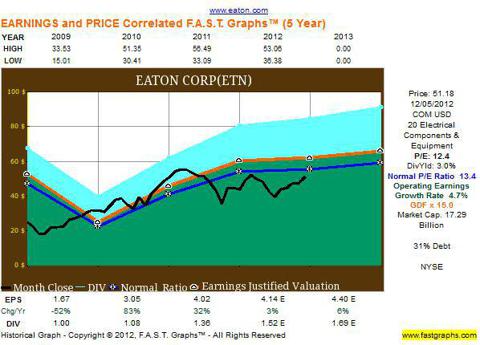 courtesy of fastgraphs.com
Please note the historic (or normal) P/E has been only 13.4x over this shorter period. Assuming ETN meets the current FY estimate, and there is no multiple expansion, the year-end 2012 target share price is $55.48. ($4.14 x 13.4) The 2013 target is $58.96.
Given Friday's close at $52.47, this more conservative estimate implies the shares are now undervalued by less than six percent. The 2013 upside would be 12.4% plus a 2.9% dividend.
These figures are decent, but do not offer outstanding value. As a current Eaton investor, I plan to hold. I will not add to the position unless the shares drop to approximately $48; an 8% pullback. My investment philosophy is never chase a stock. If the price does not retreat, then I'm content to simply hold my long position.
One may note that recent short ratio is 10 percent. This mean it will take about ten days for all the shorts to cover their positions as a function of average daily volume. I consider a short ratio above 5 percent to be of significance. Since all short sellers must eventually cover, I believe the shares have a potential short-term upside bias. This may preclude the chance to buy more shares at the $48 target.
Conclusion
Eaton Corporation PLC has the tenets of a strong long-term investment: well-managed, good balance sheet, demonstrated ability to generate cash, excellent dividend growth prospects, and shareholder-friendly leadership. The dividend is secure and should continue to grow. The recently-completed Cooper Industries merger is a fine catalyst to propel the shares higher.
However, the current share price of $52.47 may be a bit rich to start a new position or add to my existing one. Better to wait for a garden variety five to eight percent pullback.
Nevertheless, I am encouraged by the pro forma financials, the demonstrated ability of senior management to meet Street estimates, and their experience successfully assimilating prior acquisitions.
Disclosure: I am long ETN. I wrote this article myself, and it expresses my own opinions. I am not receiving compensation for it (other than from Seeking Alpha). I have no business relationship with any company whose stock is mentioned in this article.