When investigating whether to invest in a particular company, a lot of scenarios are often played out. Traders focus on ranges, earnings, price and P/E ratio. In that respect, stocks such as Amazon (NASDAQ:AMZN) have the makings of some of the worst investments on Wall Street.
Still, for the three years the stock has traded over $100, I have remained both surprised and confused by the investor interest that floods towards shares despite the company failing to provide much in the way of consistent earnings or guarantees for its shareholders. In fact, the company recently posted a third quarter loss that missed estimates.
Nonetheless, the upward trend continued as shares gained nearly 7% following that report. The move was even more puzzling considering the sour feedback I have received about companies such as LinkedIn (NYSE:LNKD) with the stock's valuation coming across as the main reason for the negativity.
The double standard comes down to one main point sometimes overlooked by those playing the market which is the significant role customer satisfaction plays in a stock's performance. LinkedIn's password fiasco in June, for instance, left many with a level of distrust towards the company. I have also had readers comment on how they tried to close accounts with the company to no avail and continue to get unwanted spam from the site.
For Amazon, the good deals, fast shipping and overall positive experience for many customers provides the backbone for shares much like they used to for Netflix (NASDAQ:NFLX).
However, once a company gets to a point that it starts to overlook its customer base, the stock rarely recovers. Sure, there are those still trying to pump life into shares of Netflix. However, when considering shares have lost almost 75% of their value over the last two years, the future looks even cloudier than the $86 share price would indicate.
Also, don't forget J.C. Penney's (NYSE:JCP) botched attempt at eliminating sales in favor of everyday low pricing. It was a move that was reversed after only six months in July, but one that continues to haunt shares to this day as the stock hovers near 52-week lows.
Now there are many ways to discover companies customer satisfaction ratings without even being a customer. MSN's annual Customer Service Hall of Shame provides investors with important updates financial reports tend to overlook.
Now there are companies listed on the report that do tend to attract a lot of investor interest. One example is JPMorgan (NYSE:JPM). Now with shares up 30% for the year and many naming JPMorgan as one of the safer banks to invest in, some may choose to overlook the company's sour ratings. However, what's to say the company's poor devotion to customers can't translate into a lack of care towards shareholders?
In many ways, this has already occurred. Outside of getting bailout money in 2008, the company was met with a scandalous trading loss that cost shares 10% in May of this year.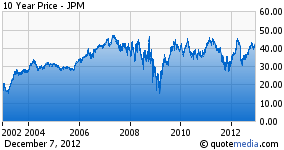 What this shows is that even though companies with low customer satisfaction ratings such as JPMorgan may still gain in the long run, they often provide more volatility along the way. On the contrary, those with greater satisfaction ratings tend to provide less volatility and typically keep investors free from sudden and unexpected drops.
One example of this reality outside of Amazon comes from VF Corporation (NYSE:VFC) which made the list of most liked companies, as far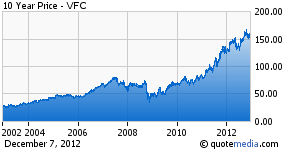 as customer satisfaction, in America last year. With shares up $120 in the past four years, the company has avoided controversy or questionable business tactics. In return, shareholders have remained even as the stock becomes a bit expensive with a P/E ratio near 17.
Speaking of P/E ratio, investors that choose to focus intently on such figures would also be wise to investigate satisfaction reports before automatically assuming a particular security is undervalued. After all, four of the 10 companies that made MSN's list have a P/E ratio under 15 including three, Capital One Financial (NYSE:COF), JPMorgan and Wells Fargo (NYSE:WFC), that currently sit under 11.
Still, the seemingly discounted rate for these shares has done little to induce consistent buying. With the exception of Time Warner Cable (TWC) which sits at $95 per share and was the highest priced company on the list, the average share price of these stocks came in at $32.50. Even Time Warner, with its higher price, only carried a P/E ratio of 13.66.
Meanwhile, the publicly traded companies with the higher satisfaction ratings averaged a share price of $182.54. Although expensive, chart patterns such as the one of Amazon show them actually being safer long term investments.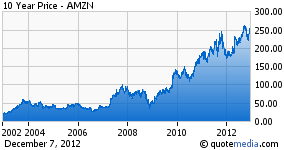 All these reports provide investors with important information. Although it's always risky investing in a stock that's not providing exponential earnings growth, it remains imperative to investigate why growth remains so subdued. After all, history has shown that a company which places earnings ahead of its own customer base is doomed to fail no matter the short term benefits. Earnings, after all, can often times wait unlike the customers that are sure to demand immediate top tier service.
Now earnings do provide an important update in regards to the financial status of a company. Still, the amount of time and effort a company devotes towards its customer base will have just as much say. In fact, it might have even more.
Disclosure: I have no positions in any stocks mentioned, and no plans to initiate any positions within the next 72 hours. I wrote this article myself, and it expresses my own opinions. I am not receiving compensation for it (other than from Seeking Alpha). I have no business relationship with any company whose stock is mentioned in this article.