Ark Restaurants (NASDAQ:ARKR) is a hidden company just waiting for the right momentum necessary to spark an upward trend. As I established in my previous articles, Part I & Part II of Ark Restaurants: A Low Risk Value Play, ARKR presents impressive valuation from the standpoint of its balance sheet, intrinsic firm value, and its keen comparative advantage gained through various segments of its operations. Furthermore, I am reiterating a buy for ARKR on the basis of five key reasons. Before jumping into these five reason, here is a brief of synopsis of the ARKR business model and performance over the past three months.
ARKR is a corporation headquartered out of New York that owns and operates three different types of establishments including restaurants, bars and fast food concepts. Through its strategic operations ARKR has establishments in key locations covering seven different regions specific to the United States. For a more in depth analysis please refer to my first article. As I have illustrated for you below in figure 1, you will notice ARKR is trading between roughly $16 and $17 per share. With only 3.24 million shares outstanding the market capitalization is approximately $52.44 million, which by definition classifies ARKR as a small capitalization company. Since my last publication, ARKR's market price per share experienced a small decline. This presents an excellent entry point for new investors of ARKR as well as those investors out there who are strong advocates of dollar-cost averaging.
Figure 1: ARKR 3-Month Price Graph from TD Ameritrade

Excluding the fact ARKR continues to exhibit a relatively low number in terms of the average amount of shares traded per day, there is no indication from ARKR's recent price decline of any firm-specific fundamental concerns investors should take into account. The mere 5% decline in market value per share is highly correlated and can be associated with the factors that attributed the overall pull back the S&P experienced following the first week of November. This relationship can be seen below in figure 2.
Figure 2: ARKR's Relative Performance Graph from YCharts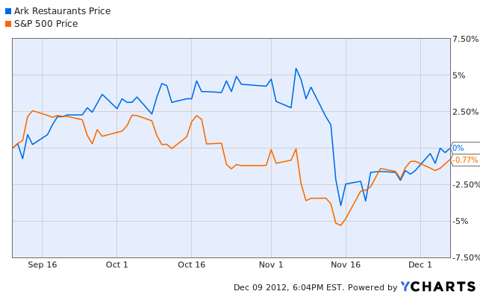 Six reasons why ARKR is a buy at a market value range of $16-$17 per share:
ARKR recently declared its regular dividend to be paid on December 28, 2012. ARKR has a consistent track record of compensating investors with an attractive dividend yield of approximately 6.15%, which equates to $1.00 per share on an annual basis.
ARKR has an "investor friendly" capital structure with a weighted average cost of capital of approximately 11%, which management has made an effort to reduce from previous years. ARKR

financials

entail a debt to equity ratio of 0.07, indicating the ability to continuously finance operations using a relatively low level of debt.
ARKR's reveals a favorable P/S and P/E, which are 0.38 and 11.13, respectively.
I also envy ARKR for its relatively low percentage of institutional investors, which amounts to only 26.27%
ARKR exhibits a stable level of insider ownership equating to 32.24%. A stable level as

such

often serves as a good indication that management interests are closer in alignment to those of shareholders.
A portion of ARKR's competitive edge is gained through its establishments spread across multiple casinos. The casino industry has experienced a significant fall back in the past two years. Overall, casino sales dramatically declined over this period, which ultimately created a bullwhip effect to outside companies prospering off their success. Taking into account the positive relationship between poor casino performance and poor economic conditions, ARKR's operations will be positively impacted in terms of revenue increases as the US economy begins to recover in 2013.
In conclusion, ARKR is a company in a developing stage, yet contains substantial growth prospects. It is clear based on market capitalization ARKR is a small-cap company by definition, however its high dividend yield speaks otherwise. With regard to valuation, intrinsic firm valuation has not declined and this indicates ARKR continues to trade at an even lower discount of fair value.
Sources: Google Finance, YCharts, TDAmeritrade, & FINVIZ.
Disclosure: I am long ARKR. I wrote this article myself, and it expresses my own opinions. I am not receiving compensation for it (other than from Seeking Alpha). I have no business relationship with any company whose stock is mentioned in this article.