On November the 11th I wrote to you about Groupon (NASDAQ:GRPN) (Groupon Finally Lands On Planet Earth), saying:
If you are looking to buy this stock as a longer-term investment and not simply interested in trading it, I would wait a little to get more feedback from the company's next quarterly report. However, if you see indications of technical strength on the charts, I would buy it anywhere south of here.
Indeed the stock had only two more days of limited negative price action and it was all uphill from there. In fact, the stock has almost doubled since then.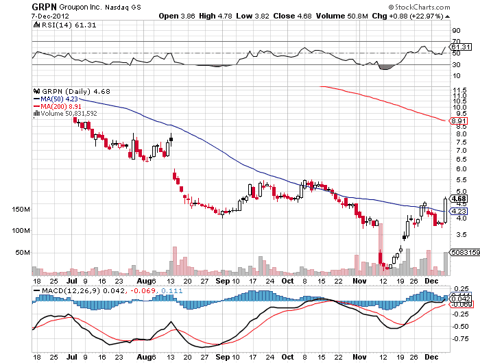 The reason for the jump in Groupon's stock on Friday was primarily an article in Bloomberg that said Google (NASDAQ:GOOG) was considering making a bid for the company.
While Google has not confirmed its interest in the company and Groupon itself is not saying anything, chances are that the Bloomberg story has some truth to it.
So far as of the writing of this article, Google and Groupon have declined to comment on these speculation rumors and that in my book is evidence that something is going on. If Google was not interested and if nothing was going on, then Google would simply say that it was not interested and speculation would end right there. So in my book, Google is probably interested.
Why would Google then be interested Groupon? Well because that's what Google does. It buys other companies and tweaks their business model and makes them work. My hunch is that Google wants to buy Groupon because they have come up with some good ideas on how to leverage the coupon business with Google's current product mix. I don't know what's on their minds, but if anyone can make the coupon business work, that would be Google.
Imagine this: Every time you use Google's search engine, in addition to ads, deals would also pop up based on your geographic location. In order for Groupon to be able to get this kind of advertising exposure today. they would literally have to pay through the nose and might make the coupon business unprofitable. But this will not cost Google anything. They own the search space and they command what types of banners or ads they display.
So why would Google want to buy Groupon instead of doing it on their own? Well for one thing the whole coupon business was Groupon's idea and since they were there first, they are the leader in the space.
Also, Groupon is a well established international name brand. Even though Groupon doesn't make money today, it's probably cheaper (and a safer bet) for Google to fork out several billion dollars today than spend several billion to penetrate the space and establish the Google brand in the coupon space
And the more I think about it, I think Google can make a lot of money in the coupon business if they leverage Groupon with its product mix, especially search. And by a lot of money, I don't mean several hundred million dollars, but a whole lot more.
Figuring out what Google might be willing to pay for Groupon is not easy. But remember, Google doesn't look at Groupon like an individual stock the way you and me would look at it. The value Google will put on Groupon will be a function of the synergies between Groupon and Google's mix, especially search.
Personally I have a wild imagination and I actually think Google might make tons of money in the long term with a Groupon acquisition, and as such, I think they might pay more than we can imagine.
Obviously everything is subject to speculation, for we don't know what's on Google's mind. So it all comes down to what Google is willing to pay for Groupon and what their business models say.
In either case, I think that a Groupon acquisition makes good sense for Google and will in no way impact Google's stock in the short term, and long term I think the synergies will be more than worth what they might be willing to pay for it, assuming they are indeed interested.
If you have the stock, I advise you hold it, if you don't, buy it only if you think a Google deal is imminent and if you think Google would be willing pay a premium to enter the coupon space.
Disclosure: I have no positions in any stocks mentioned, and no plans to initiate any positions within the next 72 hours. I wrote this article myself, and it expresses my own opinions. I am not receiving compensation for it (other than from Seeking Alpha). I have no business relationship with any company whose stock is mentioned in this article.