There is much debate over the collapse in Apple's (NASDAQ:AAPL) stock price. In order to justify the $532 price and a market cap of $500B, you have to believe the entire product line and story is broken and cannot continue long term.
Given its current market cap of roughly $500B, of that $121.2B is cash on its balance sheet as of September 29, 2012 per the 10-K (probably closer to $135B now considering the company earned $17.5B in the December quarter of 2011 and this quarter's expectation is similar to last year. On the previous conference call, Apple's CFO said, "Looking ahead to the first fiscal quarter of 2013, we expect revenue of about $52 billion and diluted earnings per share of about $11.75."). So you are paying $365B for the future cash flows of the company, $388 per share.
Do we remember what a stock price represents? The net present value of future cash flows.
Apple generated $50.9B in its fiscal year 2012. 2013 Estimates call for 15% growth. Let's assume the analysts are wrong and the sky is falling and there is no growth. By generating $50B a year, in 7 years, the company could have $500B on its balance sheet.
Maybe the growth story is slowing, but the current stock price does not represent the future cash flow potential Apple is able to generate. We have seen other companies' stock price sink 30%, 50%, even 80% when the growth story slows. Chipotle (NYSE:CMG) dropped 46% high to low after growth slowed. Netflix (NASDAQ:NFLX) dropped 80% when growth slowed. The difference is at its peak, Chipotle was trading at over 50x earnings, Netflix at over 60x earnings. Apple is trading at 6.8x next year's estimates (backing out the cash).
Let's look at the facts: Market share is shrinking.
According to an IDC press release, Apple's market share in tablets will drop from 56.3% in 2011, to 53.8% in 2012, to 49.7% in 2016. Is this actually bad news? According to the IDC, tablet shipments will increase from 122.3M in 2012 to 282.7M in 2016. So Apple will sell 140.5M units in 2016 up from 65.8M in 2012. Are we really concerned with Market Share when unit sales will increase 113%? iPhone tells a similar market share story, but no one expects fewer iPhone unit sales in future years.
One of Apple's biggest problem right now is supply shortages. Again… is this really bad news? There is so much demand for your product that you can't make enough? iPhones were in short supply until mid November spurring long waits. These supply chain issues have since been resolved with the majority of stores having iPhones in stock. This could impact next quarter's numbers... but it does not affect the company's ability to generate long-term cash flow.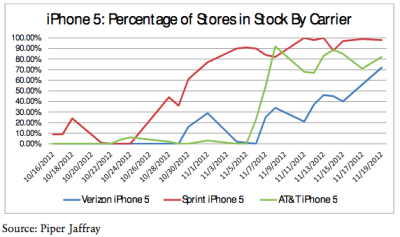 As the technology infrastructure (mainly in China) builds out (3G and future networks), more and more smart phones will be sold, and even if you believe Apple will lose market share, the units shipped will only increase.
You can logically follow the progression of the computer from the size of a building, to a room, to the desktop, to the laptop, to the tablet, to having access to all of that at your finger tips on your phone.
Is there a logical progression that will replace the smartphone? Access to everything that you can carry around in your pocket? Much like the computer of 2000, this industry has a long life ahead of it.
And to value the leader in this growing industry at 7x current cash flow makes no sense. Microsoft (NASDAQ:MSFT) is the leader in a mature slowing industry, and it is valued at roughly 7x cash flow. I would be much more concerned about slowing software shipments than I would about slowing iPhone sales. And the smartphone replacement cycle is roughly 2-3 years, as opposed to a computer replacement cycle of 5+ years.
The short replacement cycle should also calm fears of smartphone market saturation - even in a saturated market (which we do not have yet), a 3 year replacement cycle translates into longevity of the cash flows.
The Title
The title of this article is "Apple Trading at 2.56x 2016 cash flow." Here is my why:
I am assuming that Apple currently has $135B in cash on its balance sheet. I am also assuming that is will generate $50B a year in fiscal year 2013-2016. (estimates are higher)
Let's look at 2016:
iPad
The IDC report cited earlier claims Apple will have a 49.7% market share of 282.7M tablet shipments... 140.5M units. In the most recent 10-K, Apple reported tablet revenue of $32.4B on 58.3M units ($555 per unit) - Let's conservatively assume that price drops 15% and there is no innovation that warrants a higher price, @$472 per unit we are talking about $66.3B in revenue. 2012 gross margin was 43.9% - again conservatively drop that by 15%, let's assume 37.3% -- $24.7B in gross profit just off iPad in 2016 (compared to $14.2B in 2012 [$32.4B @ 43.9%]).
iPhone
According to another IDC report, Apple's market share in the smartphone sector will grow from 18.8% in 2012 to 19.1% in 2016. Smartphone sales will increase from 720M units in 2012 up to 1.1B in 2016. The 2012 10-K iPhone revenue of $80.5B on 125M units ($644 per unit). Let's again conservatively assume a 15% price drop and no innovation warrants a higher price, @$548 per unit, we are talking about 2016 unit sales of 210M and revenue of $115B. Let's also assume a 15% drop in gross margins, (37.3%) - $42.9B in gross profit off iPhone in 2016 (compared to $35.3B in 2012 [$80.5B @ 43.9%]).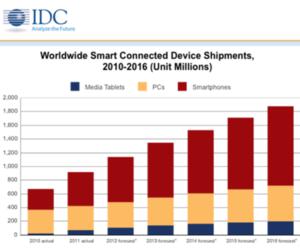 2012 total revenue was reported as $156.5B; iPhone and iPad accounted for $112.9B of that, leaving $43.6B in other revenue with the same 43.9% average gross margin ($19.1B in gross profit) - let's assume no growth in these "more mature" markets.
2016 gross profit by the above calculations would be $86.7B compared to 2012's $68.6B.
Operating cash flow in 2012 was $50.9B (74.2% of gross profit) - using the same calculations in 2016, Apple would generate $64.3B in operating cash flow.
Back to Valuation:
$135B on its books, $50B a year for the next 4 years ($200B), in 2016 Apple will have $335B on its books and generate $64.3B in operating cash flow.
Current market cap is $500B ($500B - $335B in cash by 2016 = $165B)
2.56x 2016 operating cash flow
Keep in mind I assumed margin compression, revenue per unit drops, no new product lines (iTV) and no increase in Mac, iPod, etc. All of which could add to cash flow.
Not to mention the value of the Apple ecosystem, loyalty among Apple enthusiasts, the future of mobile marketing, the potential of iTV, and Mac market share growth.
What would change my mind:
There has been a good deal of debate about the subsidies that the wireless carriers pay Apple. If these were to end, I would change my stance on the future cash flows of the company since iPhone derives the majority of the company's profits. I do not see this happening, and I would also make mention of the fact that there are no subsidies in the Chinese market, and Chinese sales are growing faster than sales in the United States.
Outside of downright losing the carrier subsidies, other potential threats do not concern me because of the low valuation. Competition compels innovation. The company is still growing... but even if it were not growing, at 7x current cash flow and 2.56x 2016 cash flow, you don't need growth to justify the stock price.
Also stop and think about what $135B +$50B per year could buy Apple. All of Amazon (NASDAQ:AMZN), most of Microsoft, most of Google (NASDAQ:GOOG) or 27% of its outstanding shares at its current price +5% per year. That buyback would increase EPS estimates for 2013 to $73.25 from $57.68. That is all unrealistic speculation because of monopoly laws and repatriation taxes (most of that $135B is offshore and would be taxed if brought back)... but it is something to think about.
The reality is Apple is still a growth stock, still a growth story, still an innovator, and is being traded like a broken down value-stock. Traders and institutions have beaten the stock lower, if you are a long-term investor, this is a buying opportunity.
Disclosure: I am long AAPL. I wrote this article myself, and it expresses my own opinions. I am not receiving compensation for it (other than from Seeking Alpha). I have no business relationship with any company whose stock is mentioned in this article.