For a moment, let's hop into the 'WayBack' machine and set it for July 1, when Alcoa (AA) was trading 200% higher, spot prices for aluminum were just beginning to show some weakness, and the credit crisis was still confined to the worries of a few scattered market players.
Sell-side analysts were tripping over themselves to upgrade the stock, raising price targets to the mid-$40's, and reiterating "buy," "strong buy" and "hold" recommendations. Between July 1 and September 22, no less than six analysts either upgraded or reiterated Alcoa shares. Nobody downgraded, and nobody reduced targets.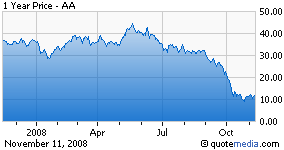 Now let's fast forward to October 9, just days after Alcoa's third quarter earnings report. Over the past two months, the spot price of aluminum has been in a freefall, the credit crisis has hit critical mass, and broad market indexes are hurtling towards multi-year lows. The price of Alcoa stock is now $12, and has been cut in half since the last analyst's opinion in September.
And like soldiers who fire their guns wildly while running to safety, on October 9 the first analysts begin downgrading the stock, and slashing price targets by as much as 75%. This type of behavior, although not foreign to any of you veterans out there, still never ceases to amaze me. How is it that stocks still move on sell-side news when 9 out of 10 educated investors wouldn't trust these folks to manage the change in their penny jar?
Production Cuts Coming….Is this a Surprise?
Today saw a fresh round of earnings and price cuts for Alcoa, as the company announced it would reduce production even further by 350k tons. Alcoa now plans to idle about 15% of its total capacity as it waits out a horrible demand environment, rising aluminum inventories around the world, and a spot price that has yet to peg a bottom. Analyst comments today included things like "the production cuts are needed, but they're not big enough to tighten global supplies." Well if someone actually thinks that, then why didn't they downgrade the stock a month ago, or a week ago, or whenever the outcome they felt necessary didn't occur?
My intention here isn't to rant, as I have no personal stake in Alcoa or any of the firms playing "pin the price on the donkey" with Alcoa and other stocks in their zone of coverage. I'm not a big conspiracy theory guy, but I fully understand that despite regulatory attempts to the contrary, sell-side recommendations can and do come with conflicts of interest. I guess I'd just like to see the occasional, blue moon instance of an analyst recognizing how horribly most investors would do if their advice were followed to the letter.
Standing By My Early Call
Alas, that's just a dream world, but I'll pay it forward by fully disclosing my own blunder. I added Alcoa to the Epiphany Investing Secular Trends Portfolio on October 2, when the stock was trading at $19.50. I felt then that Alcoa had a strong balance sheet, could get through this recession while producing a modicum of net earnings, and has excellent long-term positioning based on secular trends.
Alcoa also underwent a major diet in 2007, selling downstream, low-margins businesses and restructuring the long-term debt. The average life of Alcoa's debt is over 9 years, and so far the company has been able to access the paper markets thanks to its low .36 debt/cap ratio.
And while I'm certainly wary of rising inventories (the LME has the most aluminum stockpiles since 2004), I still like the stock today. If I liked Alcoa at 20 bucks, why would I advise investors to sell or avoid it at $11? We are all going to be wrong from time to time; it's what we do with - and how we learn from - those mistakes that will determine our likelihood for repeating them again. Most analysts not only have terrible timing patterns, but their lack of conviction keeps the cycle intact….it just repeats itself, over and over.
Parting Thoughts
As to Alcoa's future, I choose to remain bullish, knowing that we're at or near historical lows for valuation on several metrics. And falling spot prices, while certainly harmful to margins, have actually had less an effect on earnings misses than higher energy and input costs. These latter costs are all falling precipitously, which will provide a lift in coming quarters.
The analysts that still (somehow) move large cap stocks with their ratings are free to believe whatever they want - just remain consistent, and try to act as if you've worked with cyclical stocks before.
Disclosure: Author does not hold a position in the securities mentioned.