A strange yesterday with the bond markets closed in observation of Veterans Day but the stock markets were open. And they probably wish they hadn't bothered. With increasing worries about the future of General Motors (NYSE:GM) (see below), the Dow Jones had a losing session, down 176 points.
Today's Market Moving Stories
ECB Italian council member Bini Smaghi said that the economic situation has gotten "dramatically" worse! He seems to have noticed that "banks are not willing to lend to each other" and "rates that banks charge each other are still too high". Seems that a 50bp (1/2%) cut at their December meeting is now a certainty. Begs the obvious question why they didn't go the full BoE-like monty last time out. Vanity, I suppose.
The WSJ reports that the Fed is considering changes to Phase 2 of the TARP. They now want to attach strings to any future bailout monies advanced that would force those with a begging bowl to raise private capital. If this means dilution then it's bad news for bank stock prices.
The latest trick to try and stem the flood of US housing foreclosures came from the Federal Housing Finance Agency yesterday. US homeowners who are over 90 days delinquent who have high loan-to-income ratios will be mailed a refinancing offer via Freddie (FRE)  or Fannie (FNM) from Dec 15th.
The US ABC consumer confidence slipped a further 2 points to -50 (just 1 pip above the record low for this data series) while Japanese consumer confidence plunged to the lowest level recorded in 26 years.
At least China hasn't lost its mojo yet with news that retail sales rose 22%!
GM To Be Bailed Out?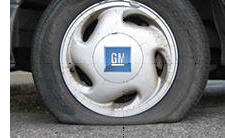 Automakers were the central focus yesterday with rumours of GM filing for bankruptcy leading many analysts to wonder aloud if the US government was embarking on a bottomless pit of rescues. US House speaker Nancy Pelosi said she embraces emergency assistance for the auto industry. Is there one for everyone in the audience? Where do you draw the line? Is the Treasury going to change its name to "Bailouts "R" Us"? Cynicism prevails in a market when we learn TARP money is going to be used to pay bankers' Xmas bonuses! Bonuses for what you may well ask.
Now all the automakers are tapping their local bailout fund for money. Volkswagen (OTCPK:VLKAY) is looking for €2.8bn from the ECB. I wonder whether they would even have a chance if their American counterparts weren't already doing this.
Massive Bond Issues Today
I don't generally mention the world of government bonds much but today we get the new benchmark 10 year issue from Germany (€7bn's worth) and tonight an auction of $20bn of US 10 year paper.
One of the theories making the rounds has been that dumping all these bonds on the market will make bond yields rise and their value decline. If this happens, equities would become a more attractive alternative for institutions. Today will be the acid test. If the market can take this extra supply down comfortably and there is good Far Eastern interest, then one of the few remaining props under stocks will have been kicked away.
Key German Wage Talks On A Knife's Edge
Bellwether wage talks between employers and the German industrial giant IG Metall trade union lasted for 15 hours last night. A union spokesman this morning said that talks are "still very difficult". But the employers think that a deal is close. Traditionally the package hammered out at these talks sets the tone for much of the Teutonic wage round and is seen as the "going rate" in '70's parlance.
The reason why the spotlight is on these negotiations is that the ECB has been particularly paranoid about second round inflationary effects stemming from cost push wage deals and indexation. Indeed their ill advised rate hike in July was motivated by a desire to send a warning shot to the "social partners to live up to their responsibilities". Bottom line is that if we get a deal that the ECB can stomach then we may see rates come down faster and further than would otherwise be the case.
Equities
American Express (AMEX) (NYSE:AXP)  is looking for $3.5bn after hastily becoming a bank.
Troubled German bank Hypo Real Estate is reporting a €3.1bn loss (way worse than market expectations).
Sainsbury's was a rare bright spot with better than expected numbers.
Economic Data
Another quiet day ahead on the economic front. Top billing must go to UK unemployment numbers at 09.30 GMT today.