My recent article on Halcón Resouces (NYSE:HK) was well received but rightly criticized in the comment section for a lack of specifics on shares outstanding, the company's debt structure, per barrel metrics, and for not venturing forth with a buyout estimate. While I still lack the information necessary to adequately address these last two issues, this article will examine the shares outstanding and debt issues as well as give an update on some positive new developments.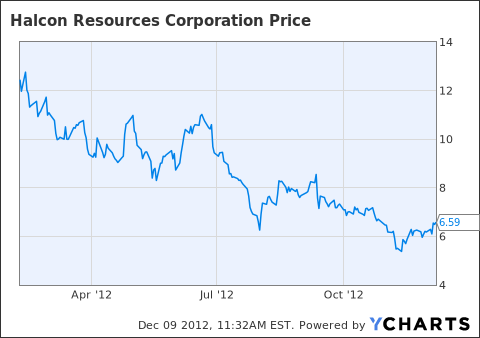 Since my article was published last week, there have been two bullish developments for the company:
Closure of the Williston Basin Acquisition and Related Financing
S&P Raised Halcón's Rating to "B"
Let's take a quick look at both bullets.
Closure of the Williston Basin Acquisition and Related Financing
Closing the deal to acquire developed and undeveloped acreage in the Williston Basin was expected and went according to script. Halcón issued this press release last Thursday, Dec. 6.
The acquisition will add 81,000 net acres located primarily in Williams, Mountrail, McKenzie and Dunn Counties of North Dakota. Average net production of these properties is over 10,500 Boe/day. These prospective Bakken and Three Forks properties will increase the company's estimated reserves by over 68% to approximately 115 million barrels of oil equivalent, 79% of which is liquids. There are currently 5 drilling rigs operating on the properties - all of which will convey. More details of the transaction can be found here.
S&P Raises Halcón Resources' Rating to "B"
Last Friday, Reuters reported on the S&P ratings change. You can read S&P's analysis here. S&P raised Halcón's credit rating to "B" (from B-) and removed it from CreditWatch with positive implications. The outlook is stable. According to S&P:
The upgrade follows Halcón's completed transaction to acquire Williston Basin properties from Petro-Hunt LLC and Pillar Energy LLC in a transaction with a substantial equity funding component. The transaction materially increases the company's reserves and production in properties contiguous to existing operations and lowers debt leverage on a pro forma basis.

At the close of the acquisitions, Halcón has approximately 115 million barrels of oil equivalent (mmboe) of proved reserves and production of approximately 26,500 barrels of oil equivalent per day (boe/d), which supports the current rating. Oil and natural gas liquids account for 79% of reserves and 49% are characterized as proved-developed, the lowest-risk category. We view both a high liquids proportion and high proved-developed percentage relatively favorably, although proved-undeveloped reserves can provide opportunities for growth. Historical operating costs (lease operating expense, production taxes, and general and administrative costs) are high at about $26 per boe reflecting the mature nature of a substantial portion of Halcón's producing assets, which require artificial lift to produce. We expect costs to improve to below $20 per boe as Halcón adds new production, and that internal reserve replacement will be adequate as the company develops its extensive acreage holdings.
All-and-all, a very positive report on the company by S&P.
Now I will do my best to address the shares outstanding and debt structure of the company.
Shares Outstanding
As S&P mentioned above, part of the rationale for raising HK's credit rating was the substantial equity component of the Williston Basin Assets acquisition. Halcón issued approximately 10,880 shares of convertible preferred stock to Petro-Hunt Holdings, LLC and an affiliated entity to fund the stock portion of the acquisition. According to press release, the preferred stock will automatically convert into approximately 108.8 million shares of the Company's common stock following an affirmative shareholder vote. Shareholder approval will enable Halcón to increase the number of common shares to accommodate the conversion. After all is said and done, Petro-Hunt Holdings, LLC will become a very large shareholder of Halcón Resources common stock.
Following the successful closing of the Williston Basin Transaction, Canada Pension Plan Investment Board (CPPIB) has purchased $300 million of newly issued shares of Halcón's common stock at $7.16 per share, before fees and expenses. If I simply divide $300 million by $7.16 works out to 41,899,441 shares. This is an estimate, but a good one.
So the total new shares issued for the Williston acquisition would be the Petro-Hunt conversion shares (~108.8 million) the CPPIB investment shares (~41.899 million) which total 150,699,441 shares. This is an estimate, but it is one based on data the company released at the close of the deal.
Now, in the CONDENSED CONSOLIDATED BALANCE SHEETS (Unaudited) section of the Q3 earnings release it said:
Common stock: 336,666,666 and 33,333,333 shares of $0.0001 par value authorized; 217,867,336 and 27,694,583 shares issued; 216,217,427 and 26,244,452 outstanding at September 30, 2012 and December 31, 2011, respectively.
So as of Q3's end, 216,217,427 shares of common stock had been issued. If we assume all the shares related to the Williston acquisition were not issued until close of that deal (that is, after the Q3 earnings report), we can add the earnings report shares outstanding to the acquisition shares issued to get the current grand total: 366,916,868 shares outstanding.
At Friday's close of $6.59, that would give Halcón Resources a market cap of $2.42 billion. But remember, the closing statement said the acquisition related issuance would not take place until a shareholder vote with respect to the conversion of the preferred stock issued - so these shares are not on the market yet (I don't think….) as there has been no press release concerning the shareholder vote. I would assume that is a "material" matter requiring disclosure. I would also assume the shareholder vote is a mere formality considering current share ownership. See more on this below.
Debt Summary
The Q3 earnings report listed long-term debt as $1,175,000,000. Cash as the end of Q3 was reported to be $18,126,000.
The press release announcing the closure of the Williston asset deal said:
Concurrent with the closing of the Williston Basin Transaction, approximately $726 million of net proceeds from the issuance of senior unsecured notes on November 6, 2012 were released from escrow and applied towards funding the approximate $756 million cash portion of the acquisition.
So, we have $726 million of additional debt (senior unsecured notes at 8.875%) and $30 million of cash paid for the cash part of that deal, both of which took place after the Q3 earnings report. The other part of the deal (roughly $694 million of the $1.5 billion total) was the equity component described earlier.
I get a total debt of $1.93 billion.
For cash on hand, the Q4 began with $18,126,000. The CPPIB investment added $300 million and roughly $30 million of cash was paid as part of the cash payment for the Williston assets. That leaves an estimated $251.9 million cash on hand.
From a liquidity perspective, we have this information from the recent press release:
Effective December 6, 2012, and in conjunction with the closing of the Williston Basin Transaction, the borrowing base on the Company's senior secured revolving credit facility was increased from $525 million to $850 million. The next borrowing base redetermination is scheduled for the second quarter of 2013.
Summary of Current Financial Metrics (My Estimates)
366,916,868 shares outstanding
Market Cap = $2.42 billion
Long-term debt = $1.93 billion
Cash on hand = $251.9 million
Liquidity = $850 million
Putting Things In Perspective
Ok, so I get it. Some investors look at all the shares and debt issued for the recent acquisitions and say, "Zow-eee! HK is swimming in debt." Can't say I disagree. It doesn't help that shares outstanding, stock ownership and financing are all quite complicated (at least for me). But, sometimes, out of chaos comes opportunity. So, let's take a look at some of the positives of Halcón Resources:
Current production of approximately 26,500 Boe/day.
2013 production guidance: 40-45,000 Boe/day.
Significant hedging on production will provide a measure of cash flow protection going forward.
135,000 net acres in the prolific Williston Basin.
115 million Boe proved reserves
Very oily company - oil and NGLs account for 79% of reserves and 49% are low risk (proved-developed).
Substantial resource potential across multiple liquid-rich plays.
700,000 net acres have an estimated resource potential of ~1.3

billion

BOE (not counting Three Forks).
The high quality Eagle Ford asset will be divested soon.
Company has technical competence with extensive experience.
Proven management team with significant ownership stake
The S&P ratings report had some favorable things to say as well:
Historical operating costs (lease operating expense, production taxes, and general and administrative costs) are high at about $26 per boe reflecting the mature nature of a substantial portion of Halcón's producing assets, which require artificial lift to produce. We expect costs to improve to below $20 per boe as Halcón adds new production, and that internal reserve replacement will be adequate as the company develops its extensive acreage holdings.

Properties in the Eagle Ford formation will be divested to comply with management's non-compete agreement.

Halcón holds leases for more than 700,000 net acres, including more prospective areas including the Wilcox, Mississippi Lime and Utica Shale formations as well as areas where it has existing proved reserves and production.
Stock Ownership Profile Is A Positive
Halcón presented at the Barclays CEO Energy Conference on Sept. 5, 2012. I encourage all interested investors to listen and view that presentation, which is available on the Halcón IR webpage here.
From the conference presentation, we get a good summary of HK stock ownership (pre Williston closing) on slide 41: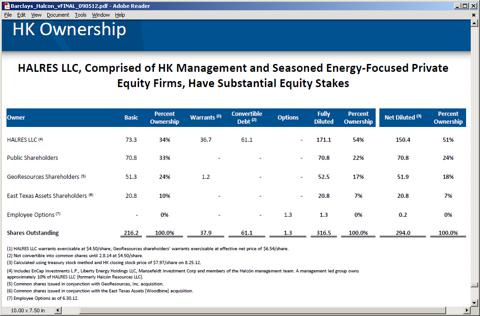 Note (4) indicates a management led group owns approximately 10% of HALRES, LLC which in turn owns a 34% stake in HK's stock. Also note the large ownership stake by the former GeoResources (24%) and East Texas Shareholders (10%). With the Williston assets deal closing, we have seen that Petro-Hunt will become a very large shareholder in the company (over 108 million newly issued shares). I covered recent insider buying in my first article on HK - over $2 million in purchases at prices not far below today's.
So we have, in my opinion, a very bullish stock ownership profile: stake holders who previously owned and/or operated much of the developed and undeveloped acreage HK now owns. Everybody should be pulling in the same direction: HK operational success.
Divestiture of the Eagle Ford Asset
In the same Barclay's presentation, slide 30 shows a good summary of the high-quality Eagle Ford asset which, as previously reported, will be disposed of due to a non-compete agreement. The sale of the 24,000 acre Eagle Ford position is expected to happen relatively soon.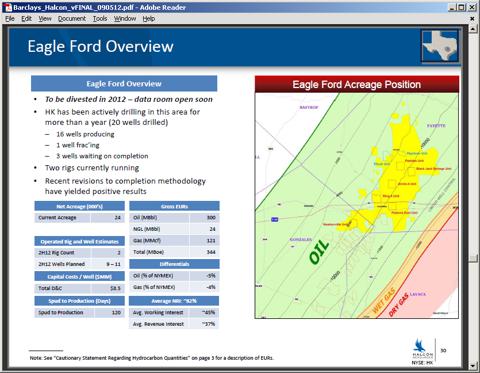 This is a high quality asset. Many oil industry executives, including those at ConocoPhillips (NYSE:COP) view the Eagle Ford as the best shale play in the country. The oil is light and sweet, it is close to the large refining industry on the Texas gulf coast, and the well drilling economics are excellent.
Bakken / Three Forks Assets - Expect Large Reserve Estimate Increases
But in my mind, the big kicker for Halcón is its prime positions in the Bakken and Three Forks plays. From a recent presentation on the Williston Basin Assets acquisition, the following (slide 5) shows HK's Williston Basin acreage: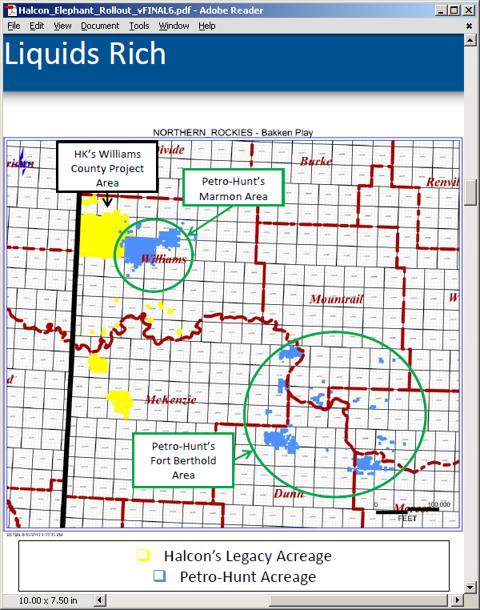 Now, let's compare these acreage positions to the location of Continental Resources'(NYSE:CLR) Charlotte 3-22H well. This slide was taken from a recent CLR presentation: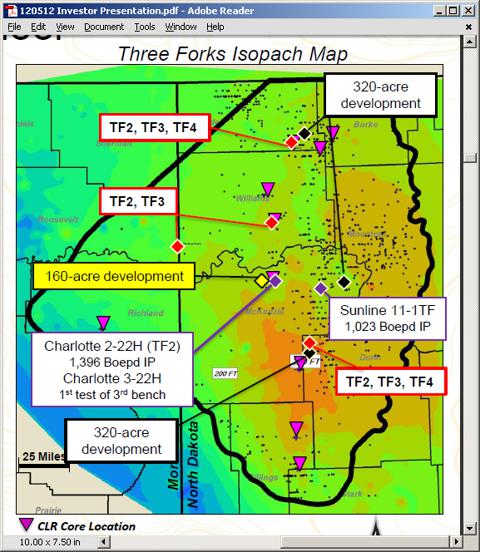 As can be seen, the Charlotte well is in northern McKenzie County. Looking at the previous slide from HK's presentation, we can see that HK's properties in Williams, McKenzie and Mountrail Counties pretty much surround the Charlotte 3-22H well and are in prime Three Forks TF3 country.
Why is this important? Continental Resources recently announced it successfully completed a test well into the third bench of the Three Forks reservoir in the Bakken field (the so-called "TF3"). The Charlotte 3-22H flowed 953 Boe/day during a one-day test period. Harold Hamm, CLR Chairman and CEO, said:
We're very pleased with the initial performance of the Charlotte 3-22H. The well has been producing for 15 days and its performance compares favorably with other first bench (TF1) and second bench (TF2) producing Three Forks wells. This could be a real game-changer.
CLR's 1280-acre Charlotte unit is the first in the Bakken field to have wells producing from three separate horizons - the Middle Bakken, TF2 and TF3 zones.
From the CLR press release:
Continental estimated in late 2010 that the Bakken field would eventually yield 24 billion barrels of oil equivalent (BOE), based on technology available at that time. This estimate included 20 billion barrels of oil and 4 billion Boe of natural gas, and assumed 577 billion barrels of original oil in place in the Bakken and TF1. With the addition of oil found in the lower Three Forks benches, which includes the TF2, TF3 and TF4, the Company now estimates the field has 903 billion barrels of original oil in place, a 57 percent increase
Game changer indeed! But the market yawned. CLR's stock, after an initial small pop, has barely moved since the announcement. The same holds true for Whiting Petroleum (NYSE:WLL). Yet I believe the Charlotte results are very bullish for all Bakken producers with prime Three Forks acreage. And not only companies like CLR and WLL, but Halcón Resources as well. Big resource reserve increases are in store the coming months and years ahead.
Note that Halcón struck its deal for the Williston Basin Assets prior to the Charlotte well announcement by CLR.
In summary then, I believe that Halcón Resources is a company that deserves investment consideration. It has three core resource plays:
Bakken / Three Forks
Woodbine / Eagle Ford
Utica / Point Pleasant
In addition, it has additional acreage and wildcat opportunities in the Tuscaloosa Marine Shale (NYSE:TMS), Mississippi Lime, Wilcox, and Midway/Navarro plays. The company has a growing production profile and anticipates production growth of over 50% in 2013. The company appears to have adequate liquidity to fund its exploitation program. Its experienced management team is led by CEO Floyd Wilson who created PetroHawk and sold it for $12.1 billion. Mr. Wilson is on record saying his goal is to build Halcón Resources into a great oil company that would be an appealing target to a large company. But in my mind, the best reason to invest in HK is because of the potential for large increases in reserve estimates.
I am still hesitant to speculate on a buyout price for Halcón Resources. It's too early - time to let the dust settle. After the disposition of its Eagle Ford acreage, a few more quarterly earnings reports, and some drilling results, I might venture an estimate of the company's takeover price. This should not be expected until the 2nd half of 2013. For now, I am content to own the shares and watch the company's progress going forward.
Additional Reference Articles for HK on Seeking Alpha:
Understanding Halcón Resources by Atticvs Research
The Emerging TMS: Vast Oil Potential For Several Natural Gas Weighted Companies by Branden Holt
Billionaire Ken Griffin Just Bought Oil And Gas Stock Halcon Resources by Insider Monkey
Buying Alongside Halcon Resources Insiders by Stone Fox Capital
Halcon Resources - Bigger, Oilier, and Still Cheaper Than You Think by Steve Zachritz
Disclosure: I am long COP, HK, WLL. I wrote this article myself, and it expresses my own opinions. I am not receiving compensation for it (other than from Seeking Alpha). I have no business relationship with any company whose stock is mentioned in this article.
Additional disclosure: I am an engineer, not a CFA. The opinions expressed in my articles are my own. Please do your own research. I cannot be held responsible for investment decisions you make. Thanks for reading and good luck!