In our previous reports on American International Group (NYSE:AIG), we analyzed and evaluated the company's financial rescue at the hands of the US government as well as how investors should view the new AIG. We also evaluated the performance of the company's business units and its corporate financial asset management, most notably its $8B worth of share repurchases held by the US government. We were disappointed that AIG did not repurchase all $23B of shares held by the US government since it still had $105B in shareholders' equity as of Q2 2012 and such a move would have provided a significant boost to AIG's per share book value since AIG was trading at a price to book ratio of 50%-55%. It would have also provided a boost to its EPS of nearly 33.4% as a 40.5% reduction in shares would have only been partially offset by a ~7.1% Net Income Opportunity Cost from foregoing interest on available liquid assets. While AIG's net after-tax losses related to Hurricane Sandy will total about $1.3B net of reinsurance, we believe that those losses are manageable given AIG's $102B equity capital base (as of Q3 2012) and its $8B in estimated net income for FY 2012. We expect AIG's shares to soar over the short-term thanks to its potential for selling its International Lease Finance Corporation (ILFC) aircraft leasing operations.
Click to enlarge

Click to enlarge
Source: Bloomberg LP and Saibus Research Scenario Analysis
AIG entered the aircraft leasing business in 1990 through its purchase of Steven Udvar-Hazy's International Lease Finance Corporation. ILFC was founded in 1973 by Leslie Gonda, his son Louis and Steven Udvar-Hazy and Udvar-Hazy served as ILFC's CEO for 20 years after AIG acquired the company. ILFC is the world's second largest aircraft lessor as measured by owned aircraft behind General Electric's (NYSE:GE) GE Capital Aviation Services division. ILFC generates its revenues primarily from leasing new and used commercial jet aircraft to foreign and domestic airlines, and (since its October 2011 acquisition by ILFC) AeroTurbine. ILFC also generates gains and losses that result from the remarketing of commercial jet aircraft for ILFC's own account, and remarketing and fleet management services for airlines and other aircraft fleet owners. AIG established ILFC Holdings to serve as a holding company for ILFC in 2011 and ILFC Holdings filed an S-1 registration statement with the SEC for a proposed IPO in September 2011. AIG had determined that ILFC was a non-core operation and it reorganized its interest in ILFC in order to monetize its stake in the division.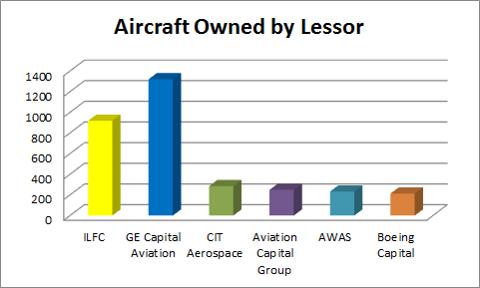 Click to enlarge
Source: AIG's 2011 10-K
AIG's ILFC Division has seen a negative reversal of fortune relative to GE Capital Aviation Services since the end of 2009. In 2009, ILFC generated $1.385B in pre-tax income on nearly $5B in revenue while GECAS had $1B in pre-tax income on nearly $4.6B in revenue. Unfortunately for ILFC, it suffered through the one-two combination of declining aircraft leasing revenues coupled with $1.7B in annual impair charges in 2010 and 2011, resulting in pre-tax losses of $729M in 2010 and $1B in 2011. GECAS was able to generate steady revenue and profit performance during this period as its annual revenues and pre-tax profits increased by 14.5% and 13.2% respectively from 2009 to 2011. GECAS was able to avoid the drastic losses that ILFC endured during this period because its impairment charges were only $438M in 2010 and $301M in 2011. Although ILFC has enjoyed sharply reduced impairment charges in the first nine months of 2012 ($228M YTD 2012 versus $1.673B YTD 2011), its pre-tax profit of $246M in YTD 2012 pales in comparison to the $877M in pre-tax profit that GECAS generated in the same time period.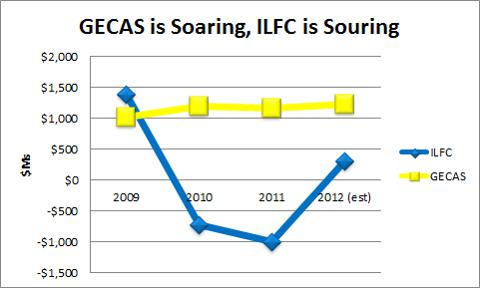 Click to enlarge
Source: GE's 2011 Annual Report and AIG's 2011 Annual Report and Our Estimates
AIG recently announced a deal with an investor group led by New China Trust Co. Ltd. in which AIG will sell up to a 90% stake in International Lease Finance Corporation, a non-core asset, to the investor group in a transaction that values ILFC at approximately US$5.28 billion. The investor group comprised of New China Trust Co. Ltd., China Aviation Industrial Fund and P3 Investments Ltd. has agreed to acquire 80.1% of ILFC for approximately US$4.23 billion, with an option to acquire an additional 9.9% stake. Upon receipt of required Chinese regulatory approvals and exercise of the option, the investor group is expected to be expanded to include New China Life Insurance Co. Ltd. and an investment arm of ICBC International. The deal is expected to close in Q2 2013 and AIG will retain at least 10% ownership in ILFC, which will allow it to participate in the potential upside from potential improvements in ILFC's results. ILFC's implied value from this transaction was about two-thirds of ILFC's $7.9B in book value as of Q3 2012. When the transaction meets the criteria for held for sale accounting treatment, AIG expects to record a non-operating loss of approximately US$4.4 billion, which includes a non-cash charge of approximately $1.8 billion associated with the utilization of tax net operating loss carry forwards from this transaction.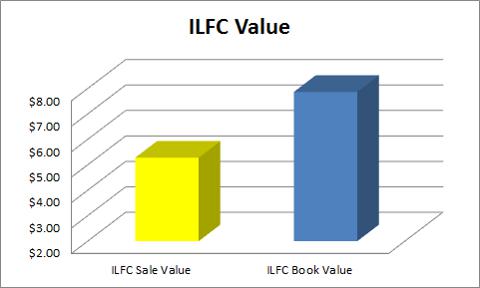 Click to enlarge
Sources: AIG's ILFC Sale Press Release and ILFC's Most Recent S-1A Filing
Conclusion:
In conclusion, we are intending to hold on to our stake in AIG, as well as looking to selectively accumulate a larger position. While we were displeased to see AIG sell a unique asset like ILFC for two-thirds book value, we take comfort in the fact that its transaction value multiple of .67X book value is somewhat higher than the .50X in adjusted book value that AIG is trading at after we adjust for the expected $4.4B write-off to book value that AIG will be incurring to account for the sale of ILFC. We're also pleased that the company is harvesting $4.23B in proceeds from the sale of this non-core business and has a somewhat more liquid remaining ownership stake in ILFC. We expect AIG to utilize the proceeds from selling this non-core business to return capital to stockholders through share repurchases and/or bondholders through the retirement of debt. We think it would be more useful for AIG to use the $4.23B from ILFC to buy back shares as AIG's market value is 50% of its adjusted book value and only has $5.8B in maturing debt in 2013 and 2014 according to its 2011 10-K Report. We're pleased that 7 months after we first bought into AIG, it announced a deal for ILFC and that was one of the potential catalysts that attracted us to it.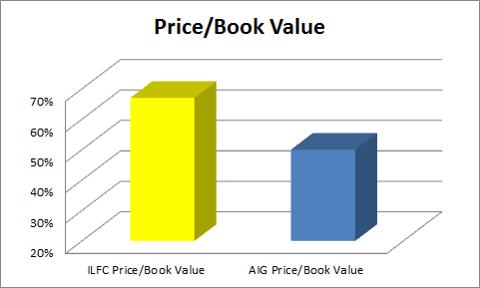 Click to enlarge
Source: AIG's ILFC Sale 8-K Filing and Our Estimates
Disclosure: I am long AIG. I wrote this article myself, and it expresses my own opinions. I am not receiving compensation for it (other than from Seeking Alpha). I have no business relationship with any company whose stock is mentioned in this article.
Additional disclosure: This article was written by an analyst at Saibus Research. Saibus Research has not received compensation directly or indirectly for expressing the recommendation in this article. We have no business relationship with any company whose stock is mentioned in this article. Under no circumstances must this report be considered an offer to buy, sell, subscribe for or trade securities or other instruments.