Shares of Philip Morris International (NYSE:PM) have recovered 8.6% from their three-month low at $82.39 touched in November. Does the stock still have a solid valuation upside that warrants your buy decision? In this article, I will walk you through my value analysis that may help in formulating an investment decision.
Analysts on average predict the company's revenue, EBITDA, and EPS to rise by 3-year CAGRs of 3.9%, 5.6%, and 9.3%, respectively, over the current and next two fiscal years (see comparable analysis chart below). The consensus revenue and EBITDA growth estimates are above the averages of 1.5% and 5.0%, respectively, for a peer group consisting of PM's primary industry peers in the U.S. and the U.K. However, PM's EPS growth estimate lags the peer average. On the profit side, the company has demonstrated a superior margin performance, as all of its profitability and capital return metrics are considerably above the par. PM's leverage is fairly in line with the group average as reflected by the firm's higher debt to capitalization but lower debt to EBITDA rate. In terms of leverage, PM's free cash flow margin at 24.4% is markedly above the peer average at only 19.5%. Due to the strong profitability, the company was able to maintain a healthy interest coverage ratio. Both PM's current and quick ratios are fairly comparable to the group averages, reflecting a healthy corporate balance sheet.

To summarize the financial comparisons, PM's better top-line growth prospect, robust margin performance, and solid free cash flow generation should justify a premium stock valuation. The current valuations at 10.8x forward EV/EBITDA, 20.6x trailing EV/FCF, and 15.8x forward P/E represent an average valuation premium of 10.8% over the peer-average trading multiples (see comparable analysis chart above). Given that the stock's PEG ratio of 1.5x is 14.6% below the peer average at 1.8x, I believe PM's current relative valuations remain attractive.
Based on a forward P/E ratio at 16.0x and assuming that the analysts' estimated fiscal 2014 EPS of $6.44 can be sustained, these assumptions would suggest a 1-year price target of $103.04, representing a 15.2% upside, even without the consideration of the 3.8% dividend yield.
To support the conclusion, I also performed a DCF analysis, which incorporates the market's consensus revenue and EBITA estimates from 2012 to 2016 (see DCF chart below). Other cash-flow-related items (i.e., depreciation, tax expense, capital expenditure, and working capital investment) are generally projected based on their historical levels relative to the revenues as the ratios are fairly stable over time. To account for the financial projection risk, a company specific risk premium of 5.0% is applied in the cost of equity calculation. Some of the other conservative assumptions include the use of a normalized 10-year risk-free rate instead of the current 10-year U.S. Treasury Bond yield and the higher cost of debt assumption at 10.0%, which is higher than PM's existing debt yield. As a result, the conservative but reasonable DCF model yields a share price of $94.96. Based on my estimated cost of equity at 12.2%, the one-year future stock price is calculated to be $106.55, which supports my previous price conclusion.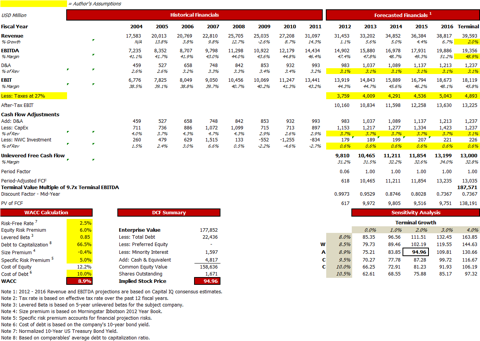 From a dividend perspective, the stock appears to have a limited price downside. PM's dividend yield currently has a 0.60 correlation with the 10-year U.S. Treasury Bond yield (see chart below), meaning that as long as the U.S. Treasury yield remains low, which is likely the case, the upside for PM's dividend yield is probably limited. Since 2009, the company has raised the dividend three times by 10.3%, 20.3%, and 10.4%, subsequently. Given the company's superior free cash flow margin, the pace of the dividend growth is likely to be sustained. As such, assuming a dividend yield range between 3.5% and 4.5% and supposing that the annualized dividend per share would be raised by 10.0% from the current level at $3.40 to $3.74 in the September 2013 payment period, this conservative scenario would imply a one-year price target between $83.11 and $106.86, or a one-year price return range between -7.1% and 19.4% without considering the current 3.8% dividend yield.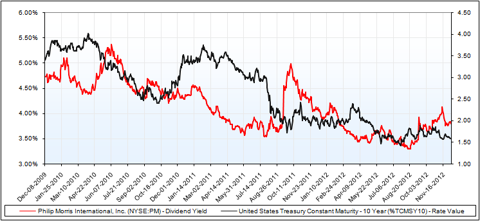 Bottom line, in the light of PM's reasonable valuations, solid 3.8% dividend yield, and somewhat predictable dividend growth prospect, the stock offers investors a very favorable risk/reward profile. As such, I strongly recommend adding the shares to your income-generating portfolio now.
The comparable analysis and DCF charts are created by the author. All other charts are sourced from Capital IQ, and all financial data in the article and in the charts are sourced from Capital IQ, unless otherwise noted.
Disclosure: I am long MO, PM. I wrote this article myself, and it expresses my own opinions. I am not receiving compensation for it (other than from Seeking Alpha). I have no business relationship with any company whose stock is mentioned in this article.