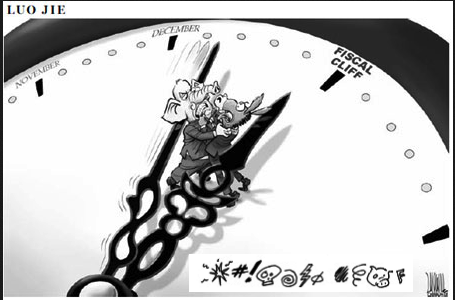 U.S. stocks barely had a pulse Monday. Investors are camped before Wednesday's Fed meeting result and any rumors from "fiscal cliff" negotiations. (Typing "fiscal cliff" is getting as tiresome as was typing Y2K and Greek debt previously.)
The economic news from China was positive, as Factory Output jumped (10.1% vs. 9.8% expected) and the country's Retail Sales climbed (14.9% vs. 14.6% expected). However, export growth was weaker (2.9% vs. 9% expected.) Putting on my Clouseau hat, I'd say increasing internal demand is prominent in the country. How long that lasts or much you trust their data is another thing as most of the developed world heads toward recession. In fact, their neighbors in Japan are now officially in recession. Nevertheless, markets most heavily impacted by China (NYSEARCA:EEM), (NYSEARCA:EWH), (NASDAQ:AAXJ), (NYSEARCA:EWA), and (NYSEARCA:EWW) are carrying the bullish trade for now.
Meanwhile, the drama queens in the eurozone just won't leave us be for any length of time, as now Italy's Monti is resigning and rumors swirled that Berlusconi might stage a comeback. There as everywhere in debt-plagued eurozone countries, the popular will is to reduce austerity. All this caused eurozone shares to fall initially, then shift to mostly unchanged, even as Italy suffered a flat tire.
The dollar (NYSEARCA:UUP) was flat overall, and gold (NYSEARCA:GLD) prices rose. Commodities (NYSEARCA:DBC) were weaker, led lower by energy (NYSEARCA:USO), but held up by base metals (NYSEARCA:DBB). Bonds (NYSEARCA:IEF) were flat. Stocks were led higher by small caps (NYSEARCA:IWM), transports (NYSEARCA:IYT) and not much else.
In this environment, with trading very light, you can expect the rumor mill to drive stocks one way or another easily, as algos and HFTs own the tape.
(click image to enlarge)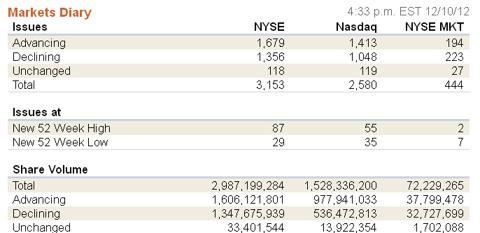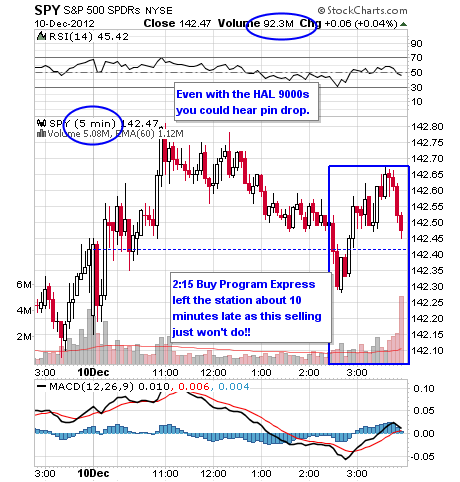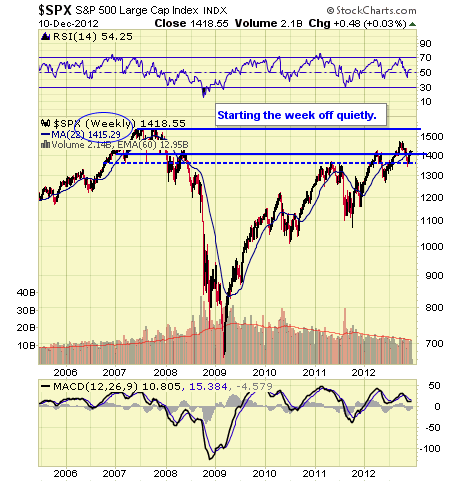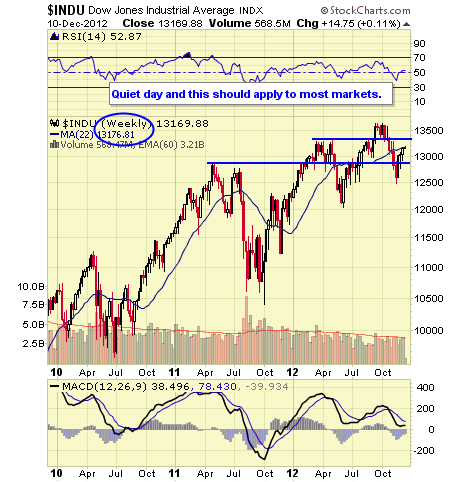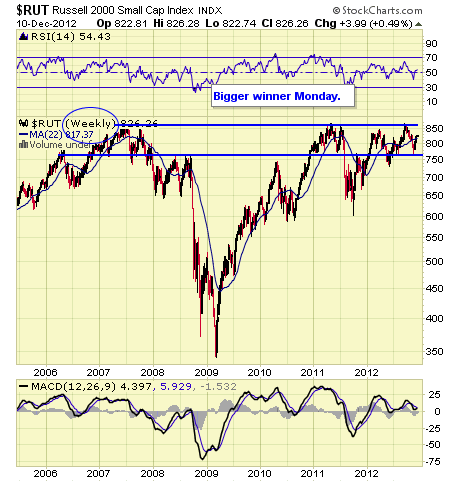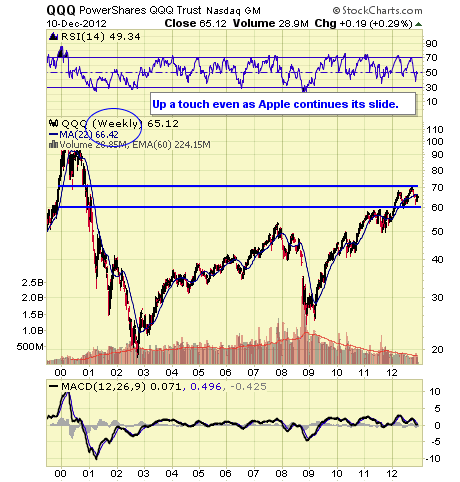 Continue to U.S. Sector, Stocks & Bond ETFs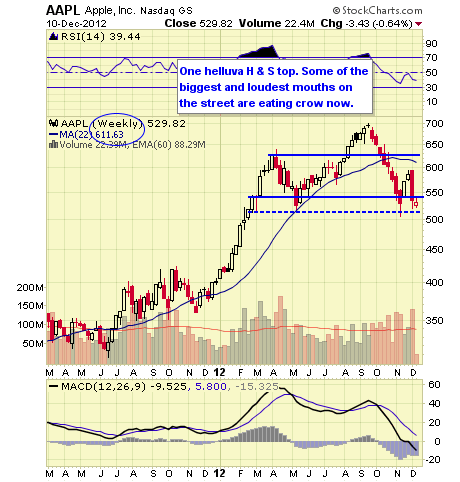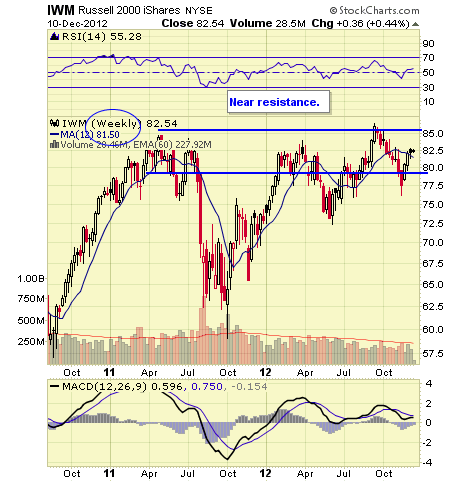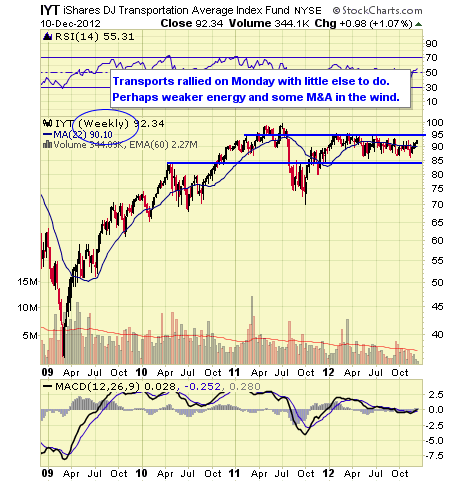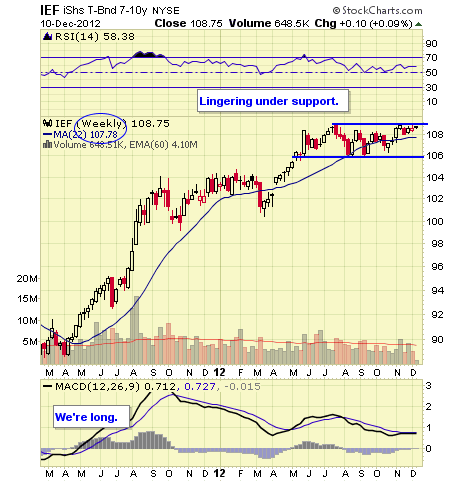 Continue to Currency & Commodity Market ETFs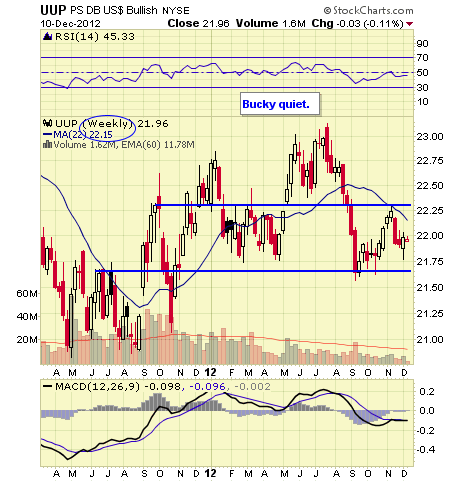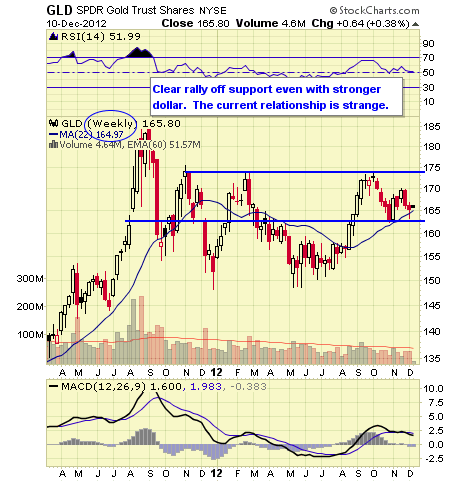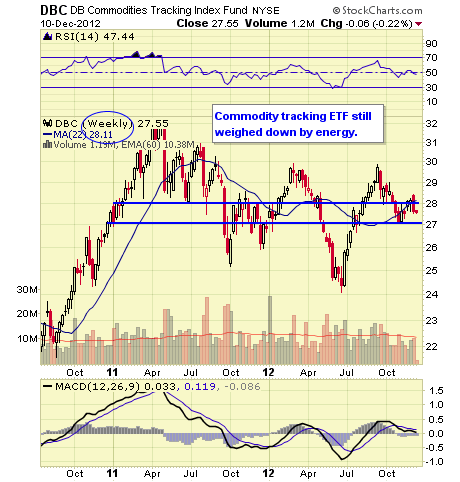 Continue to Overseas Sectors & ETFs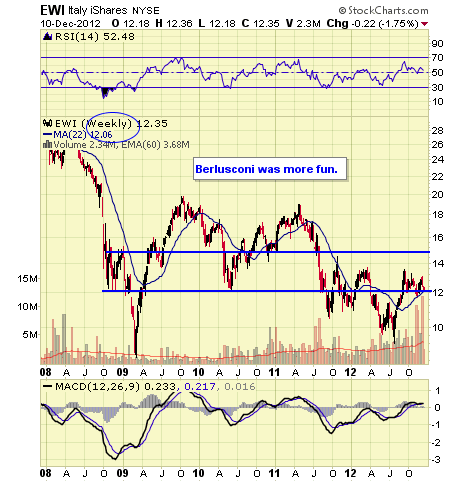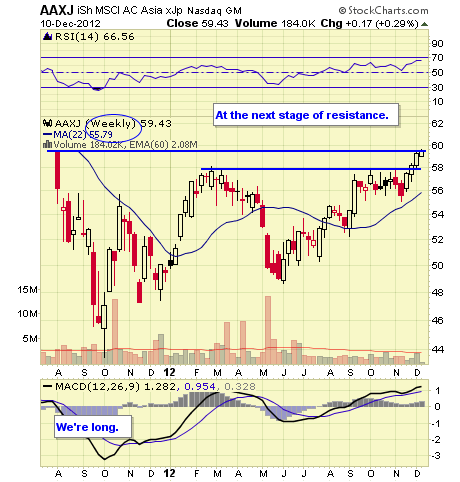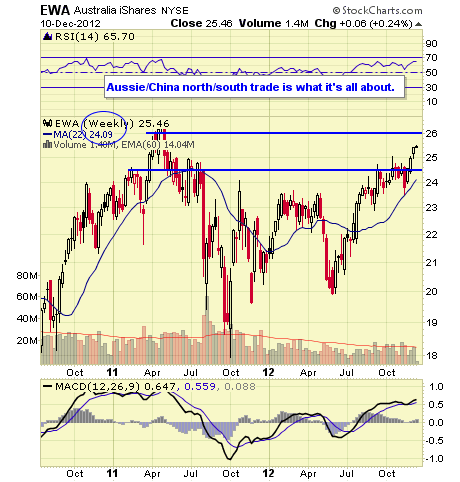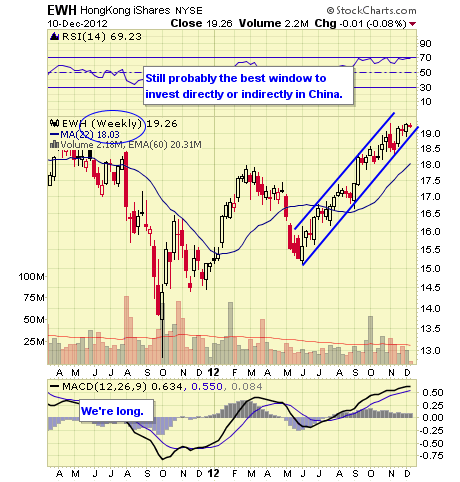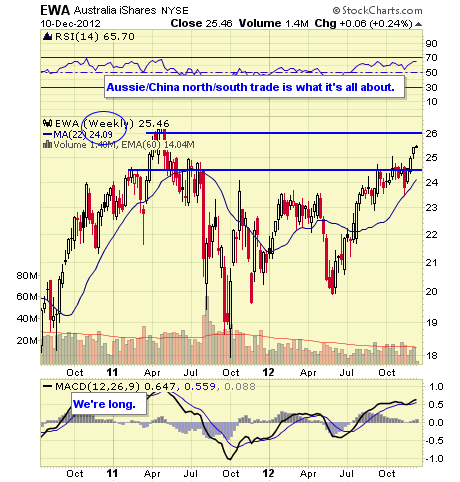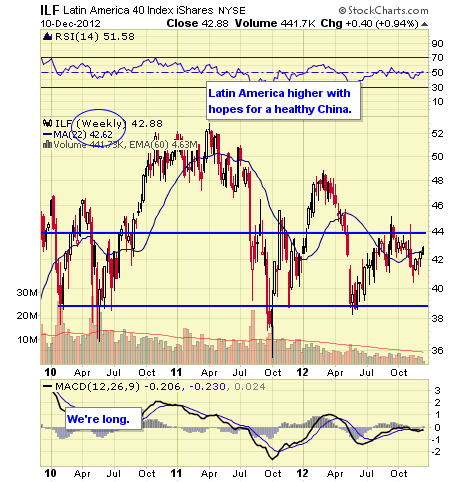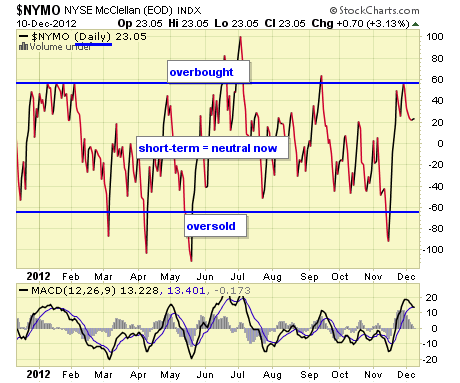 The NYMO is a market breadth indicator that is based on the difference between the number of advancing and declining issues on the NYSE. When readings are +60/-60, markets are extended short term.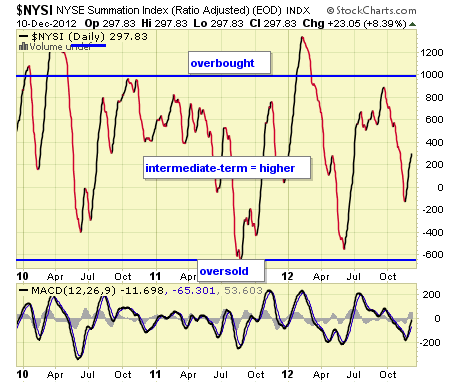 The McClellan Summation Index is a long-term version of the McClellan Oscillator. It is a market breadth indicator, and interpretation is similar to that of the McClellan Oscillator, except that it is more suited to major trends. I believe readings of +1000/-1000 reveal markets as much extended.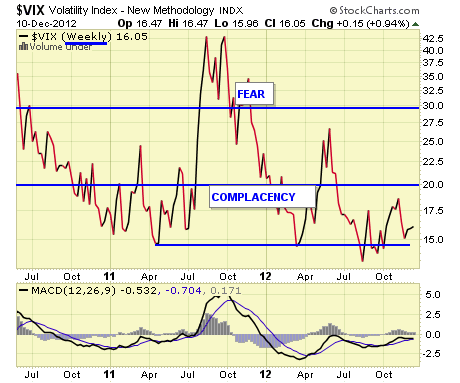 The VIX is a widely used measure of market risk, and is often referred to as the "investor fear gauge." Our own interpretation is highlighted in the chart above. The VIX measures the level of put option activity over a 30-day period. Greater buying of put options (protection) causes the index to rise.
Concluding Remarks
Barring any intervening news/rumors, we'll probably be drumming our fingers until Wednesday. Stay thirsty, my friends.
Disclaimer: The ETF Digest maintains an active ETF trading portfolio and a wide selection of ETFs away from portfolios in an independent listing. Current "trading" positions in active portfolios, if any, are embedded within charts: Lazy & Hedged Lazy Portfolios maintain the follow positions: VT, MGV, BND, BSV, VGT, VWO, VNO, IAU, DJCI, DJP, VMBS, VIG, ILF, EWA, IEV, EWC, EWJ, EWG, & EWU.
The charts and comments are only the author's view of market activity and aren't recommendations to buy or sell any security. Market sectors and related ETFs are selected based on his opinion as to their importance in providing the viewer a comprehensive summary of market conditions for the featured period. Chart annotations aren't predictive of any future market action rather, they only demonstrate the author's opinion as to a range of possibilities going forward.
Disclosure: I have no positions in any stocks mentioned, and no plans to initiate any positions within the next 72 hours. I wrote this article myself, and it expresses my own opinions. I am not receiving compensation for it. I have no business relationship with any company whose stock is mentioned in this article.