On November 16, Silvio Berlusconi had the following to say about the economic situation in Italy:
"The data after a year of technocratic government is disastrous and so I think there absolutely has to be a change in this economic policy imposed on us by Europe and above all by the hegemony of Germany."
This statement was made a year (almost to the day) after an angry mob chanting "buffoon, buffoon" compelled the three term Prime Minister to use a side entrance to make his escape from the Quirinal Palace in Rome after resigning. At the time, Italy's borrowing costs had risen above the dreaded 7% threshold, and it appeared growing social unrest might soon lead to a decisively untenable domestic situation as tens of thousands of protesters lined the streets of Rome in early November to protest Berlusconi's economic reforms and his handling of the debt crisis. Just one year later, the tables have turned. Now it is Berlusconi who is passing judgment and the technocrat who replaced him who sits on the hot seat.
If you know anything about Berlusconi, then it should have been clear from the quote cited above that his return to the Italian political theater was imminent -- when he said there "absolutely has to be a change," he meant that he absolutely will be running for the Premiership. As Reuters noted at the time,
"...Berlusconi is not expected to run in the election although he has had several changes of mind that have spread confusion and disarray in his centre-right camp...[which] is expected to choose its candidate to run for prime minister after a primary on December 16." (emphasis mine)
Sure enough, Berlusconi's People of Freedom (PDL) party stormed out of a Senate confidence vote last Thursday after Italy's Industry Minister Corrado Passera essentially stated the obvious when he told the nation's public service radio network RAI that a Berlusconi return might cause the world to "imagine that [Italy is] turning back," which would "not be a good thing" for the country. This is especially ironic given that, according to The Guardian, wiretaps previously suggested that high level personnel from Berlusconi's Mediaset conglomerate conspired with RAI to "manage news favorable to Berlusconi." PDL's move set the wheels in motion for the resignation of technocrat Mario Monti, who said he cannot effectively govern without the support of Berlusconi's party.
Despite PDL's apparent (and likely feigned) shock that a government official would question the wisdom of Berlusconi's return, Passera's concerns aren't unfounded. In addition to Berlusconi's open criticism of Monti's economic policies (which the former Prime Minister recently declared were leading his country into a "never ending recessionary spiral"), there are plenty of other reasons to question how committed a Berlusconi-led Italy would remain to austerity.
As I noted early Sunday, there is a compelling argument to be made that Berlusconi is the very embodiment of all things "not austere." Berlusconi, whose nicknames include "The Knight" and "The Arch Seducer," is a lawyer and self-made billionaire worth some $5.9 billion. Through his holding company Fininvest, Berlusconi controls Italy's largest media empire, Mediaset; the country's largest publisher, Mondadori; a daily newspaper; and the hugely popular soccer team, AC Milan. Furthermore, Berlusconi controls Italy's three largest private television networks.
Over the course of his illustrious career, Berlusconi has been variously accused of or charged with tax fraud, accounting fraud, embezzlement, bribery, false book-keeping, and has made some 2,500 court appearances. During one such appearance earlier this year, Berlusconi gave testimony to Milan's high court in which he described several "dinner parties" wherein he "clad strippers in dresses generously gifted him by the late Libyan dictator Muammar Ghadafi" and paraded them around in front of his guests, behavior he excused by noting that:
"...women are exhibitionists by nature...and if they work in show business, they are even more exhibitionists. They like putting up shows and they decided to compete in a burlesque show."
In October, Berlusconi suffered his fourth lower court conviction (this time for tax fraud) and:
"...is technically set to serve a four year prison term...but thanks to the fact that the appeals process will likely outlast the statute of limitations, the sentence will probably never be served."
Considering all of this, one can hardly blame Berlusconi's critics for claiming that "The Knight" might not be the ideal person for the Prime Minister position at a time when the country (which has groaned under a debt-to-GDP ratio above 120% since 1995) desperately needs to stay the austerity course, not only to put the nation on a path to long term fiscal sustainability, but also to avoid roiling the fragile market for Italian sovereign debt, which has stabilized somewhat during the course of the last 12 months.
However self-serving, Berlusconi's criticism of Monti's policies isn't entirely unfounded. As I noted a few months back, from the time Mario Monti was appointed through August of this year,
"...Italian GDP [had] contracted by an average of .73% per quarter...the worst of any major eurozone nation save Portugal, industrial production [had] fallen by an average of .88% per month for... six months straight, and according to data provider Markit, Italy's PMI [had fallen] to a ten month low of 43.6 as everything from output to new orders to employment [was in freefall]."
While the Italian economy contracted by only .2% during the third quarter -- less than half of the contraction forecast by economists -- the country nonetheless remains mired in a consumer recession, as noted recently by the SoberLook. Consider the following graphics, which show Italian consumer confidence and retail sales, for instance: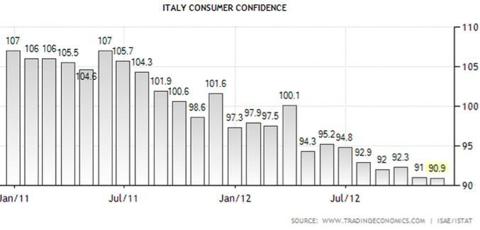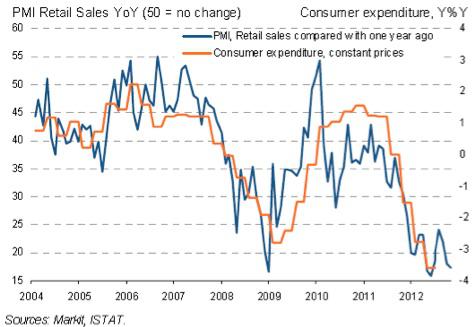 Source: Markit, ISTAT, via SoberLook
Other discouraging data from October included a surprise drop in Italian business confidence and a double digit decline in Italian auto sales.
This unfortunate state of affairs has afforded Berlusconi with an invaluable opportunity to return to power. Seizing the moment, the disgraced billionaire officially announced his candidacy Saturday, which in turn prompted Monti's resignation (effective once the 2013 budget is passed) only hours later. New elections could come as early as February.
As noted by nearly every financial news site one cares to consult, the political turmoil in Italy is likely to send the spread between Italian bonds and German bunds sharply wider.
From CNBC: "Political instability could send the "spread" -- the difference in interest between benchmark German bonds and Italian ones -- back soaring again. Monti toiled to shrink the spread."

From Reuters: "The spread or difference between yields on Italian 10-year bonds and German counterparts that are considered less risky has widened from just over 300 basis points to 323 basis points on Friday."

FromThe Wall Street Journal: "...the best bet will be to watch the performance of Italian and Spanish government bonds... particularly the yield spread relative to safe-haven German government paper."
Berlusconi's return to the limelight jeopardizes the relative calm in Europe at just the wrong time. Despite attempts to spin the situation, Greece's ridiculous debt buyback (wherein eurozone taxpayers via EFSF bonds paid for Athens to repurchase PSI bonds from hedge funds and Greek banks) was a disappointment. Despite a generous offer in terms of price from Athens, the program fell short of expectations: as of Saturday, only 26 billion euros of the targeted 30 billion had been tendered. Now, Greece will need to coerce domestic banks into pledging more of their bonds by the December 13 deadline -- otherwise, the next tranche of international aid could be delayed yet again.
Meanwhile, the situation in Italy is likely to get more contentious in the weeks to come. Berlusconi is a consummate showman, and the last thing Europe needs is a high stakes political drama in the only periphery country not teetering on the edge of financial armageddon. Risk is back, ladies and gentlemen. Investors should position for a sell-off in Italian government debt, and should be particularly cautious regarding risk assets from now through the end of 2012.
Disclosure: I have no positions in any stocks mentioned, and no plans to initiate any positions within the next 72 hours. I wrote this article myself, and it expresses my own opinions. I am not receiving compensation for it (other than from Seeking Alpha). I have no business relationship with any company whose stock is mentioned in this article.