The precious metals of gold (NYSEARCA:GLD) and silver (NYSEARCA:SLV) have provided investors with little to get excited about over the past year. But this may soon change, as the forces of monetary stimulus have the promise to return both of these metals to their former glory. And the coronation may begin as early as this week.
The fundamental case for owning both gold and silver has been positive for over a decade. For it was not long after the bursting of the technology bubble and the beginning of a new secular bear market back in the early 2000s that fiscal and monetary policy makers in the United States turned to weak dollar policies in an attempt to support economic growth. Both the unpredictable stock market and the policy shift toward currency debasement were highly supportive of gold and silver, which represent hard asset stores of value.
(click images to enlarge)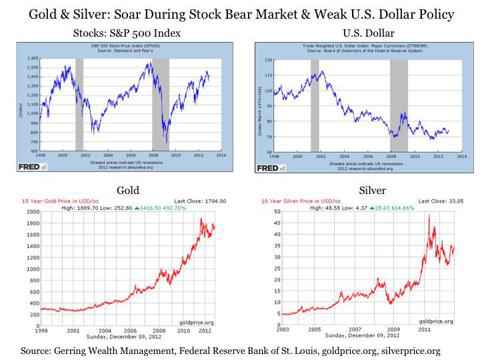 Events since the outbreak of the financial crisis have only added to the positive tailwind for these precious metals. Despite the fact that we are now several years beyond the start of the crisis, the global financial environment remains highly unstable. This is particularly true in Europe, where conditions have gradually deteriorated over the last several years. Political leaders have sought to address these challenges by adding to sovereign debt burdens and engaging in inflationary policies that have served to undermine confidence in the global fiat currency system. Adding to the uncertainty, the geopolitical climate also remains unstable with the threat of social unrest in notable parts of the world, including the Middle East. All of these forces are highly supportive of gold and silver, both of which provide hard asset protection against inflation, as well as the threat of crisis and global instability.
Despite the resoundingly strong fundamentals, both gold and silver have languished for much of the past year. After peaking at $1,923 per ounce in early September 2011, gold has traded sideways in a trading channel between $1,525 and $1,800 in the 15 months since. As for silver, it soared in April 2011 to essentially touch an all-time nominal high just short of $50 per ounce last reached in January 1980. Since then, it fell back to earth and has been oscillating in a trading channel between $26 and $36.
A few reasons help explain the lackluster performance in both metals over the past year.
First, both gold and silver were overdue to enter into a period of consolidation following what had been a particularly robust advance during the period from late 2008 to late 2011. At present, both metals have rallied off of summertime lows and are currently priced in the upper half of their respective trading channels, with gold at $1,705 per ounce and silver at just over $33 per ounce.
Second, gold and silver have been trapped in a period of policy limbo since September 2011. Both metals have shown the tendency to thrive during two particular scenarios. One is when we are facing the threat of full-blown crisis and/or financial market retrenchment. Such were the conditions in late 2008 into early 2009, from April to August 2010 and from July to September 2011. The other is when the U.S. Federal Reserve is actively engaged in balance sheet expanding monetary stimulus in the form of quantitative easing (QE). Such was the case from March 2009 to March 2010 (QE1), and from effectively August 2010 to June 2011 (QE2). But over the last 15 months, the U.S. Federal Reserve was largely focused on its Operation Twist programs that were designed to conduct asset purchases while keeping the size of the Fed's balance sheet stable. These programs provided enough support to avert fears of a full-blown crisis, but were not sufficiently potent to sustainably weaken the dollar and spark inflationary concerns. These forces also contributed to gold and silver spinning their wheels over the past year.
Gold and silver began showing renewed life starting in the early summer. This surge, of course, coincided with the rally in the stock market that began around the same time. The primary driver of this bounce was expectations that the U.S. Federal Reserve was planning on launching a third round of balance sheet expanding monetary stimulus (QE3). And the Fed delivered on these hopes in mid-September, announcing that they would purchase $40 billion per month in Mortgage Backed Securities (MBS). But it was not long after this anticipated announcement that the rally in gold and silver stalled.
So why have gold and silver pulled back since the announcement of QE3? In short, the precious metals have cooled recently because the stimulus program has not truly started yet. This is due to the fact that the MBS being purchased by the Fed can take up to several months before reaching the settlement dates. Moreover, these settlements only take place on selected days each month. As a result, while the Fed has made commitments for over $200 billion in MBS purchases to date, the Fed's balance sheet has expanded by a net of only $36 billion since the beginning of QE3. And virtually all of this liquidity has been injected during two sharp spurts in mid-October and mid- November. Thus, gold and silver have yet to receive the anticipated monetary fuel to propel them higher, at least not yet.
Gold and silver may be preparing for lift off starting this week for two key reasons.
First, the Fed is scheduled to settle a major tranche of MBS purchases on Wednesday totaling roughly $55 billion on Wednesday. All else equal, this represents a 150% increase in the total balance sheet expansion of the Federal Reserve under QE3 to date occurring this week. And the Fed is scheduled to settle another set of purchases totaling over $30 billion early next week. Thus, a considerable liquidity tailwind from the Federal Reserve is set to begin blowing that could carry these metals higher through the remainder of the year, particularly as trading volumes begin to subside as we move toward the holidays.
Second, the Fed is widely anticipated to announce a major supplement to its existing QE3 program following its latest FOMC meeting, also on Wednesday. The Fed's current balance sheet neutral Operation Twist program, which includes the purchase of long-dated Treasuries in exchange for the sale of short-dated Treasuries, is set to expire at the end of the year. In its place, the Fed is expected to announce that it will commence outright purchases of U.S. Treasury securities at a rate of $40 billion to $45 billion per month in its place. In other words, QE3 may soon more than double from $40 billion to up to $85 billion in asset purchases per month. And the addition of outright Treasury purchases would coincide with the MBS purchase program finally getting up to full speed. Such a move would represent an enormous added tailwind for both gold and silver as we move into 2013.
For these reasons, I am highly constructive on both gold and silver as we move toward the end of this year and into next year. While holding the physical is certainly ideal, exchange traded securities are also available for those seeking exposures as part of an investment portfolio strategy. These include the Central GoldTrust (NYSEMKT:GTU) and the Central Fund of Canada (NYSEMKT:CEF), which is allocated 53% to gold and 46% to silver with the remaining 1% in cash. The Sprott Physical Gold Trust (NYSEARCA:PHYS) and Sprott Physical Silver Trust (NYSEARCA:PSLV) are also solid choices, the latter of which is particularly useful for dedicated silver allocations.
This post is for information purposes only. There are risks involved with investing including loss of principal. Gerring Wealth Management (GWM) makes no explicit or implicit guarantee with respect to performance or the outcome of any investment or projections made by GWM. There is no guarantee that the goals of the strategies discussed by GWM will be met.
Disclosure: I am long GTU, CEF, PSLV. I wrote this article myself, and it expresses my own opinions. I am not receiving compensation for it (other than from Seeking Alpha). I have no business relationship with any company whose stock is mentioned in this article.