Inefficiency is the very essence of the stock market. If every company was always valued perfectly, no investor could make any profits. It is these inefficiencies that allow investors to profit. But sometimes, when companies stay mispriced for too long, it leads to a takeover, as an opportunistic bidder finds the target too tempting to pass up. In this article, I would like to highlight just such a company; it is a company that has been executing well, has an enormous amount of cash on its balance sheet, and a future that we believe will be far brighter than its critics suggest. That company is Nvidia (NASDAQ:NVDA).
We have written about Nvidia several times before, highlighting the fact that for patient investors, Nvidia will deliver profits in the long run. But, patience is not a renewable resource. Nvidia's shares have lost over 8% of their value in 2012, even as the company's position in the marketplace steadily improves. Nvidia posted record revenues in its latest quarter (revenues grew by 12.94% to $1.20411 billion), as well as record gross margins (52.9% on a GAAP basis, and 53.1% on a non-GAAP basis). Nvidia has also been using AMD's (NYSE:AMD) recent woes to expand its share in the traditional GPU market.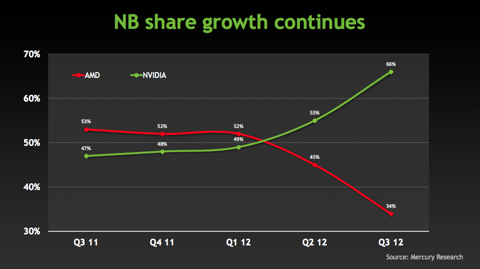 Nvidia also initiated a $0.075 per share dividend in its last quarter, giving the company a yield of 2.51% at current levels. Companies that are in trouble rarely even increase their dividends, much less initiate them.
In our view, Nvidia's shares are undervalued at current levels, a view shared by many here on Seeking Alpha. Wall Street, however, seems to have a different opinion. Analysts are mostly skeptical of Nvidia's future, and most are unable to see how the company can move past its traditional graphics business. We, however, do not share Wall Street's view. Nvidia's traditional graphics business grew its revenues by 14.71% in its last quarter, and the unit's operating margin expanded to 26.12% in the company's latest quarter, as opposed to 22.3% a year ago. Businesses that are deteriorating do not usually have expanding margins. And while Nvidia's consumer products business (CPB), which houses its Tegra mobile chip business is not yet profitable, it is growing quickly, and losses are narrowing. In Q3 2013, CPB revenues grew by 27.64%, and the company's operating losses in that division narrowed to 17.18% of revenue, down from 23.88% of revenue a year ago. And while revenue in the company's PSB (professional solutions business) division fell by 4.23% in the company's latest quarter, operating income grew by 5.22%, on the back of an expanding operating margin (rising from 41.64% to 45.75%). Nvidia is executing well, and the company is improving the profitability of each of its 3 divisions. And how has Wall Street rewarded the company? It hasn't. Nvidia's stock has lost almost a quarter of its value over the past 12 months. But, what is even more noteworthy is what has happened to the company's valuation.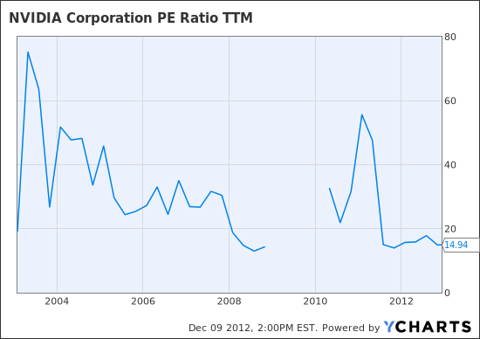 Nvidia's multiple has shrunk over the past decade, falling to under 15 as the market simply refuses to believe that the company is on the right path. But, Nvidia's headline P/E ratio does not tell the whole story. Nvidia is one of the most cash-rich technology companies (as a percentage of market cap). The company ended Q3 2013 with $3,434,772,000 in net cash and investments (Nvidia has no debt), which is equivalent to $5.49 per share in net cash, or 45.9% of the company's total market capitalization (Nvidia ended Q3 2013 with 624,850,798 shares outstanding).
In our view, it is possible that if Nvidia continues on its current trajectory of growing revenues and margins, while seeing a growing cash balance (even with a newly initiated dividend), and its stock price continues to stagnate, the company may become too tempting for an acquirer to pass up. The question that has to be answered now is this: who would acquire Nvidia? We delve into this issue below.
Nvidia's Suitors: Financial or Strategic?
We will first examine Nvidia's enterprise value. For the sake of argument, we will use a generous 50% premium (other premiums can be used as well), valuing Nvidia at $18 per share (the exact premium would be 50.5%, based on Nvidia's closing share price on December 7, 2012).
Nvidia Enterprise Value
| | | |
| --- | --- | --- |
| Item | Underlying Calculations | Amount |
| Outstanding Shares | $18 x 624,850,798 | $11,247,314,364 |
| Less Net Cash | -$3,434,772,000 | $7,812,545,604 |
As the table above shows, Nvidia's enterprise value, even with a 50% premium for shareholders, is below $8 billion, a digestible sum for any number of potential suitors (Nvidia's balance sheet lists no non-controlling interests).
Should Nvidia be taken over, there are several suitors that we believe would be interested.
Private Equity: Nvidia fits the description of an "ideal" private equity firm very well, in that almost half of its market capitalization is in cash. Cash rich companies are a frequent target of private equity firms, and while private equity firms would of course prefer their targets to be non-CapEx intensive, that has not stopped the private equity industry from participating in technology M&A. Brocade (NASDAQ:BRCD) has been rumored to be a private equity target for some time, and Quest Software had a takeover deal in place with Venture Partners before Dell (NASDAQ:DELL) entered the fray with a higher offer and took control of Quest Software. Nvidia is stuffed with cash, and would make any leveraged deal much easier to pay off. And while Nvidia CEO Jen-Hsun Huang owns over 20 million shares of the company, his stake does not give him enough power to block a takeover bid.
Intel: The idea of Intel (NASDAQ:INTC) acquiring Nvidia has been raised before, with Nomura highlighting that Intel could pay $18-$24 per share and still find the deal accretive to its EPS. While Intel has been aggressive on the capital deployment front in recent quarters, its financial position is solid. The company ended Q3 2012 with $10.396 billion in cash and investments, versus debt of $7.156 billion (Intel announced a $6 billion bond offering this month, primarily to buy back stock). Even with its new bond offering, Intel's financial position is strong, and the company's ability to pay its debt is not in question. A takeover of Nvidia would solve several of Intel's problems. It would give the company a far more robust presence in the mobile market, as well as allow it to find new ways to blend its processors together with Nvidia's GPU's. The stumbling block for any deal between Nvidia and Intel is the FTC and the Justice Department. This deal would face high anti-trust hurdles, as a combined Intel-Nvidia would be even stronger relative to AMD. And while we do think that AMD will survive (at a minimum, OEMs will bail the company out so that Intel does not have a CPU monopoly), the company is losing the ability to compete effectively with both Intel and Nvidia, and that is something the government will likely take into account. This deal may need too many concessions from Intel and

Nvidia to make it worthwhile.

Qualcomm: Qualcomm (NASDAQ:QCOM) is a key competitor of Nvidia, and it could certainly afford to take control of the company. The company ended its latest fiscal year (Qualcomm's fiscal year ends in September) with $26.837 billion in cash and investments, and no debt. And just under $10 billion of that cash is held within the United States. But simply because Qualcomm can afford to take control of a key competitor does not mean that it will. As a mobile chip company, Qualcomm has little use for Nvidia's traditional GPU business, or its professional systems division. The company would likely spin off these divisions, leaving only Nvidia's consumer business. But there would be little in the way of synergy in such a deal. Tegra is a competitor, and all that Qualcomm would gain in this deal is the neutralization of a competitor. While Nvidia has certainly been holding its own against Qualcomm, Qualcomm has not yet suffered at the hands of Nvidia. Both companies are growing their mobile presence, and while Qualcomm can afford to take control of

Nvidia, we do not think that it has a reason to do so.

Apple: This is a name that we feel should be addressed, if only for the reason that Apple (NASDAQ:AAPL) tends to find its way into most discussions in the technology sector somehow. Apple's ability to take control of Nvidia is not in question (Apple ended its fiscal year with $121.251 billion in cash and investments). But, like with Qualcomm, the issue is not affordability, but rather rationale. On the surface, it is easy to see why Apple would want to own Nvidia. Apple could customize its GPUs for its iMacs and MacBooks to its liking, and could find a way to adapt its iDevices (iPhone, iPod Touch, and iPad) to use Nvidia's Tegra chips. But, that is not how Apple operates. Tim Cook revolutionized Apple's supply chain when he was the company's COO, and Apple's manufacturing is done outside of the company. Samsung (OTC:SSNLF) manufactures iPhone processors in Texas, and Corning (NYSE:GLW) manufactures iPhone screens in Kentucky. Apple's industry-leading supply chain is difficult to replicate if it manufactures its devices itself, and a takeover of

Nvidia would likely require a good deal of manufacturing to be brought in-house to make it a worthwhile investment.
Are they the only potential suitors? Most likely there are other possible suitors, but we feel that private equity, Intel, Qualcomm, and Apple are the most interesting ones to profile. The question that needs to be answered now is which suitor is most likely to make a bid for Nvidia? To answer that question, we must first address the role of Microsoft (NASDAQ:MSFT), as well as other factors that may impede a takeover bid.
The Microsoft Factor and Other Obstacles to A Deal
Buried in Nvidia's latest 10-Q (as well as every 10-Q and 10-K since 2000) is the disclosure of an agreement between Nvidia and Microsoft that states,
"On March 5, 2000, we entered into an agreement with Microsoft in which we agreed to develop and sell graphics chips and to license certain technology to Microsoft and its licensees for use in the Xbox. Under the agreement, if an individual or corporation makes an offer to purchase shares equal to or greater than 30% of the outstanding shares of our common stock, Microsoft may have first and last rights of refusal to purchase the stock. The Microsoft provision and the other factors listed above could also delay or prevent a change in control of Nvidia."
Microsoft has first and last rights of refusal if any entity takes control of more than 30% of Nvidia's stock. The agreement was struck in 2000 to ensure that Microsoft had continued access to Nvidia's GPU technology for its Xbox. Microsoft paid Nvidia $200 million to help develop the company's technology (Nvidia had just $375 million in annual sales back then), and the deal was later amended to include this takeover provision, an attempt by Microsoft to ensure that Nvidia did not end up in the hands of a hostile acquirer that would cut off Microsoft's access to critical technology. However, the Xbox 360 now uses graphics chips from ATI, making the Xbox issue moot, in our view. However, the fact that Microsoft's new Surface tablet utilizes Tegra chips could give Microsoft reason to wish to keep Nvidia independent. But while the agreement between Microsoft and Nvidia may still be in place, we doubt that Microsoft would want to spend the billions needed to take control of Nvidia on its own just to preserve the use of Tegra chips in its Surface tablet. Replacing Tegra is not an insurmountable challenge, and if Nvidia were to be acquired by a private equity company (or Qualcomm or Intel), there would be no strategic benefit for it to cut off Microsoft's access to Tegra chips. Only if Apple takes control of Nvidia would that be a possibility (that being said, there is little for Apple to gain by acquiring Nvidia).
A takeover of Nvidia is complicated by several other factors. While Nvidia has declassified its board, it will not become fully declassified until the 2014 annual meeting, making a hostile takeover difficult to execute until then. Furthermore, Nvidia's bylaws and certificate of incorporation prohibit stockholder action by written consent, require advanced notice of director nominations and stockholder proposals, and give Nvidia's board the authority to issue preferred stock without shareholder approval. Nvidia's board will need to see a compelling offer for the company to approve a deal, and a hostile takeover, even if it has the support of a majority of Nvidia's shareholder base, will not be easy to complete.
Conclusions
We believe that at current prices, shares of Nvidia present investors with a buying opportunity. Nvidia is executing on its strategic plans, and companies on the road to irrelevance rarely post record revenues and gross margins as well as 27.97% operating income growth (and 13.79% EPS growth) in their latest quarters. Nvidia's best days are ahead of it, but if the company's stock price continues to stagnate for much longer, we believe that takeover speculation will increase. Nvidia has almost half of its market capitalization in cash, and its cash pile is only set to grow as the company continues to make inroads into mobile and cloud computing, as well as supercomputing. Investors generate profits in the market from the mispricing of stocks (as well as other securities). And in our view, the market is dramatically mispricing Nvidia's shares at this point in time. We may not know with full certainty whether or not Nvidia is a takeover target (although its balance sheet implies that, at a minimum, private equity firms should be taking a look). But, we fully believe that Nvidia's stock is undervalued at current levels, and that investors who add to or initiate positions in Nvidia at this point in time will, in the long run, be rewarded for their conviction.
Disclosure: I am long NVDA, QCOM, AAPL. I wrote this article myself, and it expresses my own opinions. I am not receiving compensation for it (other than from Seeking Alpha). I have no business relationship with any company whose stock is mentioned in this article.