Since my previous positive mention of Lululemon Athletica Inc (NASDAQ:LULU) in a piece entitled Lululemon Sell-Off: What You Need To Know, published June 7, 2012, shares are up by more than 13%.
My Previous Outlook
With LULU shares now down over 20% from their all-time high of $81.09 reached in early May, I believe investors should consider using Thursday's sell-off to buy LULU. I do not believe Thursday's earnings report signals an end to the LULU growth story. Ultimately, I believe LULU will not reach its highs until the shorts are forced to cover.
Second and Third Quarter Earnings
As was discussed by Seeking Alpha Contributor Bill Maurer in his piece, Lululemon Again Proves Its Greatness, LULU reported strong second quarter results which led to a 12% pop for shares. Some highlights from the report include a nearly 50% earnings jump, 15% same store sales growth, and a significant increase in full year earnings expectations. More recently, LULU reported a mostly inline third quarter with EPS topping expectations while the outlook was less than some expectations. The relatively strong results reported in both the second and third quarter are evidence that the first quarter earnings miss was not a signal that LULU has lost momentum. Rather, the first quarter earnings guidence miss proved a good buying opportunity.
Short Interest Grows
At the time of my prior piece, short interest in LULU stood at 10.9 million shares or 10.92% of the float. Now, short interest stands at 14.65 million shares or 20% of the float. The high short interest is bullish for a two reasons. Firstly, the high short interest means that, despite trading near all-time highs, many market participants remain skeptical of LULU. This means that there is still a large population of investors and traders who could be convinced of the bullish story. Additionally, the high short interest means that a short squeeze higher is possible given bullish news.
Higher Risk
As discussed earlier, LULU has moved up significantly from my previous mention. For this reason, I believe that LULU is now a higher-risk investment than it was following its post first quarter earnings sell-off. Now, expectations for LULU are set higher than before. If LULU does not have a good holiday season, I expect the stock to trade significantly lower. Currently, as shown by the chart below, LULU is trading at 45 times earnings. While the company is growing earnings very rapidly, the expensive valuation means even a slight miss of earnings expectations could send shares plunging lower.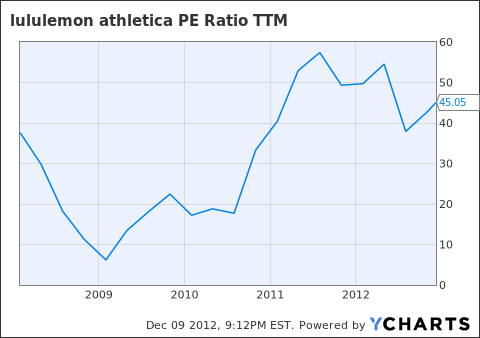 LULU PE Ratio TTM data by YCharts
Buy Calls
The most important driver of LULU shares over the short term will be the fast approaching holiday shopping season results. It is too early to say exactly how the holiday season will play out for LULU. I expect LULU to either move significantly higher or lower depending on final holiday season results. However, because of the high short interest, my bias would be on the bullish side. Investors could express a bullish stance on LULU's holiday season by buying at the money short term call options. Currently, my favorite LULU trade is the January 2013 $72.5 calls trading near $3.80. If the holiday season goes well, given the short interest, I expect LULU to hit new highs. These call options will appreciate significantly. Contrastingly, if LULU does not report a strong holiday season, these calls will likely expire worthless.
Disclosure: I have no positions in any stocks mentioned, and no plans to initiate any positions within the next 72 hours. I wrote this article myself, and it expresses my own opinions. I am not receiving compensation for it (other than from Seeking Alpha). I have no business relationship with any company whose stock is mentioned in this article.