Last week I discussed trading in the Swiss franc (NYSEARCA:FXF) in the wake of Credit Suisse's implementation of negative interest rates for large cash balances denoted in Swiss Francs (see "Cash Is Trash When Denoted In Francs"). At the time I suggested that it was time to position in the franc given the pullback had begun off extremes of a surge that started at the end of November. As it turns out, the franc is already revving up again as another statement on monetary policy looms from the Swiss National Bank (SNB).
Franc weakness returns in a flurry of activity after a neat pullback to support
Rates are already at zero so traders are likely most interested to hear what additional measures the SNB might be considering to further weaken the currency. As I mentioned before, officials from the SNB have already gone on record against implementing negative rates, but this possibility must be rolling in people's minds now anyway.
In addition, a timely speech from out-going Bank of England Governor Mervyn King warned that 2013 may bring about an increase in managed currencies as a replacement for monetary policy. This warning is a reminder that the success of the SNB to maintain a floor against the euro (NYSEARCA:FXE) for over a year must be the envy of central bankers desperately seeking the market's cooperation in weakening their domestic currencies. In a world of additional manipulation, the current "victors" like the SNB will need to up the ante.
Instead of going long EUR/CHF ahead of the SNB decision (I just sold out of my position into the pop), I like buying the euro against the dollar (NYSEARCA:UUP). The U.S. Federal Reserve announces a new statement on monetary policy on Wednesday morning followed by a news conference. This will give plenty of opportunity to talk up accomodative monetary policy that should be dollar-negative, driving the euro up. Assuming the SNB follows this performance with its own dressdown of the franc, I am assuming traders will continue buying euros against the franc in anticipation of further weakness, further adding to buying pressure on the euro against the dollar. In other words, this week is a double-whammy in support of a stronger euro.
The chart below shows that the EUR/USD is positioned well to bounce.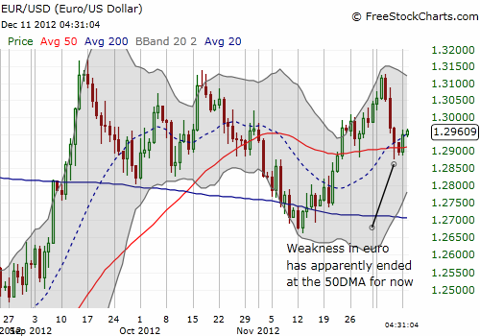 The euro looks ready to bounce against the U.S. dollar
Source for charts: FreeStockCharts.com
Be careful out there!
Disclosure: I have no positions in any stocks mentioned, and no plans to initiate any positions within the next 72 hours. I wrote this article myself, and it expresses my own opinions. I am not receiving compensation for it (other than from Seeking Alpha). I have no business relationship with any company whose stock is mentioned in this article.
Additional disclosure: In forex, I am long EUR/USD.