Back on August 9th, I opened a covered call trade using a position in SandRidge Energy (NYSE:SD). I explained a nearly identical trade using the same option contract some weeks later in my first article here at SA. At the time, SandRidge seemed to hold some upside promise, especially after reviewing Tom Ward's goals and expectations of enhanced returns from the shift from gas to oil. I felt the company was in a well defined upward trend and it was a relatively secure buy at that point: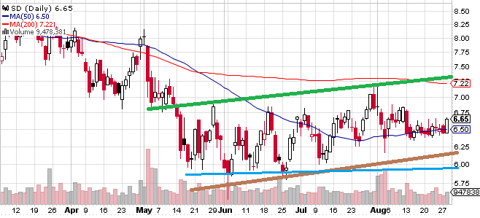 You can read more about the reasons I opened the trade, here.
Fast Forward to Today:
Ward's predictions have gone unfulfilled, and are said to have been gross exaggerations by some. As a result, SD is being sued by shareholders for these apparent misrepresentations. In addition, after poor quarterly results on November 9th, SD announced a plan to reshape the company by selling off some of the company's most valuable assets in the Permian Basin. This was an unpleasant shock to shareholders to say the least. Due to this event and the ongoing unpredictability of management, the stock subsequently cratered.
I must admit my initial reasoning justifying getting long SD was far from accurate. Trusting the well defined range and believing in Ward proved to be a rather naive logic. Since August 9th, SandRidge has been nothing short of a roller coaster ride with the Grim Reaper: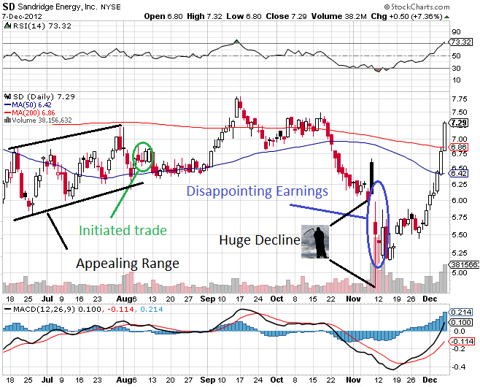 The factor that really saved my investment in SD and which actually accounts for most of my gains thus far is the utilization of covered calls. Admittedly, I usually shy away from using covered calls because they have a tendency to cut off the upside while still leaving vulnerability to the downside. Generally, this is a risk/reward scenario I try to avoid. However, since options for a stock like SD are pricey due to implied volatility, I feel they are relatively attractive on the sell side. Let's examine how trading covered calls on the underlying SD position has amounted to most of my gains thus far. Refer to this chart once more: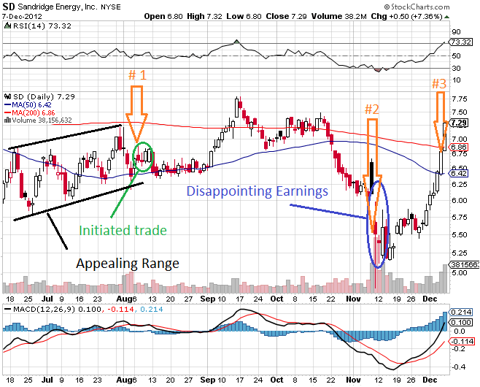 Trade #1: 8/9/12: Bought shares of SD @ $6.81, while selling to open the Jan 2013 $6 Strike Calls for 1.39 in premium. This originally capped shares @ 7.40/share, or 8.5%. I was fairly content with this lower risk trade.
Trade #2: 11/9/12: Bought to close the Jan 2013 $6 Strike Calls for .35 in premium. By recognizing the drop in share price, I locked in gains on the calls by buying them back on the cheap. This also left the shares uncapped. I felt this would better harness a possible rebound in shares.
Trade #3: 12/6/12: Sold to open the March 2013 $8 Strike Calls for .40 in premium. Luckily, shares rebounded and I was able to resell some calls at a decent price. I decided to roll out and up contracts to leave more upside available. Shares are now capped at $8.40, or 24% from current prices.
Note how the shares from the underlying position were not traded, but the calls were instead. This is an advantage in my opinion, as I was not forced to add shares during the decline that followed the November announcement, therefore not adding risk.
Total call revenue stream looks something like this:
Trade #:
Date of Trade:
Contract and Action:
Revenue Gained:
Share Price @ Time of Trade:
% change in shares:
Net Price Shares Capped:
1)
8/9/12
Sell to Open Jan 2013 $6 strike calls for 1.39
1.39
$6.81
N/A
$7.40/share
2)
11/9/12
Buy to Close Jan 2013 $6 strike calls for .35
-.35
$5.75
-15.5% from trade #1
None
3)
12/6/12
Sell to Open March 2013 $8 strike calls for .40
.40
$6.75
+18% from trade #2
$8.40/Share
Total Revenue To Date:
1.44
Since the initial trade in August and after a stressful ride, shares are miraculously trading at $7.29/share, a 7% increase off the initial buy price of $6.81/share price. Using a 100 share basis for sake of comparisons, this 7% increase amounts to roughly $48.
In contrast, the booked covered call from trades #1 and #2 generated a net amount of $104, while the March $8.0 strike call from trade #3 that is still open generated $40. In total, we have generated $144 from the covered calls, about triple that of the gain in the shares alone.
By taking advantage of the unpleasant drop in share price to buy back the calls at a discount, then reselling more calls after a nice rebound in stock price, I was able to trade the contracts at what turned out to be advantageous moments. Considering a pending push from large shareholders TPG-Axon and Mount Kellett Capital Mgt to shakeup SD management and/or to outright sell the company, time will tell if the most recent sale of the March 2013 $8 strike calls for $40 each was a wise move or not. These pending actions by large shareholders to attempt to get more value out of shares is why I sold a higher strike call on trade #3.
Summary:
Don't be afraid to utilize calls, as they can help cushion movement in stock price and can eliminate the risk of poor timing, or a naive long position in this case. In my opinion, buying back calls after a large decline is less risky than adding to a position by buying more shares.
Until the next update covering this SandRidge position, good luck trading!
Disclosure: I am long SD. I wrote this article myself, and it expresses my own opinions. I am not receiving compensation for it (other than from Seeking Alpha). I have no business relationship with any company whose stock is mentioned in this article.
Additional disclosure: I am short the March 2013 $8 strike calls for .40 against long SD shares.