Corning Incorporated (NYSE:GLW) is the global leading designer and manufacturer of glass and ceramic substrates found in liquid crystal displays, fiber-optic cables, automobiles, and laboratory products. While the firm has a diversified base of revenue, display still accounts for the majority of GLW's net income, and the focus will continue to be on its display technology business. Despite the sluggish economy, GLW is expected to grow in revenue and profit in 2013. Lastly, Corning's new, exciting Gorilla Glass is yet to reach its growth potential.
Recent News
On Nov. 27, 2012, GLW raised its fourth-quarter sales outlook for its specialty materials business amid stronger-than-anticipated demand for glass used in flat-panel TVs and special glass used in mobile devices. GLW now expects the volume of LCD glass market to increase in the low single digits on a percentage basis as compared to the prior view of decline in the low to mid-single digits. As quoted from the report from Dow Jones, "The Company also expects that specialty materials segment sales will increase 5% over third quarter levels, compared with its prior view for sales to be similar to the quarter earlier. Segment sales continue to be driven by sales of the company's so-called Gorilla glass, which are expected to soar roughly 60% during the period." The Company expects that the growth in the LCD glass and Gorilla glass businesses should offset seasonal declines in other business segments, where life sciences segment revenue is expected to increase more than 15% from the third quarter compared with its earlier expectations for a decline of about 5%.
On Dec. 4, Corning's CEO, Wendell Weeks, expressed hope about the company's future and said things are on the right track. He also cited that Corning is not expecting more job cuts after the Company's earlier decision to cut 500 salaried jobs.
Second Generation Gorilla Glass
Despite having its best ever quarter in the three months ended Sep. 30, 2012, Corning's Gorilla Glass has not reached its full growth potential. Gorilla Glass is now in its second generation, which is now "up to 20 percent thinner, enabling slimmer devices, better touch responsiveness, and brighter images without sacrificing the damage resistance consumers demand," as quoted from Corning website. The new Gorilla Glass is designed for a high degree of chemical strengthening, which offers highly retained strength after use, high resistance to scratch damage, and superior surface quality. Over a billion devices, ranging from smartphones to tablet computers, contain Gorilla Glass. Top manufacturers using the specialty glass include Apple (NASDAQ:AAPL)and Samsung Electronics (OTC:SSNLF). Gorilla Glass has the potential to expand into almost all electronic displays. Until the day when Gorilla Glass becomes a commodity, it will continue to grow and will remain as GLW's blockbuster product for a long time.
Corning's management believes that robust U.S. consumer demand for big-screen televisions and introduction of various new consumer electronics products will boost Gorilla Glass sales going forward. Additionally, the management stated that the demand for LCD televisions in North America is turning out to be better than expected.
EPS Trend Estimate
Analysts are expecting an EPS of $0.33 in the current quarter, ending December 2012, which did not change in the past 90 days. The current year EPS is expected to be $1.29, which is up $0.01 compared to 90 days ago. For the year ending December, 2013, analysts are expecting earnings of $1.35 per share, which is down from $1.42 estimated 90 days ago, as seen from the table below.

Source: Yahoo! Finance
Fundamental Overview and Technical Analysis
With the data obtained from MorningStar, GLW's key stats will be compared to its competitors in the industry of electronic components, including 3M Co. (NYSE:MMM), TE Connectivity Ltd. (NYSE:TEL), and Becton, Dickinson & Co. (NYSE:BDX). Despite the negative EPS growth of -18.9, GLW has a stronger revenue growth of 9.9 (3 year average), as compared to the industry average of 4.2. GLW also achieved higher operating margin of 16.3%, ttm, and net margin of 25.0%, ttm, comparing to the averages of 14.1% and 8.3%, ttm, respectively. GLW generates a trailing ROE of 8.9, as compared to the average of 10.1; however, GLW has a much lower debt-to-equity of 0.2, compared to the average of 2.4. GLW is currently undervalued with P/E of 9.9, as compared to the average of 15.8.
GLW closed at $12.54 with 0.48% gain on Dec. 7, 2012. The volume of 9.53M is 39.5% less than the 30-day average volume of 15.75M. In the past 52 weeks, GLW had been trading in the range of $10.62-$14.62 with a beta of 1.43. GLW is currently trading above its 50-day MA of $12.27 and slightly below its 200-day MA of $12.57. The MACD (12, 26, 9) indicator had been showing a bullish sign since Nov. 25 and the MACD difference converged slightly in the last trading day. The momentum indicator, RSI (14), is showing an increasing buying momentum at 65.29. As seen from the chart below, if GLW can stay above its 200-day MA, the next resistance will be $12.86, the R1 pivot point, and $13.48, the R2 pivot point. GLW is short-term bullish, technically.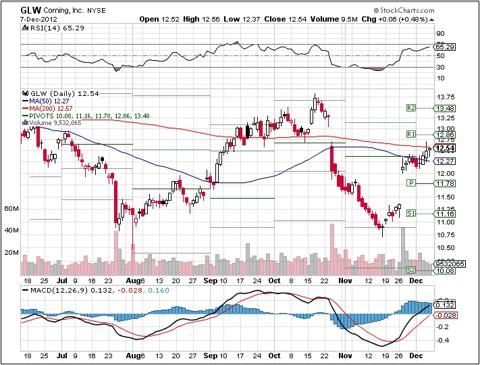 Source: StockCharts.com
Options Play
With the promising growth from the display technology business and short-term bullish trend, a credit put spread will be reviewed for investors who intend to purchase the stock at a discount price while gaining some upside potential.
Short Feb. 16, 2013 Put at the strike price of $12.00 for the credit of $0.44
Buy Feb. 16, 2013 Put at the strike price of $11.00 for the cost of $0.18
The maximum profit is $0.26, and the maximum risk/margin requirement is $0.74 ($1 loss - $0.26 credit received). If GLW closes above $12.00, 35.14% of return on margin will be gained. If GLW falls below $12.00 upon options expiration, the cost to acquire GLW share will be $11.74, which is 6.38% less than the current price of $12.54. The projected annual dividend yield will be 3.07% based on the acquisition cost of $11.74 with the projected dividend of $0.09 per quarter.
Note: All the prices are quoted from the closing of December 7, 2012 and all calculations are before fees and expenses. Investors and traders are recommended to do their own due diligence and research before making any trading/investing decisions.
Disclosure: I have no positions in any stocks mentioned, but may initiate a long position in GLW over the next 72 hours. I wrote this article myself, and it expresses my own opinions. I am not receiving compensation for it (other than from Seeking Alpha). I have no business relationship with any company whose stock is mentioned in this article.