Seagate Technology (STX) is the provider of electronic data storage products, which are used in servers, PCs, laptops, and personal entertainment players. STX has 65-75% of revenue coming from OEM, original-equipment manufacturers, like Hewlett-Packard (HPQ), Dell (DELL), and EMC (EMC); the remaining sales come from reselling distributors and retail stores.
On December 19, 2011, STX completed its acquisition of Samsung Electronics Co.'s hard drive business. STX's largest competitor, Western Digital Corp. (WDC), also completed its purchase of Toshiba Storage Device (Thailand) Co. Limited in May, 2012. While the battle between STX and WDC continues on after the market consolidation, STX's solid fundamentals and robust cash flow should support its current dividend, with an annual yield of 5.36% currently.
Recent News and Earnings Estimate
On Nov. 29, 2012, STX announced that the Board of Directors had approved a quarterly cash dividend for its second fiscal quarter 2013 of $0.38 per share, which is payable December 28, 2012 to stockholders of record as of the December 14, 2012. Due to potential tax law changes, the February 2013 dividend payable date has been accelerated for this quarter only. As stated by Seagate chairman and CEO, Steve Luczo,
Seagate is confident in its ability to generate strong and sustainable operating cash flow. The increase in our quarterly dividend payment reflects our commitment to returning capital to our shareholders while also continuing to invest in our business.
On Oct. 31, 2012, STX reported the result for the quarter ended September 28, 2012 with revenue of about $3.7 billion, gross margin of 28.4%, net income of $582 million and diluted EPS of $1.42 on a GAAP basis. As quoted from the company release:
Seagate generated approximately $1.1 billion in cash from operations, paid cash dividends of $127 million and redeemed approximately 20.5 million ordinary shares or approximately 5% of ordinary shares at the beginning of the fiscal quarter for approximately $669 million. During the nine months ended September 28, 2012, Seagate redeemed approximately 109 million ordinary shares, resulting in an approximate reduction of 17% of the Company's share count. Cash, cash equivalents, restricted cash, and short-term investments totaled approximately $2.5 billion at the end of the first quarter, a sequential increase of approximately $259 million.
Seagate continues to manage its inventory effectively to adapt to dynamic industry conditions while maintaining investments in the technology portfolio to position for the long-term, as stated by CEO Steve Luczo. The Q1 2013 earnings call transcript for management discussion from Seeking Alpha can be read here.
For the second quarter of 2013, STX expects revenue to be approximately $3.5 billion, which was below analysts' estimate of $3.6 billion. Compared to 90 days ago, the current quarter ending in December 2012, EPS estimates had been lowered to $1.23 from $2.05. The current year, ending in June 2013, EPS estimates had also been lowered from $7.44 to $5.21. For the year ending in June, 2014, the EPS estimates had also been lowered from $6.77 to $5.48 in the past 90 days, as seen from the table below.

Source: Yahoo! Finance
On the other hand, WDC is on track to retain the top spot in shipments and revenue in the near time as it had recovered from the Thai Flood disaster. According to the report by Fang Zhang from iSuppli,
The tussle between Western Digital and Seagate-one of the historic continuing rivalries in the technology industry-is not about to ease up anytime soon. In particular, the fourth quarter will be a tossup, and the industry champion by then will depend on how well each company executes for the remainder of the year, coupled with the market performance of enterprise and consumer PC solutions on which hard disk drives depend.
Fundamental Overview and Technical Analysis
By using the data obtained from Morningstar, STX's key stats will be compared to its peers in the data storage industry, including WDC. STX's revenue growth (3 year average) of 15.1 is stronger than the industry average of 6.8. STX also achieved higher operating margin of 22%, ttm, and net margin of 20.8%, ttm, as compared to the averages of 16.0% and 12.5%, ttm, respectively. The ROE of 111.9 is also much higher comparing to the average of 18.7, while STX also has a lower debt-to-equity of 0.8, as compared to the average of 1.3. STX is under-valued with P/E of 3.7, as compared to the average of 11.8.
Seagate closed at $28.34 with 0.67% loss on Dec. 7, 2012. The volume of 7.99M is 14.45% lower than the 30 day average of 9.34M. STX had been trading in the range of $15.00-$35.71 with a beta of 2.40. STX managed to close above its 50-day MA of $28.17 and 200-day MA of $28.28 on Dec. 7, 2012. The MACD (12, 26, 9) indicator has been showing a bullish sign since Dec. 5, 2012 and the MACD difference continued to diverge in past three trading days. The momentum indicator, RSI (14), had been increasing to 56.95 from near 30 since late November, indicating an increasing buying momentum. If STX can sustain above its 50 and 200-day MA, the next resistance will be $28.67, the R1 pivot point, followed by $32.23, the R2 pivot point, as seen from the chart below.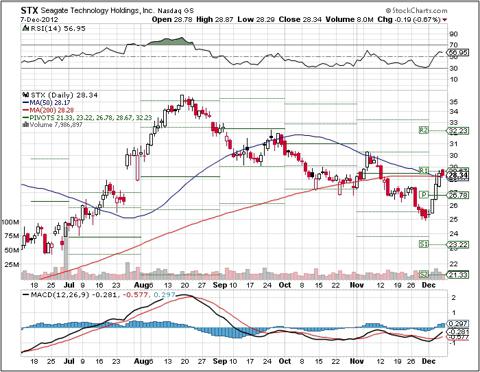 Source: StockCharts.com
Options Play
STX offers an attractive valuation and is a quality target for cash flow investors with increasing dividends. In the near-term, STX is slightly bullish and closing around its 50-day and 200-day MA. For bullish investors who would like to acquire the stock at a discount price while gaining some upside potential, a credit put spread will be reviewed below.
Short 1x March 16, 2013 Put at the strike price of $23.00 for the credit of $0.75
Buy 1x March 16, 2013 Put at the strike price of $21.00 for the cost of $0.43
The maximum profit is $0.32, and the maximum risk/margin requirement is $1.68 ($2 loss - $0.32 credit received). If STX closes above $23 on March 16, 2013, a 19% return on margin will be gained. If STX falls below $23 upon options expiration, the acquisition cost for STX will be $22.68, which is 19.97% lower than the current price of $28.34. The projected annual dividend yield will be 6.7% based on the acquisition cost of $22.68 with projected dividend of $0.38 per quarter. STX is a volatile stock with high beta of 2.40 and thus may not be suitable for investors who do not want to tolerate the risk of high volatility.
Note: All the prices are quoted from the closing of December 7, 2012 and all calculations are before fees and expenses. Investors and traders are recommended to do their own due diligence and research before making any trading/investing decisions.
Disclosure: I have no positions in any stocks mentioned, but may initiate a long position in STX over the next 72 hours. I wrote this article myself, and it expresses my own opinions. I am not receiving compensation for it (other than from Seeking Alpha). I have no business relationship with any company whose stock is mentioned in this article.