By Michael Rawson, CFA
Exchange-traded funds attracted $15.6 billion in net inflows during the month of November, bringing the year-to-date total to $154.0 billion, on pace to match 2008's record-setting year. Flows in 2012 have been dominated by taxable-bond ETFs, which saw an additional $3.9 billion in new capital added in November, bringing total net inflows for the year to date to $48.0 billion, surpassing any previous year. International-stock ETFs also saw strong inflows last month, attracting $5.2 billion in new money for the month of November.
Positioning for the "Fiscal Cliff"
Investors may be locking in profits after a strong runup in high-yield bonds and positioning their fixed-income portfolios for heightened uncertainty as we head towards the "fiscal cliff." After seeing strong inflows earlier in the year, high-yield bond ETFs saw outflows for the second-straight month. The largest fund in the category, iShares iBoxx $ High Yield Corporate Bond (NYSEARCA:HYG), is up 11.9% for the year to date through month-end. HYG saw $812 million in outflows last month. Meanwhile, investors sought the perceived safety of Treasury bonds, as the long-term government-bond and intermediate-term government-bond categories added $600 million and $774 million, respectively. IShares Barclays 3-7 Year Treasury Bond (NYSEARCA:IEI) attracted nearly $1 billion for the month.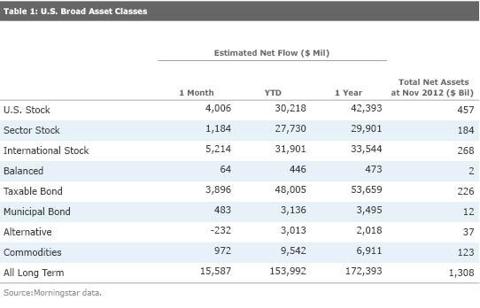 Elsewhere in the fixed-income space, emerging-markets bond ETFs gained net inflows of $774 million in November, bringing the year-to-date inflows into this category to $5.4 billion, an impressive total considering the fact that the category had just $7.0 billion in assets at the start of the year. In response to strong investor interest, providers have launched 12 new emerging-markets bond ETFs in the past two years, including the iShares Emerging Markets Local Currency Bond (NYSEARCA:LEMB), which gained $155 million in new assets last month. Assets in the fund now total $365 million, up from just $40 million at the end of June. The fund has returned 11.8% through the end of November.
The largest actively managed ETF, PIMCO Total Return ETF (NYSEARCA:BOND), brought in $450 million in net new assets in November and is on pace to surpass $4 billion in assets before year-end. The ETF has returned 6.0% over the past six months, outpacing the 4.6% return of its big brother, the open-end PIMCO Total Return (PTTRX). BOND has been the most popular new launch of 2012, a year that has seen many fund closures, as discussed by my colleague, Robert Goldsborough, here. The median level of assets in the 95 ETFs that have closed so far this year was just $4.8 million. In comparison, the 169 new launches in 2012 have total assets of $8.4 billion (most of which is accounted for by BOND), or a median of $7.7 million. Of these 169 new launches, 24 had assets of at least $50 million.
Last month saw $483 million flow into municipal-bond funds, the highest amount for a single month on record. Compared with mutual fund assets, ETFs are underrepresented in the municipal-bond space. ETFs account for about 12% of total mutual fund and ETF assets in U.S. stock funds and about 8% in the case of taxable-bond funds, but they amount to just 2% of assets in municipal-bond funds. The largest municipal-bond ETF, iShares S&P National AMT-Free Muni Bond (NYSEARCA:MUB), has $3.5 billion in assets and attracted $169 million in new capital last month. The fund has returned 8.0% for the year to date.
Stock Investors Continue to Favor Emerging Markets
The diversified emerging-markets category was the largest draw within the international equity arena, attracting $1.8 billion in net inflows in November. iShares MSCI Emerging Markets Index (NYSEARCA:EEM) saw a $2.3 billion inflow while Vanguard MSCI Emerging Markets ETF (NYSEARCA:VWO) had a $900 million outflow last month. Ostensibly, it would appear that this shift in assets was driven by VWO's plan to change index providers to FTSE from MSCI.
Other international equity funds witnessing strong inflows during the month include iShares FTSE China 25 Index Fund (NYSEARCA:FXI), which attracted $670 million of inflows. As discussed in this article, many of the passive, cap-weighted China stock indexes have a heavy exposure to financials. Meanwhile, WisdomTree India Earnings (NYSEARCA:EPI) and iShares S&P India Nifty 50 Index (NASDAQ:INDY), two India equity ETFs, each had about $40 million in new inflows. Favorable regulatory developments have provided Indian stocks with some positive momentum of late, as discussed in this article.
Low volatility is a theme that continues to resonate with investors. IShares MSCI Emerging Market Minimum Volatility Index (NYSEARCA:EEMV) attracted $86 million in fresh assets in November. The fund is one of the top-performing emerging-markets ETFs so far this year, up 17.6% for the year to date. On the domestic side, PowerShares S&P 500 Low Volatility (NYSEARCA:SPLV) gained $352 million in net inflows. The fund was one of the most successful new launches of 2011.
Large Over Small
Large caps have outperformed small caps recently, and, based on our analysis of ETF flows, it appears that investors have taken notice. The Russell 1000 Index has returned 11.7% over the past two years compared with a 7.8% return for the Russell 2000 over the same span. We first highlighted the possibility that large caps might have been positioned to outperform back in a July 2010 ETF Investing Specialist article. The

iShares Russell 2000 Index (NYSEARCA:IWM) saw just more than $1 billion in outflows, while the large-cap

SPDR S&P 500 (NYSEARCA:SPY) attracted $1.8 billion last month.
Dividend-focused funds have been one of the most popular categories among equity investors over the past several years. We count 18 dividend-themed ETFs in the U.S. stock sector. Total assets in the group are about $45 billion, up from just $8 billion three years ago. They have averaged about $800 million in monthly net inflows over the past three years but saw net redemptions of $355 million last month.
Precious-metals funds attracted strong flows last month, with SPDR Gold Shares (NYSEARCA:GLD) pulling in $719 million in new assets and iShares Gold Trust (NYSEARCA:IAU) bringing in $353 million. As we highlighted in this article, gold can serve as a form of disaster insurance. Market Vectors Gold Miners ETF (NYSEARCA:GDX) saw $306 million in inflows last month. The $9 billion fund is the largest ETF from Van Eck. Despite gold's 9% appreciation so far this year, the gold miners' stocks have lagged, and the fund is down 7.6% for the year to date.
Fund Families
For the second month in a row, iShares took in the most new money of any ETF provider, allowing the firm to eclipse Vanguard for the most flows for the year to date.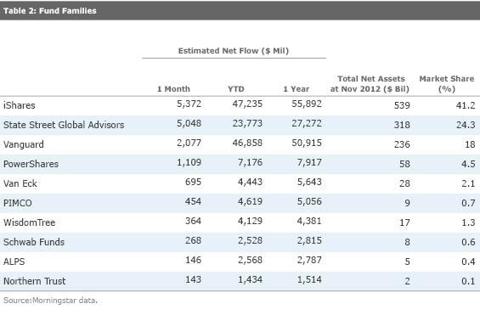 Disclosure: Morningstar, Inc. licenses its indexes to institutions for a variety of reasons, including the creation of investment products and the benchmarking of existing products. When licensing indexes for the creation or benchmarking of investment products, Morningstar receives fees that are mainly based on fund assets under management. As of Sept. 30, 2012, AlphaPro Management, BlackRock Asset Management, First Asset, First Trust, Invesco, Merrill Lynch, Northern Trust, Nuveen, and Van Eck license one or more Morningstar indexes for this purpose. These investment products are not sponsored, issued, marketed, or sold by Morningstar. Morningstar does not make any representation regarding the advisability of investing in any investment product based on or benchmarked against a Morningstar index.