Considering that iPhone is positioned as a premium brand, Apple (NASDAQ:AAPL), some might say, should not be too concerned about market share. Its high profit margin should be enough to take care of that as it earns much more than the competition does despite higher sales. However, at some point lower global sales will eventually eat away its competitive margin, which is an issue that should be at the top of the mind of the management - especially with its slumping share prices right now.
Worldwide sales of mobile phones registered a decline of 3.1% in the third quarter 2012 as compared to the same quarter in the previous year. However, sales of smartphones in the third quarter 2012 increased by 46.9%. Sale of smartphones in the third quarter 2012 was 169.2 million units as compared to 428 million units of all mobile phones sold worldwide.
Considering that the global smartphone market is dominated by Apple and Samsung and the unprecedented response to Apple's iPhone 5, one would like to believe that Apple's share in the global market would have increased in the same proportion as in the U.S. The reality however is that the iPhone does not sell very well outside U.S. While its market share in the global market has increased, the increase has only been marginal despite its launch in two of the world's biggest growing markets, India and China.
Check Out Some Figures First
In the quarter ended March 2012, Apple sold 35.06 million units of iPhone, an increase of 88% as compared to the same quarter in prior year. In the next quarter ended June 2012, the company sold 26.03 million units, an increase of 28% over the same period in 2011 (Source: 10-Q filing with SEC). In its fiscal fourth quarter ended September 29, Apple sold 26.9 million units of iPhone, a growth of 58% over the same quarter last year thanks to the massive launch of iPhone 5.
In May 2011, Apple's share in the US market was 26.6%. Thanks also to the unprecedented response it got on the launch of the iPhone 5, in the 12 weeks ending October 31, 2012, Apple's share in the US smartphone market more than doubled as compared to the same period last year to 48.1%.
There has been a concurrent increase in Apple's share in the global mobile market but it is almost unnoticeable. Mobile phone sales figures released for the third quarter 2012 reveal that the gap between market shares of Apple and Samsung has increased - from 14.8% to 17.4%.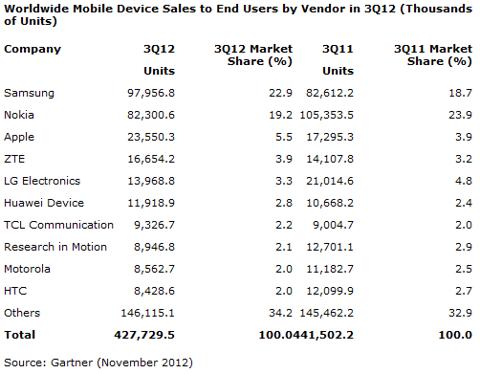 The situation is grimmer when we see the growth rates in market share of Apple's iOS as compared to Android and others. Share of iOS is 13.09%, which is up 2.59 points from 10.50% in 2009 whereas Android's share rose to 72.40% from 1.60% in 2009.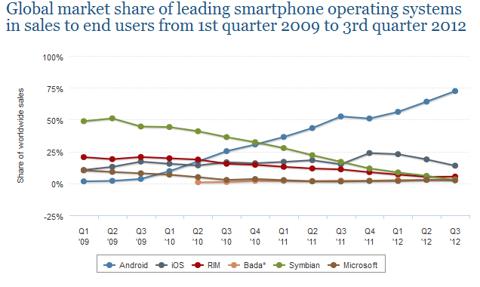 All this indicates that the iPhone's success story is confined more to the U.S; it is not selling well outside it. It is not as if the iPhone is failing to make a mark only in emerging markets. Even in mature markets like the UK, Samsung's Galaxy S III remains the most popular smartphone continuously for the seventh month. This is despite an imposing iPhone 5 launch and two months of full availability.
An IDC report says that tough competition from China's domestic brands have resulted in Apple's rank falling to number 6 in third-quarter 2012 in China's smartphone market. Reports from India are not very encouraging either as iPhone's share in India plummeted to new lows.
Should Apple Be Bothered?
While the problem in mature markets is more of competition, once we look beyond Europe, there are certain other issues as well. Apple has to look at India and China to make a dent outside the U.S.
Despite there being a vast majority of people in these two countries living below the World Bank set poverty line, there is a huge potential. India, for example, has a very big middle class whose income surplus has increased over the years; annual sale of mobile phones in India is 220 million. But iPhone 5 and its earlier models are priced beyond the reach of many middle class Indians. iPhone 5 is priced between Rs. 45,000 ($842) for the 16GB model and Rs. 65,000 ($1203) for the 64GB model. On top of it, both carriers (Airtel and Aircel) that have Apple in their catalog are unwilling to dish out upfront subsidies. And the carriers are not to blame because:
a vast majority of subscribers in India have pre-paid accounts.
even high end users use mobile devices more as a phone rather than a data service (mobile internet not too fast except in Metros) and generate approximately $35-$40 worth of call and data charges per month
the iPhone can be easily unlocked and used on other networks, which makes the AT&T (NYSE:T) model used in the U.S. unviable in India.
You can add to that that in India, the cheapest entry level car, Nano, launched by Tata Motors (NYSE:TTM) a few years back, can still be bought at around $2,000 - $2,500. 3 iphones and you have a brand new car!
Moreover, the iPhone is sold in India by Redington India (REDINGTON)and Ingram Micro (IM), master distributors responsible for providing iPhones to the carriers and other resellers, who are free to markup the price as they deem fit.
In China, where the iPhone 5 launches on December 14 this year, China Unicom (CHU) was able to garner pre-orders for 300,000 units of iPhone 5 in the first two days of its availability. The company is also offering to subsidize the cost of the 16GBB model against a deposit of $947, to be refunded in monthly installments depending upon the length of the contract.
The retail price of iPhone 5 in China will start from 4,999 yuan or $792 contract free. Even in Hong Kong where Apple products are considered to be the most competitively priced worldwide, the price will start from HK$5,588 (US$721) contract free. Due to taxes, there is a lot of smuggling between Hong Kong and China.
However, what is more important is that China Mobile (CHL), the biggest mobile carrier in the world (with 703 million subscribers, it is much bigger than multi-nation carriers such as Vodafone) does not have iPhone in its catalog. For long the assumption was that the issue was China Mobile's TD-SCDMA 3G network. It now seems that the network is not the problem; at least not according to the CEO of China Mobile who says that rather than its network, the problem is more with the terms of the deal.
Conclusion
Despite the high profit margin, which is what makes it a bigger company than others in the smartphone business, Apple needs to take a second look and strike a fresh balance between pricing and positioning.
Personally, I believe that Apple runs the risk of stagnation if it does not seriously look beyond the American shores. If the company has to retain/regain its top position in the tech world, it has to innovate and find ways and means to overcome hurdles that hamper its growth in the emerging and non-developed markets such as India and China.
What stands in the way of Apple making inroads into mature markets overseas as well as emerging markets is competition from cheap Android smartphones. Earlier it was Samsung and now it is Chinese-made Android original equipment manufacturers such as Lenovo and Coolpad.
In addition, people in the U.S. are used to multi-year contracts with carriers, something that mobile users in under-developed and emerging markets are not comfortable with. It is a behavioral issue that may or may not change over time.
At home front, Apple faces the "made-in-U.S." problem. As per reports in the media, Foxconn, the major supplier to Apple, is planning to start manufacturing in the U.S. in light of consumers' demand for American made products. If more production is done within the country, Apple foregoes the cost advantage of low-cost Chinese labor and there are liable to be some challenges in managing the supply chain as well.
For Apple, whether to focus on the U.S. or outside seems like choosing between the devil and the deep sea. On one side it cannot let go of the domestic market where it has a distinct advantage over competition (apart from the made-in-USA issue). On the other side, if it lowers the price of iPhone overseas, it has to do that in the U.S. as well.
There will come a time when U.S. sales reaches a saturation point, if it has not already been reached. Can the company afford to lower the price of the iPhone to make it more competitive in India and China? According to research firm UBM TechInsights, the iPhone 5 costs Apple $167.50 to build. An unlocked contract free phone retails at $649. AT&T that sells it for $199 to its subscribers pays Apple much more than that and recovers it from the two-year contract that subscribers need to sign - which is a model not possible in many markets. The challenges are there but should not be difficult to meet for a company of the size of Apple.
Disclosure: I have no positions in any stocks mentioned, and no plans to initiate any positions within the next 72 hours. I wrote this article myself, and it expresses my own opinions. I am not receiving compensation for it (other than from Seeking Alpha). I have no business relationship with any company whose stock is mentioned in this article.