The iShares family of exchange traded funds saw the addition of a new type of family member on November 7: target date funds and their cousin, target risk funds. The seven target date funds are the second such set of ETFs to reach the market; XShares and TD Ameritrade teamed up to launch the first five target date, also known as 'lifecycle', ETFs in October 2007. The new iShares launch date coincided with the 15-year anniversary of the launch by iShares' parent Barclays Global Investors (BGI) of the first target date funds for institutional investors, known as LifePath, in 1993.
The new funds are, with their expense ratios:


Data courtesy of iShares
Objective
Target date funds seek to provide a single investment vehicle that increasingly protects capital as the specified date approaches. The funds mix stocks and bonds. So for example, iShares S&P Target Date 2010 Index Fund (NYSEARCA:TZD) boasted a theoretical equity composition of 46% on Sept. 30, 2008 (it hadn't been launched yet), with 53% in fixed income and around 1% in REITs. That allocation had fallen to around 40% equities as of Tuesday and will continue to fall as the fund gets closer to its target date in 2010, replacing the equities allocation with lower risk fixed income. This constant re-allocation of assets towards a more risk-averse strategy as the target date approaches is referred to as a fund's 'glide path'.
Underlying Indexes
The new ETFs are actually funds of funds, meaning they are comprised of select iShares ETFs, to correspond with the performance and yield of S&P Target Date and Target Risk Indexes, which use iShares ETFs exclusively as their underlying components. Rather than try and create a brand new spin on ideal target date and risk fund allocations, S&P set out to capture the consensus of the target date fund industry as a whole as far as target allocations and glide paths. According to Lipper, there are currently more than 300 target date mutual funds with $184 billion in assets under management.
Noel Archard, Head of U.S. iShares Product Research and Development at BGI, points to S&P's choice of iShares ETFs to populate its target date indexes as an indication of "iShares' prominence in the ETF industry." The indexes were largely crafted by S&P with an eye towards corresponding product development at BGI, according to Archard, as the two realized "a mutual interest in this type of product."
Performance, Fees
In back-testing, the funds have performed more or less in-line with the bulk of target date funds according to Archard, though BGI will continue monitoring performance extra carefully during the current downturn to make sure the funds are performing as advertised. Archard reports that there has already been a creation in one of the funds which the prospectus identifies as a minimum institutional purchase of a 50,000 share block, or some multiple thereof. He is also satisfied that though the funds have been trading for barely a week, advisors have already started using them for tax-loss harvesting, by rolling over 401(k)s into the new line of ETFs.
By way of comparison, the TDX Independence ETFs charge 0.65% in fees; the iShares funds will cost investors between 0.29% (2040) and 0.31% (2010; 2015; 2020; Retirement Income Fund). The TDX funds correspond to Zacks Lifecycle Indexes and appear to have a more conservative approach, though a precise allocation breakdown wasn't available on the TDX funds.
Based on a cursory glance at the holdings, TDX's 2010 fund seems to be comprised of 28% equities, versus 40% in equities for its iShares counterpart. Many of the top equity holdings are the same. In terms of fixed income holdings, TDX weights single bond issues much more heavily than its iShares counterpart, which as a fund of funds has many more securities comprising its building block ETFs than the 417 securities in the TDX 2010 fund.
Here's a look at the iShares ETFs that comprise TZD: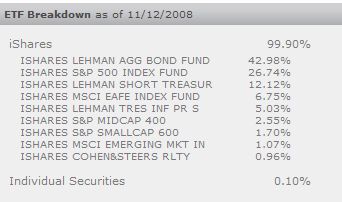 Data courtesy of iShares
Archard expects iShares Target Date ETFs to soon amass significant assets under management as 401(k) plans and individually managed retirement accounts see the merits in a low-priced exchange traded version of an already popular mutual fund strategy. This is despite the current market volatility - or maybe as a direct result of it - as investors search out an all-purpose fund that can properly balance both the underlying risks and potential rewards of the market.