After the market close yesterday, Peregrine Pharmaceuticals (NASDAQ:PPHM) announced financial results for the second quarter ended Oct. 31, 2012, of fiscal year 2013. Additionally, it gave investors an update regarding its advancing clinical pipeline and other corporate developments. The report was mostly positive: Finances are looking better than the previous fiscal year, and the pipeline is developing into latter stages and expanding. The report should give the stock an additional positive uptrend, following the positive catalysts I mentioned in my previous article, "Recent Catalysts For Peregrine Pharmaceuticals." In that article I noted that I planned to increase my position pending the earnings results, and this morning I increased my position in the stock. I plan to hold it until it reaches my target price of $1.80.
Increased Revenue
Total revenues for the second quarter of FY 2013 were $6,139,000 compared to $4,232,000, for the same quarter of the prior fiscal year. The company explained that this increase was primarily attributable to contract manufacturing revenue generated by the company's bio-manufacturing subsidiary Avid Bioservices, which generated contract manufacturing revenue of $6,061,000 for the second quarter of FY 2013. Additionally, based on current manufacturing commitments from Avid's third-party clients for services to be provided during the remainder of FY 2013, the company expects contract manufacturing revenue to be at least $18 million for FY 2013.
Decreased Spending
Total costs and expenses decreased $3,072,000 to $13,196,000 in the second quarter of FY 2013 from $16,268,000 in the second quarter of FY 2012. This decrease was primarily attributable to lower research and development expenses associated with a decrease in clinical trial costs. The company's consolidated net loss was $8,753,000, or $0.08 per basic and diluted share vs. consensus $0.09 for the second quarter of FY 2013, compared to a net loss of $12,055,000, or $0.16 per basic and diluted share, for the same quarter of the prior year.
Adequate Funding
Peregrine reported $24,443,000 in cash and cash equivalents as of Oct. 31, 2012, compared to $18,991,000 as of July 31, 2012. From the period of Sept. 27, 2012, through Oct. 31, 2012, the company raised $16.2 million in net proceeds. The funds were raised under an at-market sales issuance agreement with McNicoll, Lewis & Vlak LLC at an average price per share of $0.90.
Developing Pipeline
Click to enlarge image.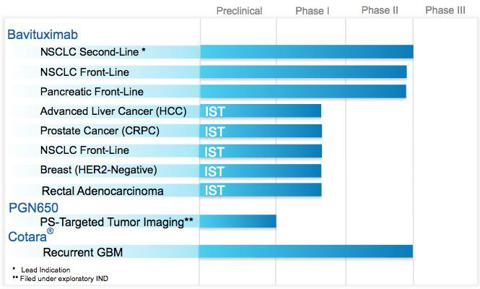 As mentioned earlier last week, Peregrine announced that it has reached agreement with the U.S. Food and Drug Administration on the design of a single registration trial for Cotara in patients with recurrent glioblastoma multiforme following an end-of-Phase-II meeting. The FDA has agreed with the company's proposed randomized trial design evaluating two dose levels of Cotara in up to 300 patients.
The company is continuing to enroll and dose up to 12 patients in an open-label, single-center trial of its experimental phosphatidylserine-targeting molecular imaging candidate, 124I-PGN650, in patients with various solid tumor types. The primary goal of the trial is to estimate radiation dosimetry in critical and non-critical organs.
Results from a study investigating the company's fully human phosphatidylserine-targeting antibody PGN635 utilized as a radio-labeled tumor imaging probe. The results demonstrate the potential breadth of applicability of the company's phosphatidylserine-targeting antibodies to clearly image solid tumors regardless of cancer type, and provide a potential method to rapidly assess the anti-tumor efficacy of chemotherapies and other approved and experimental cancer treatments
Disclosure: I am long PPHM. I wrote this article myself, and it expresses my own opinions. I am not receiving compensation for it (other than from Seeking Alpha). I have no business relationship with any company whose stock is mentioned in this article.