$214. That's the operating income Apple (NASDAQ:AAPL) generated from each unit sold last quarter. Whether it sold an iPod shuffle or an iPhone 5, the Cupertino iProduct company earned on average $214 an item. That's a crazy amount of money on each sale. No one else in the industry makes that much per sale. Nokia (NYSE:NOK) doesn't. Heck, Nokia loses money on each smartphone sold. Research In Motion (RIMM) doesn't. Archrival Samsung (OTC:SSNLF) is nowhere that number.
Apple's a cash generator without equal.
Throughout the last decade, its unit profit has been climbing. The chart below chronicles that awesome Mt. Everest climb. It's breath-taking, incredible, and dizzying.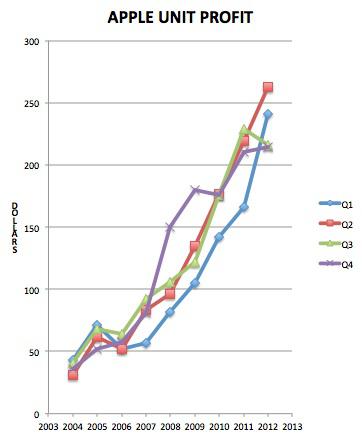 (My data is sourced from 10-Qs. Unit profit = operating income divided by total number of iPhones, iPads, computers, and iPods sold.)
And right now, that graph has become Apple's biggest problem. There's no way Apple can keep that stat up, not in the competitive smartphone/tablet marketplace.
In fact, it's already happening. Apple has seen its unit profits start to slide. During the last two quarters, its unit profit has decreased from the all-time high of $263. You can see it in the above graph for Q3 and Q4 2012, or see it in the table below.

This is the first time in nine years unit profits have sunk two quarters in a row. Apple's remarkable unit profits are breaking down.
Now, some of the decline is due to product mix. Apple's quarter sales had a lower percentage of higher-margin iPhones. However, Apple has warned investors that its costs are rising for the iPhone 5 and the rest of its new product lineup. This new unpleasant trend isn't going away. The unavailability of the iPhone 5 for October and November will likely negatively impact unit profits, as the new iPhone launches have been Apple's highest-margin products.
Those of you familiar with my work know I've used unit profit trends to successfully predict Nokia and RIM's decline, as well as Apple's ascent. Nokia and RIM's unit price drops foretold those companies decline.
I hate to say this: Apple's had its day as a stock.
Apple has to keep the earnings up to justify its gigantic market capitalization. Remember that unit profit times units sold equals the profit. (I've already discussed why unit volumes are going down.) Declining unit profits will depress future earnings. Everybody talks about P/E compression. Unfortunately for Apple, it's the "E" that is going to compress.
Back in March, I called for a $700 share price. Apple hit that price in September. It's time to set a new Apple price target of $480.
Disclosure: I have no positions in any stocks mentioned, and no plans to initiate any positions within the next 72 hours. I wrote this article myself, and it expresses my own opinions. I am not receiving compensation for it (other than from Seeking Alpha). I have no business relationship with any company whose stock is mentioned in this article.
Disclaimer: The opinions in this document are for informational and educational purposes only and should not be construed as a recommendation to buy or sell the stocks mentioned. Past performance of the companies discussed may not continue and the companies may not achieve the earnings growth as predicted. The information in this document is believed to be accurate, but under no circumstances should a person act upon the information contained within. We do not recommend that anyone act upon any investment information without first consulting an investment advisor as to the suitability of such investments for his specific situation.